Tom Hanks' Son Chet Hanks Tattoos and Their Meaning
Published Thu Mar 19 2020 By Chester
If you are updated with the ongoing COVID-19 outrage then you might well know that Chet Hanks' superstar dad Tom Hanks and mother Rita Wilson being contaminated with the virus.
But here we're not discussing on the topic as we've already got it covered. However, here we've brought you the details of his fascinating tattoo and some conspiracies behind it.
In addition to that, inside the article we've also presented the meanings behind Chet's tattoos and the recent news about sensational star Tom Hanks' health status. So, let's find out,
Tom Hanks' Son Chet Hanks Chest Illuminati Tattoo
Chet's "I can see you" tatoo.
Image Source: Chet Hank's Instagram
On the center part of the 29 years old Chet's chest, there is a illuminati sign tattooed - which has created fans coming up with conspiracies of Chet belonging to the Illuminati community '666'.
Check Out: Asap Rocky Tattoos - Learn the Entire Meanings
Over his neckline area or beauty bones he's tatted 'I am who lies in' typed in Rage Italic font.
On the left side of the chest, there's a heart tattoo with word Michalah.
Chet Hanks Left Hand side
Chet Hanks Left and right hand tattoo and meanings.
Image Source: Instagram
On his left arm, he has Mother Marry inked beautifully covered in the clouds.
And on the edges of his chest, there is a Snow Flake with a whirlwind-typo-sword inked.
Infinity Sign and Icarus Feather on Hand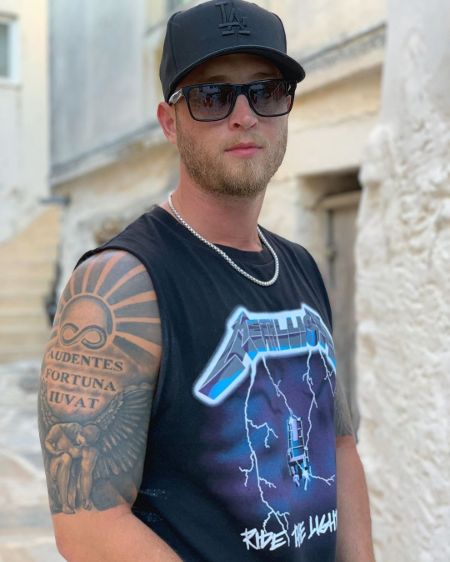 On the other hand, he was 'Infinity Logo' coming from the sun and its rays.
Find Out: Billie Eilish Tattoos - Grab All the Details
And right beneath it, he has inked wit a Latin quote AUDENTES FORTUNA IUVAT which means FORTUNE FAVORS THE BRAVE.
Right below it Icarus Falls type tattoo with its wide beautiful wings.
How is Tom Hanks and Chet's Mother
And for the followers of Tom hanks who seemed worried about our all-time favorite 'Forest Gump' star health, he's doing great with no dangerous symptoms or condition and was recently discharged from the hospital.
Find Out: Celebrities, Athletes and Public Figures Diagnosed with Coronavirus - Complete List Here
Stay tuned for more Celebrity Tattoo related article on Glamour Fame.
-->