Sylvester Stallone's wife Jennifer Flavin files for divorce: Inside the Pair's Rocky Relationship
Sylvester Stallone and Jennifer Flavin's 25-year-long marriage has come to an end: Complete story here!
One of Hollywood's most enduring heroes, Sylvester Stallone, had an as enduring marriage up until recently. The Rocky star's wife of 25 years, Jennifer Flavin, is reportedly done with Stallone and has filed for divorce. Stallone, a multi-hyphenated star, married the former model in 1997. The pair share three daughters.
Sylvester Enzio Stallone was born on July 6, 1946, in Manhattan, New York, hairdresser Frank Stallone Sr. and astrolger Jackie Stallone. Sylvester's journey to becoming the archetypal Hollywood hero started with the softcore pornographic romance film The Party at Kitty and Stud's in 1970. Sylvester's big break came in the 1976 blockbuster Rocky, which earned him two Academy nominations. Stallone has been married a total of three times.
Inside Sylvester Stallone and Jennifer Flavin's 25-year-Long Marriage!
As Stallone and Flavin's decades-long marriage nears dissolution, here's a look back at the twosome's bumpy journey. Sylvester was in his 40s (and married twice) and Flavin, a 19-year-old model, when they first crossed paths. The pair's divorce comes as a surprise as the Academy-nominated actor recently commemorated their 25th anniversary and penned the sweetest tribute to his now-estranged wife.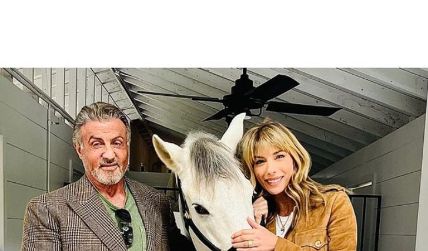 The now-estranged pair commemorated their 25th anniversary in May. Photo Source: Instagram
"Happy 25th anniversary to my amazing wife," Stallone wrote in the post, adding, "There is not enough words to describe what this incredibly selfless, dedicated, patient woman has meant to our lives, and I only wish they could be another 25! Thank you, sweetheart." The actor/screenwriter added a string of their throwback pictures, hinting at a thriving relationship, but it turns out not.
Recommended: Is Luke Bracey in a Relationship? Who is his Girlfriend?
The pair, with a staggering age gap, went public with their relationship in 1990. The Rocky star and Flavin's romance came to a brief end in 1994 after Stallone broke up with her via a letter. "It was pretty sloppy," Flavin says, recalling Sylvester's six-page long letter. The model was heartbroken when she found out the actor had left her after an affair with supermodel Janice Dickinson.
Check Out: Who Is Holly Madison? is She Married?
Any scope of a possible patch-up seemed unthinkable when the world learned Stallone's impulsive fling had resulted in a pregnancy. Stallone and Flavin rekindled their relationship after a paternity test proved he was not the biological father of Dickinson's newborn. In August 1996, Jennifer gave birth to Stallone's third kid, Sophia Rose Stallone. Sylvester and Flavin tied the knots in an intimate ceremony on May 17, 1997, and welcomed their second daughter, Sistine Rose, a year later in June.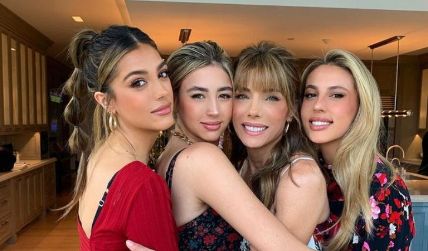 Stallone shares three daughters with his soon-to-be ex-wife.
Photo Source: Instagram
The couple became a family of five when their thirdborn, Scarlet Rose, arrived in May 2002. The Oscar nominee and Flavin have since exhibited enviable family dynamics in public. Their three gorgeous daughters were the Miss Golden Globes in 2017. The seemingly perfect pair fueled breakup rumours after Sylvester covered up a tattoo of his wife's face with his dog Butkus last month.
Why did Jennifer Flavin File for Divorce?
Flavin, a former swimsuit model and now a businesswoman, filed for divorce from her husband of 25 years in late August. Soon to be ex-Mrs Sylvester, Flavin's abrupt step has many scratching their heads. The ex-model took to her Instagram and shared how her daughters remain her priority. "These girls are my priority; nothing else matters. The four of us forever," Jennifer wrote while sharing a picture of herself embracing the girls.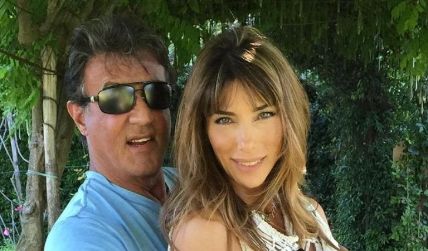 Did the couple call it off over a dog?
Photo Source: Instagram
Stallone alleged the pair have split ways amicably, but insiders' report reveals something else. In the most absurd reason ever heard, a source claimed the pair called it quits over a dog. Sylvester reportedly wanted to adopt a dog, and Flavin wasn't on board. After a heated argument over the idea_ which the source says triggered and put forth other issues, the duo ended things.
Sylvester covered a tattoo of his wife's face with his dog.
Source: Extra TV
Another source alleges "none of those issues appeared to be marriage-enders." Whatever the reason, Stallone persisted and got himself a new pooch; a Rottweiler named Dwight, dubbed after Stallone's character in his upcoming Tulsa King. "So incredibly happy with my newly acquired four-legged friend, Dwight, my character name from the Series, keep punching and keep barking," the 76-year-old wrote while introducing his new pup.
Sylvester Stallone's Former Marriages!
The First Blood actor was 28 when he first delved into marriage. Stallone married his first wife, Sasha Czack, in 1974. Stallone shares his first two kids, Sage and Seargeoh, with Czack. Stallone's first son was following in his superstar's footsteps and had even made his mark as an upcoming actor when he tragically died of a heart attack in 2012.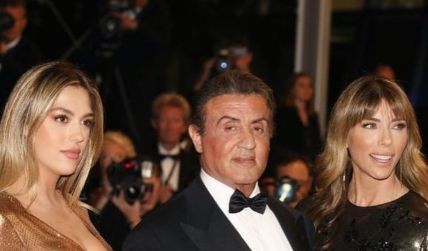 Stallone's eldest son died of a heart attack in 2012.
Photo Source: Instagram
The long-separated pair's secondborn, Seargeoh, wasn't born with much luck either. Diagnosed with autism at 3, Seargeoh spent his life away from the spotlight. After his over decade-long marriage with Czack, which ended in 1985, the actor married his second wife, Brigitte Nielsen, the same year, although the couple's marriage was short-lived, lasting only about two years.
Stay connected to glamour fame for more.
-->