Talinda Bennington, the former wife of Late Chester Bennington, What is she doing now?
Talinda Bennington is a known name in the world of music. She rose to prominence as the widow of the famous singer Chester Bennington from Linkin Park. Apart from Chester's fame, Talinda is a former Playboy model and school teacher originally from Indio.
Currently, Talinda is serving as the executive advisor for the 320 Changes Direction and is also a founding partner of the organization. Before that, she served as a waitress and animal trainer for several years. Now let's find out more about her life. Here are all the details you need to know about Benington's widow.
Talinda Bennington Remarried To Her Second Husband, Michael Friedman
The former Playboy model Talinda Bennington married twice till dates. In early 2019 she found her new flame, Michael Friedman. He is County of Los Angeles Fire Department and was one of forty-six who received badges in the graduation ceremony.
The couple dated for several months before taking the internet by storm with the engagement news. In September 2019, she flashed her engagement ring to the world during jogging with her partner. Talinda even shared a sweet message to the world regarding her decision.
I am here to tell you that you can find love after tragedy. That a death of a soulmate does not mean the death of you. My family, friends and my Linkin Park brothers welcome him to the family with open arms.
Also, she mentioned her new partner as an angel on Earth. The duo then started appearing in several public places together by holding hands. They even occasionally featured on one another's Instagram accounts. Many Linkin Park fans criticized the news, while some of them praised her move on the decision.
Filed For Divorced With Michael Friedman
After three months of their engagement, Michael Friedman and Talinda Bennington accepted one another as lifelong partners. Their wedding took place in the beautiful weather of Hawaii with limited guests. All of the details from the marriage were kept behind closed doors.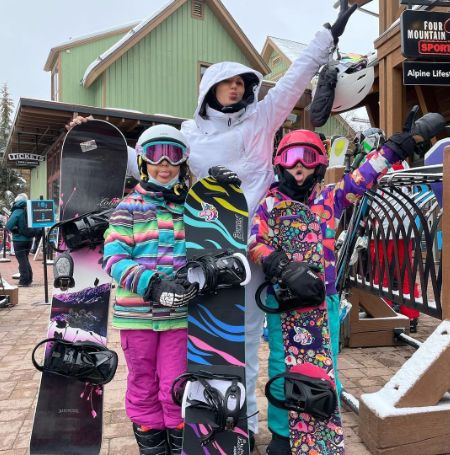 Many of Chester's fans claimed that the duo married on 1st January, the anniversary of the Linkin Park Vocalist and his widow. Contrary to the reports, Talinda explained that she wed her new husband on 4th January and added. "Jan 1st will always be the day I married Chester."
After a year of married life, Talinda and Michael finally called it quits. Bennington filed for divorce and surprised the world. Neither of the parties has opened up regarding their split. She is living a single lifestyle and taking care of her children. At the same time, there is no news about the county after their separation.
Eleven Years Long Married Life With Chester Bennington
Chester and Talinda's way crossed back in the early 2000s and had an immediate attraction. They publicly announced their relationship in December 2004. The celebrity spouse was a fan of the singer and even went to several of his concerts without his concern. After dating for several years, they decided to take their relationship further. In 2005, they finally accepted one another as a lifelong partner.
Their wedding ceremony was kept private with limited guest appearances. The whole Linkin Park band members witnessed the ceremony and performed a beautiful song. With their wonderful married life, they were blessed with three beautiful kids. On March 16, 2006, they welcomed their first child, Tyler Lee Bennington, into the family. Later they announced the arrival of twin daughters into the Bennington family.
The two daughters, Lilly and Lila Bennington, were born on 6th November 2011. Their son, Tyler, is now sixteen years old, while their two sisters are eleven years old, respectively. Talinda is taking good care of the kids to the fullest. She never forgets to upload beautiful moments with the children and shares them online frequently.
Chester Bennington Have Six Kids in Total From His Relationship
The wonderful singer and songwriter Chester has six children and was married two times. Before accepting, Talinda as a lifelong partner, he married his first wife, Samantha Marie Olit. She is an American Life Coach and Entrepreneur known for founding the brand Creative Life Coaching. In 2005, she launched her own record company SAM Records.
Looking at their love life, they met one another for the very first time in mid-1996. With great encounters, they developed a sweet romance. Just months after their first meeting, they tied the wedding knot on 31st October 1996. From their relationship, Samantha gave birth to her son, Draven Sebastian, born on 19th April 2002.
During the early years with Linkin Park, Chester finds difficulties with his first wife. In 2005 they officially divorced and parted ways. Previously, Bennington had a son, Jaime, born on 12th May 1996, with his ex-girlfriend, Elka Brand. Soon after the birth of the child, they broke up. In 2006, the singer adopted Elka's other son, Isaiah, and gave him a good life.
Ex-Husband, Chester Bennington Died in 2017
Undoubtedly, Chester Bennington is one of the most versatile and talented singers. He is known for joining popular bands like Linkin Park, Dead by Sunrise, Stone Temple Pilots, and Grey Daze. In 2017 he and his band launched their seventh album, One More Light. This was the last album for Bennington, which made his fans go crazy.
On July 20, 2017, the singer took his last breath in his Palos Verdes Estates, California home. Reports have stated that he had died by suicide by hanging. Interestingly he died on the 53rd birthday of the late Chirs Cornell, an American singer from Audioslave and Soundgarden and a very close friend of Bennington.
Cornell also died by hanging two months before Chester. On July 29, the One More Light singer's funeral was held at South Coast Botanic Garden. Many musicians appeared during the event and gave tribute to the legend. With his loss, Linkin Park canceled the rest of their One More Light Tour.
Stay Tuned To Glamour Fame For More Interesting Content
-->