Taylor Swift Slams Kanye West Saying 'He is so two-faced' in the Rolling Stone Interview
Published Thu Sep 19 2019 By Chester
Taylor Swift disses Kanye West on Rolling Stone following some of the past controversies.
If you are updated with Taylor Swift, then you might well know the incident back from 2009 VMA stage where Kanye jumped out on the stage and interrupted Swift in the middle of her winning speech.
Sharing Beyonce actually deserved the 'Best Music Video AWARD', it surely was an embarrassing moment for the 'I Don't Wanna Live Forever' hitmaker.
Check Out: TAYLOR SWIFT VMA AWARD MOMENT RUINED BY KANYE WEST
The Me! Hitmaker in the recent cover of the magazine has discussed over her issues on the recent version of the magazine.
In the magazine, Swift, 29, opened about all the ups and downs she had to face in her career in a candid way.
After such humiliating act against her in front of all celebrities and viewers, Taylor thought to reconnect with Kanye ending all the grudges, to make it peace in 2015.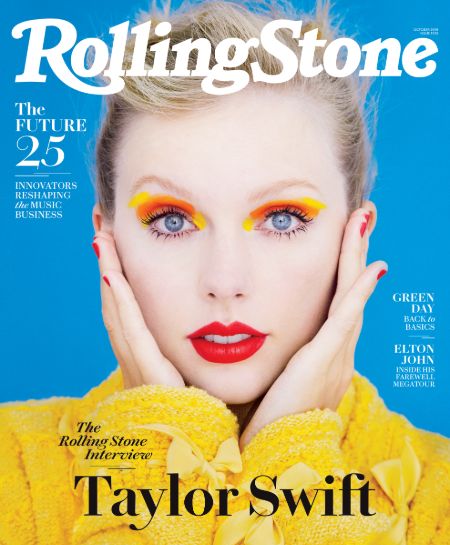 Taylor Swift talks about owning her first ever album Lover.
SOURCE: Rolling Stone
Talking to 'Rolling Stone Cover' Story, Taylor shared,
I started to feel like we reconnected, which felt great for me – because all I ever wanted my whole career after that thing happened in 2009 was for him to respect me," she said about West, describing how their ensuing friendship, including dinners out together, felt like "I was healing some childhood rejection or something from when I was 19.
Taylor Swift is digging into one of the most fraught relationships of her career – not with one of her celebrity exes, but with Kanye West.
In her new Rolling Stone cover story, Swift describes in detail how she attempted to reconnect with West in 2015, after his infamous onstage crashing of her Video Music Awards speech in 2009.
"I started to feel like we reconnected, which felt great for me – because all I ever wanted my whole career after that thing happened in 2009 was for him to respect me," Swift shared. To make the bond again Taylor and the 'Gold Digger' singer even went to dinner together and outings together to settle things down where she felt as if it was healing the rejection that came when she was 19.
After all the so called 'fake-bonding' in 2015, VMAs come around where she presented West the Video Vanguard Award.
Kanye West Disses Taylor Again At MTV VMA 2015
The 'Love Story' hitmaker shared about the ulterior motive of the Kanye sharing, "He's getting the Vanguard Award. He called me up beforehand … and he's like, 'I really, really would like for you to present this Vanguard Award to me, this would mean so much to me,' and went into all the reasons why it means so much, because he can be so sweet.
"He can be the sweetest. And I was so stoked that he asked me that. And so I wrote this speech up, and then we get to the VMAs and I make this speech and he screams, 'MTV got Taylor Swift up here to present me this award for ratings!," shared Swift.
Following the testimonies from Taylor - Kanye, 42, showed his double-faced personality; accounting all that, it seems like being popular is a hard thing to deal with.
Taylor is recently fighting over her recording issue with Scooter Brown who own all her tracks after the former label owner Scott Borchetta against her will.
Nevertheless, our love and prayers are with Taylor as we congratulate her for fully owning her first ever album 'Lover'. May she be able to overcome all the troubles and obstacles in the near future.
Stay tuned and connected to find the recent Entertainment news only on GlamourFame.
-->