Teen Mom 2 star Chelsea Houska is Battling a Major Anxiety
Chelsea Houska is anxious about her new product launch.
On the latest episode of 'Teen Mom 2', we found out the reality star, Chelsea Houska is battling major anxiety. The anxiety, however, is not for the show or anything related to her love life, but about the launch of a new diaper bag.
On Tuesday's episode on 15th October, Houska was on a talk with her sister, Emily Houska, where she revealed she is launching a new diaper bag, and the whole thing is making her very anxious.
Cole and Chelsea has a designer diaper bag product line.
Source: Chelsea Houska Instagram
Chelsea also told her sister she and her husband, Cole DeBoer, sold two bags previously and are hoping to sell another one.
Also See: Teen Mom 2 Star Chelsea Houska Is Struggling To Move On After Home Burglary
The reason for her anxiety was this was the first time she designed the bag herself, and everything was her idea.
It was kind of a roller-coaster of emotions for the star as she was feeling excited about the product launch, but at the same time, she was also nervous about it.
The anxiety battling Houska while in conversation with her husband said, "I know it's going to be okay. I know that. I tell myself that, but still, something in [my head] is making me whoo-hoo. I just have been so anxious; I can't even leave the house. First of all, I don't do well with large groups of people."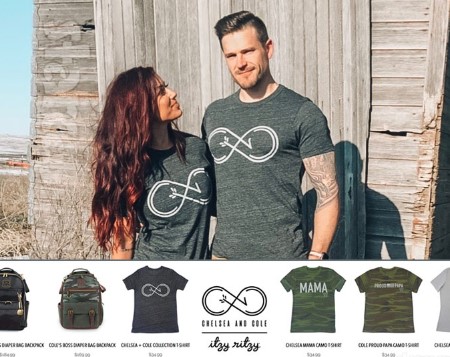 Chelsea and her husband, Cole, partnered with Itzy Ritzy.
Source: Starcasm
Houska added, "And then, I feel like I've been getting out of my comfort zone a lot lately, doing things, and going to a lot of places. Usually, I just like to be a straight-up hermit, and I just feel like that's why my anxiety's been just cray-cray. My biggest fear is that I get there, and I have a panic attack, and then nothing sells, and it's just a flop."
Also Read: Chelsea Houska is Taking the Heat After Fans Noticed the Star Being Mean To Her Mom
The husband of the reality star then assured her wife as he said, "That won't happen." Chelsea then agreed and said, "I know — I don't know why I go to a worst-case scenario. I don't know. But I'm going to get through and try to think positive."
Well, we can understand how hard it is to launch a product and go in the real world to actually market it, but after the episode, everything went fine for the reality TV star.
For more information on your favorite celebrities' lifestyles, stay tuned to Glamourfame.com, and don't forget to sign up for the newsletter.
-->