'Teen Mom's Leah Messer Is Engaged
Leah Messer is engaged to her longtime boyfriend Jaylan Mobley: Complete story here!
Teen Mom fame Leah Messer and her beau of one year, Jaylan Mobley, were on their anniversary trip to Costa Rica this weekend when the latter popped the question. "Two souls, one heart," the mother of three captions while posting a few stills from the romantic moment. "It feels amazing. I never imagined myself being here today, but I couldn't imagine myself being anywhere else," says the newly-engaged Messer.
Messer and Mobley started dating last year after meeting at an event a year before. Leah's upcoming wedding with Mobley, a U.S. Army cyber officer, will be her third nuptial. The reality star was previously married to Jeremy Calvert, with whom she shares her 9-year-old daughter Adalynn Faith. The Teen Mom star shares 12-year-old twin daughters Aliannah Hope and Aleeah Grace with her first ex-husband Corey Simms.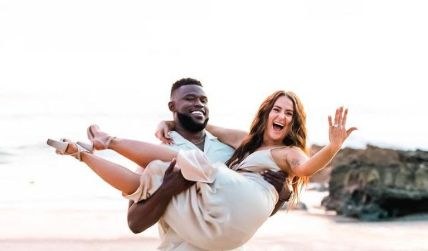 The pair were on their anniversary vacation in Costa Rica when Mobley popped the question.
Photo Source: Instagram
Earlier this year, the mother of three reflected on her budding romance with Mobley and opined how marriage isn't the ultimate step in a relationship. "I just wanna continue getting to know each other. I think that with time, we'll see if that's something," she told US Weekly, adding, "For me, I don't think marriage should change anything. I think it has in the past for me. And I've been like, 'What did I do?' I think it's scary."
Don't Miss: Gary Busey Charged With Sexual Offenses.
The mother of three and Instagram influencer went official with her beau last year in September. Messer has since kept her fans up to date with her and Mobley's romance. The Teen Mom star tells how she knew something was cooking before the beachside engagement but "had no idea it was going to be like this."
Messer shares three daughters with her two ex-husbands.
Source: US Weekly
The U.S. Army cyber officer got down on his knees with a 4.7-carat custom ring designed by jeweler Mike Nekta. A nervous Mobley tells how he had been preparing for this day for a while. "I've been thinking about this for at least 2-3 months. I knew that it would be cool if we did it in Costa Rica — where we came when we first started dating," Mobley shares.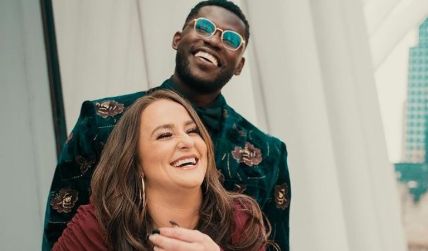 Messer says she is going to walk herself down the aisle.
Photo Source: Instagram
For fans wondering how Messer is going to integrate Mobley into her family, the reality star has answers. The 29-year-old says her daughters have already accepted Mobley into their family. Leah reveals her daughters see her to-be-husband as a "role model" and "another father figure in their lives."
Messer is planning to walk herself down the aisle. "I say this over and over again. I've made it to where I am as a woman and a mom, and I want everyone to see that strength," the former cheerleader tells People. Messer and Jaylan are looking forward to their life together with anticipation. "I'm looking forward to everything that the future has in store for us — our families coming together, the kids we'll bring into this world together," says an excited Leah.
Stay connected to glamour fame for more.
-->