The First Asian Woman To Win An Oscar: Michelle Yeoh! Is Yeoh Married? Or Is Michelle living with her boyfriend?
Published Thu Mar 16 2023 By vicky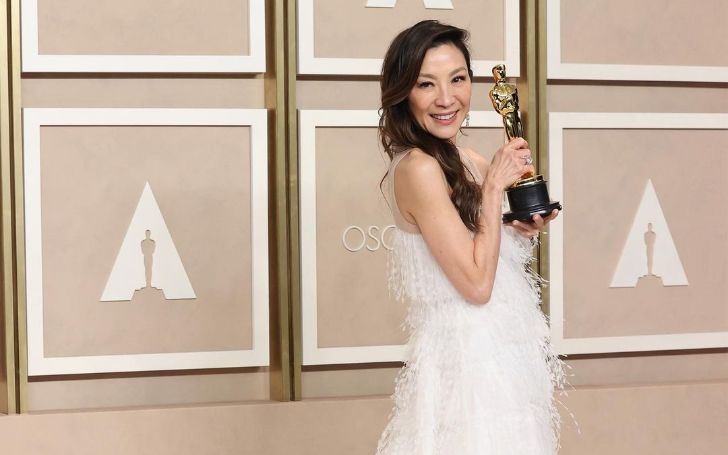 Oscar 95 has been crazy! Several talented artists won the prestigious title. Among them, Michelle Yeoh also finally attained the award this time and made history. Michelle is a Malaysian actress who rose to prominence by appearing in Hong Kong action films. Later she moved to the United States and doubled her popularity.
Some of Yeoh's works include Crazy Rich Asians, Guardians of the Galaxy Vol. 2, Kung Fu Panda 2, Sunshine, and so on. Now let's know more about the woman who made history at the Academy award. Find details about Michelle's love life and personal life are mentioned below.
Michelle Yeoh: The First Asian Actress To Win An Oscar!
Yes, Michelle Yeoh became the first Asian woman to win an Oscar. Many Asian movies and songs have won the prestigious title. Yeoh became the first to bag an Oscar for Best Actress. Michelle played the role of Evelyn Wang in the 2022 released film Everything Everywhere All at Once.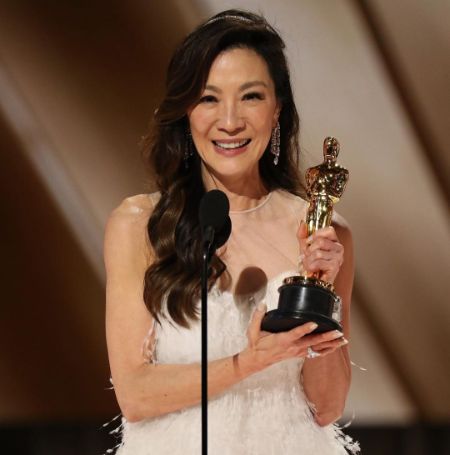 The 2022 film got eleven nominations and won seven Academy Awards. Daniel Kwan and Daniel Scheinert even clinched the best original screenplay and best director. Also, previously the film won five Critics' Choice, two Colden Globes, and one BAFTA award. During the 95th Oscar award, the excited and emotional actress accepted the award by saying.
Yeoh became a beacon of hope and possibilities for all the little boys and girls with this achievement. It is proof that big dreams come true. Michelle dedicated the title to her mother and all the moms worldwide. Yeoh topped the talented crowds, including Cate Blanchett, Andrea Riseborough, Michelle Williams, and Ana de Armas, for the best actress award. As for the best actor, Brendan Fraser bagged the award!
Is Asian Actress Michelle Yeoh Living With Her Boyfriend?
With an eye-catching career, Michelle Yeoh has a well-watched personal life. She often comes to the limelight with her love life. Currently, the actress is involved in a romantic relationship with her longtime partner, Jean Todt. He is a French motor racing executive who previously served as director of Scuderia Ferrari Formula 1 and Peugeot Talbot Sport.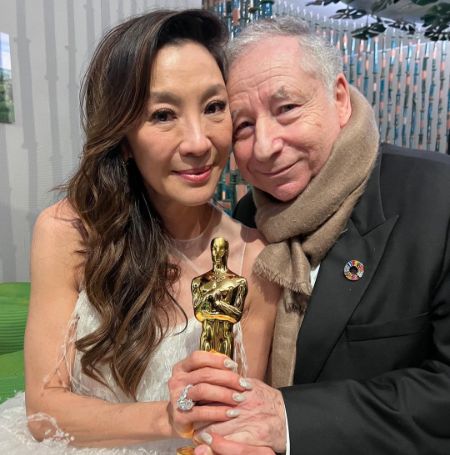 Also, Jean is the ninth president of the Federation Internale de I'Automobile. Taking a glimpse into their love life, the duo found one another in 2004. With immediate attraction, they began a sweet journey as a couple. After a few months of dating, they moved and started living together.
Within a year of their romantic journey, Michelle and Jean got engaged. The celebrity couple kept the news tight-lipped for several years. In July 2008, during The Late Late Show with Craig Ferguson, Yeoh confirmed the engagement news and surprised the world.
Are Michelle Yeoh and Jean Todt Planning To Marry?
One of the biggest questions in Crouching Tiger Hidden Dragon star always faces is when she will marry Jean Todt. Almost two decades have passed, and the pair are yet to walk down the aisle. This made their fans go crazy about marriage. Back in 2022, rumors of weddings swirled. However, Michelle Yeoh never confirmed the news.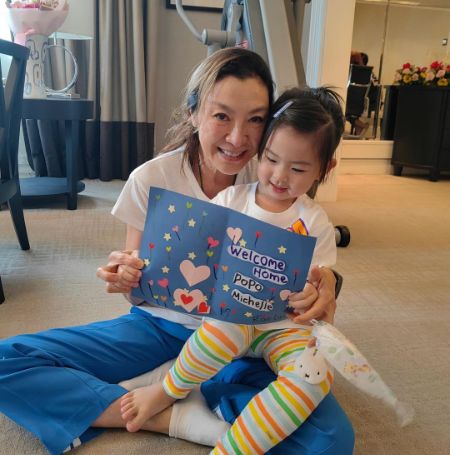 For sure, Todt and Yeoh are aware of their relationship. Both of them are unlimited and committed to their romance. However, their hectic work schedule never let it happen! And they pushed the date further. Regarding the wedding, Michelle constantly jokes with her partner about how long they have been engaged.
Well, maybe soon we will surely see the pair tying the knot. But for now, they are very much in love and are focused on careers. Currently, Michelle and Todt are living in Geneva, Switzerland house.
Michelle Yeoh is Step Mother of Jean Todt's Son
Award-winning actress Michelle Yeoh is now in her early sixties. She has faced several ups and downs in her love life. However, she doesn't share any children from all of her relationships. After 2004, she became a stepmother to Jean's only son, Nicolas Todt.
Nicolas is a French motorsport team owner and manager of the primary racing drivers. Yeoh and Todt started their romance, but Nicolas was already involved in his father's footsteps. The Hollywood actress and her stepson are only fifteen years apart.
Impressively the two have great bonding and often hangouts during their free time. In December 2020, the family of three, Michelle, Jean, and Nicolas, even enjoyed a dinner together. Asian star uploaded the pictures from the event and captioned them: "With my Todt boys and the best dinner."
Divorced From Ex-Husband, Dickson Poon
Before her ideal romantic journey with the French motor giants, the Hollywood star Michelle Yeoh was married. Michelle met her first husband, Dickson Poon, a Hongkong Businessman and the founder of Dickson Concepts in the early 1980s. Dickson's company signed Michelle and Jackie Chan for the television ad. Soon the duo got romantically involved and began dating.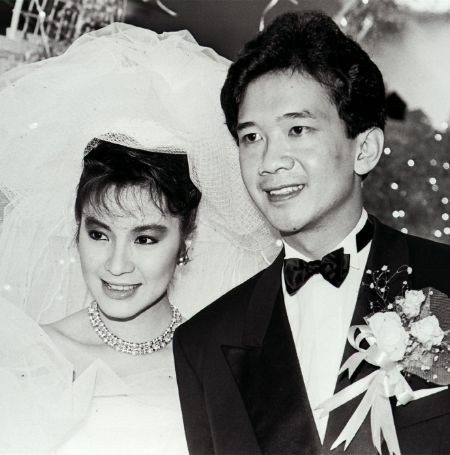 With the help of her ex-husband, Yeoh even got a break into the marital arts film, Yes, Madam. After dating for several years, the duo finally accepted one another as husband and wife in 1988. With the marriage, the former Miss Malaysia even suspended her acting career.
However, Michelle resumed her career after the two separated. In 1992, the businessman and actress finally got divorced. Now, the Academy Award-winning actress is enjoying her romance with Jean.
While her ex-spouse is married to his third wife, Kwai-chu, they even share four children from their relationship. Further, the Ipoh native was previously engaged to Alan Heldman, a renowned cardiologist, in 1998. In 2000 they called off their engagement and never tied the wedding knot.
-->