The Love Life of Zoe Yasemin Oz, Mehmet Oz's Daughter: Married or Single?
Zoe Yasemin Oz is a skilled digital designer known for her work in the technology and arts field. She is the daughter of the renowned television personality, Mehmet Oz. Zoe's passion for creativity and technology has propelled her to establish a reputation in the world of digital design.
Since 2018, she has been serving as the Chief Marketing Officer at Kairos, showcasing her expertise in marketing and digital design. With her innovative approach and dedication, Zoe has contributed significantly to the success of the company.
Her background in both art and technology has allowed her to excel in her career and make valuable contributions to the digital design industry. Zoe Yasemin Oz continues to inspire with her talent and creativity in the ever-evolving world of technology and design.
Is Zoe Yasemin Oz Single or Dating? Know About Zoe's Wedding
Zoe Yasemin Oz has chosen to keep her personal life private, despite her connection to her famous TV personality father. However, it is known that she is happily engaged to her long-term boyfriend, James Shceter. James is an investor, a music enthusiast, and a deep thinker.
Although they prefer to stay away from the public eye, James occasionally shares pictures of their life together on his Instagram account, @jrshecter, giving a glimpse into their relationship.
Zoe and James' love and commitment to each other are evident through their social media posts, and they seem to enjoy a happy and fulfilling life together. As they continue to celebrate their journey as a couple, they do so with the privacy and respect they both value.
Zoe Yasemin Oz Age/Bio/Education and College
Zoe Yasemin Oz was born on 20th July 1995 in the USA. She is the daughter of Mehmet Oz and Lisa Oz. Zoe is an American citizen and comes from a mixed ethnic background. After attending the prestigious Dwight-Englewood School in New Jersey for her high school education, Yasemin Oz continued her academic journey at Harvard University.
At Harvard, she focused on the History and Philosophy of Science and Technology and successfully graduated with a degree in this field. During her time at the university, she gained valuable research experience by working as a research assistant at the Cardiovascular Research Center at Massachusetts General Hospital.
Beyond her academic achievements, Zoe has also been actively involved in volunteering. She dedicated her time to assisting surgeons in various procedures at hospitals in Chiang Mai, Thailand.
Parents Love Life
Dr. Mehmet Oz and Lisa Oz, a power couple married for almost four decades, had an unconventional start to their relationship. Their parents played a pivotal role in setting them up, arranging their first date, which took place in the presence of both families. Initially, Lisa mistook Dr. Oz for a maître d' and was captivated by his charm.
Despite a heated argument during their seven months of dating, their love prevailed. Dr. Oz realized that Lisa was the one he couldn't live without and, in a touching moment, proposed to her with a makeshift ring made from an aluminum can tab. They tied the knot in 1985 and have since renewed their wedding vows every seven years.
The secret to their successful marriage, as revealed by Lisa, is never getting bored of each other and not taking each other for granted. They focus on appreciation and gratitude for their relationship, keeping things in perspective.
Know About Zoe Yasemin Oz Job
Zoe Yasemin Oz, a talented digital marketer, began her journey as a content creator on social media platforms like Instagram and YouTube during her college days. Her creative content quickly gained popularity among young viewers, leading to a significant following.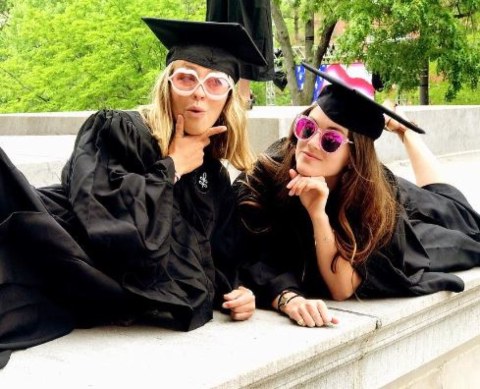 After interning at VaynerMedia, a prominent media firm in New York, Zoe founded her own digital agency, Oz Digital Consulting, in 2018. Her agency specializes in social media marketing, influencer partnerships, and brand strategy for small businesses, helping them enhance their digital presence.
Apart from her entrepreneurial ventures, Zoe is actively engaged in philanthropy and serves on the board of her father's non-profit organization, Health Corps. Forbes recognized her as one of the top young entrepreneurs to watch, and she continues to inspire the younger generation through her creativity, entrepreneurship, and philanthropic efforts.
Also See: Meet Jessica Elway Beautiful Daughter of John Elway!
How Rich Zoe Yasaemin Oz is? Know About Mehmet Oz's Daughter's Net Worth
As of 2023, Zoe Yasemin Oz, the digital creator, is reported to have a net worth of approximately $700,000, sourced from her successful career in digital content creation.
While her exact monthly salary remains undisclosed, she comes from a wealthy family, with her father's net worth being $100 million and her mother's net worth estimated at $12 million.
Additionally, her sibling Arbella has accumulated a total of $4.5 million. Zoe's family background has undoubtedly provided her with ample opportunities and resources to pursue her entrepreneurial ventures and philanthropic endeavors.
Height, Weight, and Body Measurement
Zoe Yasemin Oz, the digital creator, stands at a height of 5 feet 6 inches and weighs 60kg.
Her body measurements are 38-28-38, and she has brown-colored hair and black-colored eyes. However, information about her dress size has not been provided.
Zoe Yasemin Oz Instagram and Facebook
Zoe Yasemin Oz, the digital creator, maintains an active presence on her social media account, Instagram.
However, her account is public, and she has accumulated 12K followers. On the contrary, she appears to be inactive on Twitter and Facebook.
Follow Glamour Fame For More
-->