Tiffany Haddish Kids - Everything You Need to Know!
Published Mon Dec 16 2019 By Travis
When it comes to female comedians, Tiffany Haddish, we must say, started pretty late when it comes to starting her career, and one of the reasons for her late start was because of everything in life stacked against her. But against all the odds, through foster care, seeing a mother committed, battling homelessness, through it, all Tiffany found a way to make her career and is now one of the most sought after female leads in comedy movies.
Tiffany Haddish was born on 3 December 1979 in South Central Los Angeles, California, to her mother, Leola, who was a small business owner and her father Tsihaye Reda Haddish, who was a refugee from Eritrea. There was no relationship between the father and daughter at first because he left the family soon after her birth and was estranged from them for the longest of time.
Tiffany Haddish is an actress and a comedian who is known for her shrill voice and her brash attitude.
Source: Instagram
The actress's mother remarried soon after her father left, and after her mother started suffering from mental illness after a car accident caused by the tampering of breaks by her step-father, she took over the duty of caring for her two half-brothers and two half-sisters. It was a long and hard life for the actress, but after struggling for years and living in a car in her early years, she is now a multi-millionaire and extremely successful actress making it big in Hollywood
Tiffany Haddish was Married to William Stewart – Did They Have Any Kids?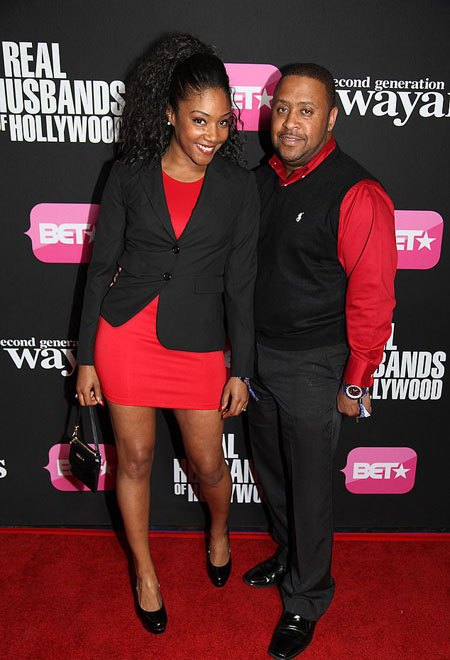 Tiffany Haddish and William Stewart were married and she filed for divorce two times in 2011 and 2013.
Source: Daily Mail
Before the start of Tiffany's career, she was married to a man named William Stewart, and the couple was together for a while. They got married soon after meeting, and one of the things William helped Tiffany with was he, and the actress was able to track down her estranged father.
During the marriage ceremony, he was there and walked Tiffany down the aisle with the actress claiming the day was the happiest of her life. She removed all the photos of her ex-husband from her Instagram and event he once she loved, he was cropped out of the images. Safe to say the two-time divorce filing in 2011 and 2013 did a number on the couple and their marriage life.
Tiffany Haddish was walked down the aisle by her estranged father.
Source: Instagram
Divorce was not smooth, no divorces are but the fact Tiffany and William were not parents, helped the couple a lot during their divorce settlements. Tiffany was tasked with the job of a mother from a young age when she needed to take care of her brothers and sisters, but she never had kids of her own.
Also Read: Did Harry Styles and Kendall Jenner Date? Grab All the Details of Their Relationship History!
Still, the actress is living happily and single, and there are no kids in her life. She helps kids in foster care and in need, but there seems to be no hurry when it comes to having kids of her own. She is 40 years old, and seeing how things are, she is probably staying off the kid train for now, but we don't know what will happen in the future.
Tiffany Haddish Kids Say the Darndest Things – She is Killing it as the Show Host
After bursting into the comedy movie scene, the actress was flooded with offers to do various projects. There were movie offers and also guest appearances in the TV shows, but one of the projects which really took the imagination of the actress was a hosting job for the show 'Kids Say the Darndest Things.'
The show was previously hosted by Bill Cosby, but the actress was quick to put her own flair to the whole thing to make people forget about the past comparisons to the late 90s series. She frequently posts about the show on her Instagram page, and the actress seems to be enjoying her time on the show.
Also Read: Anthony Padilla Girlfriend Miel Bredouw - Top 5 Facts
Before you leave, make sure to visit Glamour Fame to be in the know of all the happenings in the world of show business.
-->