Here are Some Facts to Know About Todd Chrisley's Wife and Children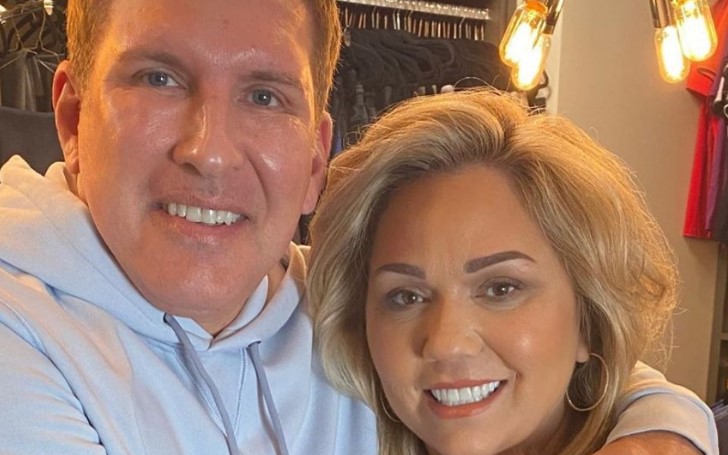 Todd Chrisley is known for the show, 'Chrisley Knows Best,' which premiered on March 11, 2014. However, he is not a former actor or anything but a real estate mogul. Following it was aired, people came to know him better as a person.
And on his show, we get to know him as a crazy, fun-loving person. The seventh season of the show was aired in 2019, and we got to know him even better. So, here's everything you should know about Chris' wife and kids.
Todd Chrisley is Married to His Wife, Julie Chrisley
As we have seen on the show itself, Todd Chrisley and his wife, Julie Chrisley, has overcome a lot and come a long way. The couple first met in the '90s, and it's really interesting what follows. The couple had some barriers in the beginning, but they managed to overcome them.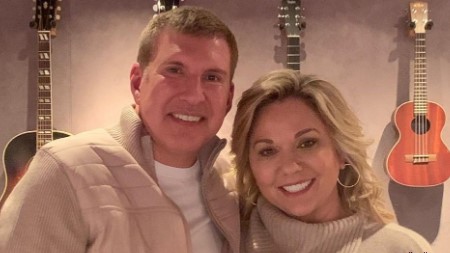 Todd Chrisley and Julie Chrisley tied the knots in 1996.
Photo Source: Todd Chrisley Instagram
According to the reports, both Todd and Julie were previously married before they met each other. Todd married his childhood sweetheart, Kenneth Wayne Childress, in 1991, when he was 24, while his former wife was just 18 at that time.
Also Read: Who is Trisha Prabhu? Know About Her Parents and Other Facts
After his split with his former wife, Chrisley was involved with Julie, who was also married previously. But the thing is, Todd's wife was still allegedly married to her former husband when she got involved with the real estate mogul. Some speculations suggest her marriage ended in scandal, causing a fight between former spouse after Todd appeared in Julie's life.
Well, it's still unconfirmed if that really happened, however, her marriage ended, and the couple tied the knots in 1996. She was already pregnant with their first child, son, Chase Chrisley, who was born just after a week of the nuptials.
Todd Chrisley and Julie Chrisley Share Four Children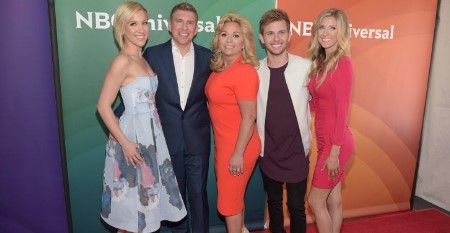 Todd Chrisley and Julie Chrisley share four children, Lindsie, Chase, Savannah, Grayson.
Photo Source: Yahoo!
As we know, Chase is their first baby, but the couple's eldest child is daughter, Lindsie Chrisley, who was adopted. So, the couple shares four children, Lindsie, Chase, and daughter, Savannah Chrisley, and son, Grayson Chrisley. All four of them had made their appearance on 'Chrisley Knows Best,' but Lindsie permanently quit the reality show in 2017.
Also, See: Who is Pasquale Rotella Dating in 2020? Find Out About His Girlfriend
Lindsie herself admitted she was adopted but not in the way you might think. The former reality star said she is from her father's first marriage, and her stepmom took her legally. Lindsie, when asked why she left the show, explained, "I kind of felt like an outcast. Even though they didn't make me feel that way intentionally. I just felt that way."
Todd Chrisley's Relationship with His Kid
Todd Chrisley is a fun dad, but some time will get on your nerve too. He and Julie both are caring parents, but sometimes it gets overboard for the kids. And Todd is someone who doesn't know how to hold back; he would sometime tell Chase he did not like his girlfriend, on his face.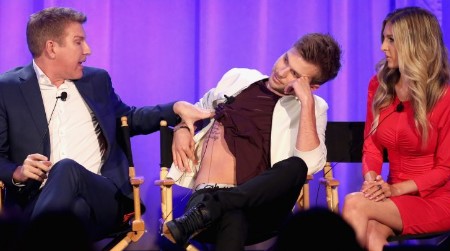 Todd shares a good relationship with his kids.
Photo Source: Yahoo
And the dad is very involved in Savannah's love life too. He certainly has a lot of opinions and does not hold them back either. But it's not like Chrisley is not aware of his habits, he admitted to his overbearing ways.
You May Also Like: Savannah Chrisley Weight Loss - The Complete Story!
In an interview, Todd said, "Listen, I recognize that there are times when maybe I overstep some boundaries, but I think everyone knows it comes from a place of love." And his kids know it too. Savannah calls her dad a "safe place," and her "best friend." Isn't that lovely?
For more information on your favorite celebrities' lifestyle, stay tuned to Glamour Fame, and don't forget to sign up for the newsletter.
-->