Tom Holland Goes Bali To Promote 'Spider-Man: Far From Home'
Published Wed May 29 2019 By David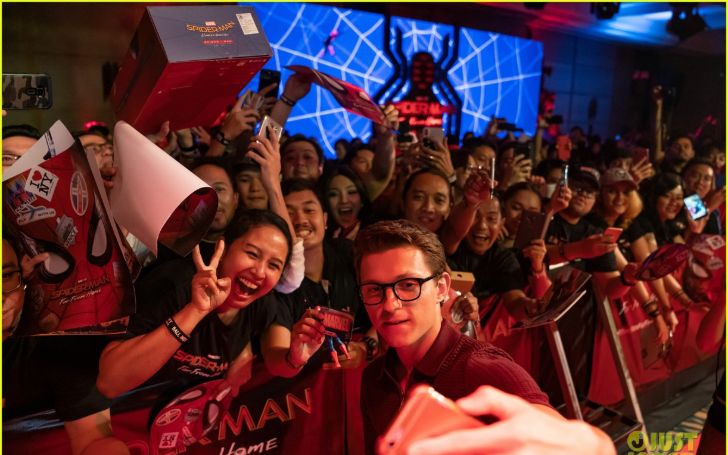 Avengers stars Tom Holland and Chris Hemsworth visited fans in Bali.
Fans of this Pacific region are thrilled about meeting Tom Holland (the Spiderman actor for the Marvel cinematic universe). On Monday evening, The British actor arrived in Bali, Indonesia to meet the fans and promote his upcoming movie Spider-Man: Far from Home.
"I want to meet him, take a picture with him," said William Wijaya Halim, a Spider-Man fan who flew from Bandung, West Java, to fanfest in the hope of meeting the Spiderman actor. William said he was joyed to have the chance to meet Spider-Man cast members personally.
A fan posed for a photo by the beach in Bali with Spider-Man actor Tom Holland.
SOURCE:Instagram / selviananovitaa.

Sherly Lukman, a financial consultant who had also gone to Bali said that he was extremely enthusiastic about seeing Holland directly.
Also Read: Joe Russo Reveals Tom Holland Wasn't Allowed To Have An Avengers: Endgame Script
Sherly, her boyfriend Joshua and William are among 29 members of Spider-Verse Indonesia, a group of Spider-Man fans in Indonesia.
You May Also Like: Chris Hemsworth's Family Calls Him Thor At Home
The fanbase was established two years ago, and over the course, it went on to develop an active following for Tom Holland.
Tom Holland visits Bali Indonesia to promote Spiderman: Far From Home.
SOURCE: JP/Ni Komang Erviani
Tom is meeting his fans in Bali on the 27th and 28th of May. The gathering is organized by Sony Pictures Entertainment to promote the premiere of its three movies. The event will also feature Chris Hemsworth who plays "Thor" in the same cinematic universe as Holland.
Chris Hemsworth also visited Indonesia to promote his upcoming film, Men In Black; International.
More than 200 followers are attending the conference. It, however, is being secretly held for only registered fans. Every one of the fans and media was selected exclusively in a shopping center in the Kuta territory, Bali, to be escorted to the occasion area by the coordinator.
Recommended: Avengers Star Chris Hemsworth Wants To Play James Bond In The Future
Holland's co-star, Chris' visit to the archipelago this time around might be to promote his own upcoming movie, Men In Black: International, which is also being distributed by Sony Pictures and scheduled to be released on next month.
-->