Tommy Gabriel is Under FIRE with Anonymous Trump Hater
Tommy Gabriel is under fire with an anonymous person for his article.
TV Personality Tommy Gabriel wrote his first article about Wawa Supervisor giving back to numerous police stations.
The article can be found here (link). Tommy's media connections have gotten the story of the Wawa Supervisor in Major Media.
Tommy recently posted a Instagram story about him receiving a anonymous email from someone who didn't appreciate that Tommy wrote a story about the Wawa Supervisor, who is allegedly a Trump Supporter.
Also See: Tommy Gabriel Stands Up to Cyberbullying For a Friend
Tommy quickly went to his Instagram to mention he supports NO ONE and was giving the light of the good deed in the media.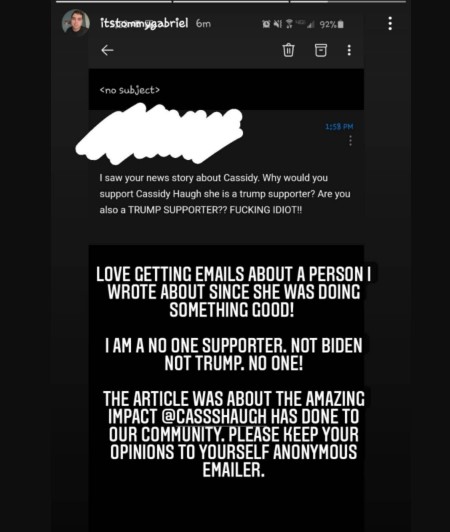 Here's the screenshot of Tommy's Instagram story. An unknown person confronted Tommy and alleged him of supporting Trump. But the media personality made it clear, he is not supporting anyone, but just good works!
We reached out to Tommy's Team for comment. They provided this statement: "Tommy used his skills of public relations and media connections to get a positive story about giving back to the police.
It has nothing to do with any political views. We would like to let the public know that Tommy Gabriel has no political views on either side."
Trolls will be trolls on the internet. We value Tommy using his media connections to bring a positive story to the light.
You May Also Like: Tommy Gabriel Saves British Follower's Life
For more information on your favorite celebrities' lifestyle and other news, stay tuned to Glamour Fame, and don't forget to sign up for the newsletter.
-->