Tommy Kono's Parents: Learn About His Family Life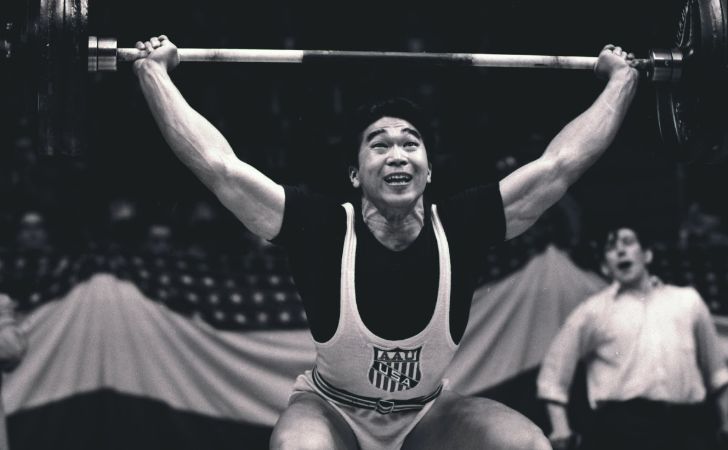 Tommy Kono's Parents: A Young Kono was Kept in an Internment Camp with His Parents for Over Three Years!
Regarded as one of the greatest athletes of all time, Tommy Kono was a legendary weightlifter and a bodybuilder. The late Olympic gold medalist is remembered every year on June 27, the day he was born. He passed away, aged 85, on April 24, 2016. Tamio "Tommy" Kono's life and career could be synonymous with resilience and triumph.
Not only did he reigned the sport, but Kono also expanded his career by turning a coach after his retirement in 1964. Google Doodle honored the late star on his 91st birthday. The LA-based illustrator Shanti Rittgers quotes, "he was like a shining star." Ahead is a look at the legend's family and early life.
Tommy Kono's Parents were Forced into Internment Camp!
Tommy Kono was born in Sacramento, California, to Kanichi and Ishimi Kono. His parents, both born in Japan, were cannery workers. They worked at the California Packing company, a local cannery. Born and raised during World War II, Kono's life and career meant double the effort.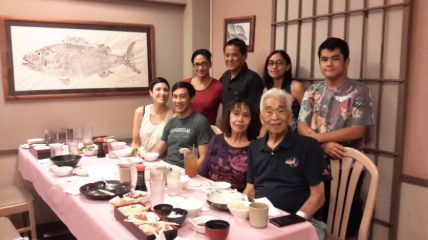 Tommy Kono was among 120,000 Japanese Americans who were forced into an internment camp.
Photo Source: Khon 2
After the bombing of Pearl Harbour in 1942, in fears that Japanese Americans would turn against the US, Tommy and his family were forced from their home and sent to the Tule Lake internment camp. Kono was among 120,000 Japanese Americans forced to relocate.
Check Out: Sophia Lillis' Parents: Learn About Her Family Life Here
Young Tommy was introduced to weightlifting during his time in camp. As a boy, he suffered from severe asthma and missed a third of his classes. Kono and his family were released after 3½ years in the camp. He attended Sacramento high school and later went to Sacramento Junior college.
By 18, Kono had entered his first weightlifting contest.
Photo Source: Morikami
Not much is known about Kono's family, but the family's time in the internment camp had sparked unparalleled determination in their son. By 18, he had entered his first weightlifting contest with no professional training. Within two years, Tommy ranked second in a nationwide competition.
Why is Tommy Kono Regarded as a Legend?
Did you know a vigorous Tommy Kono was an inspiration for young Arnold Schwarzenegger? The actor/bodybuilder revealed he was there when Kono won the 1961 Mr. Universe competition in Vienna; in awe of Tommy's achievement, Arnold took bodybuilding. Kono won the Mr. Universe title three times and Mr. World title one time.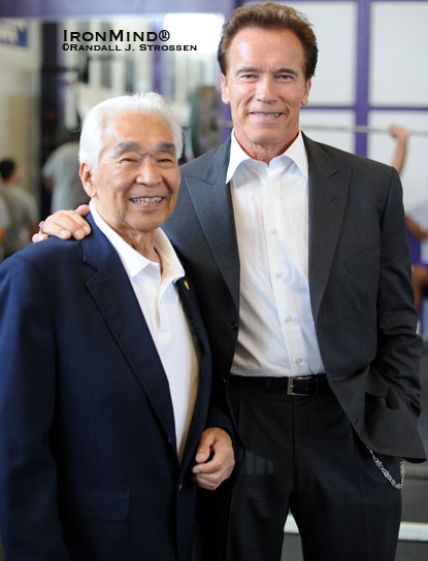 Schwarzenegger witnessed Mr. Kono win the Mr. Universe title in 1961.
Photo Source: The Olympians
In his 12 years of weight lifting career, Kono set 26 world records in four different weight classes, making him a historic athlete in U.S history. He trained largely on his own. Kono was among the first U.S athletes to visit and defeat Soviet Union lifters. After his mighty triumph against the Soviets in 1955, Kono became a global star. In his illustrious career, he also managed to make a significant amount of fortune.
Don't Miss: Who are Awkwafina's Parents? Learn About Her Family Life Here
He was named 'the greatest weightlifter by Time Magazine, Sports Illustrated dubbed him 'the most beautiful athlete in the world. Kono breathed his last beside at his wife, Florence's native Honolulu, in 2016. He died of complications from liver disease.
For more information and news on your favorite stars, stay connected to Glamour Fame.
-->