Tommy Lee's Ex-wife Elaine Starchuk - Where is She Right Now?
Published Thu Oct 17 2019 By Travis
Former playboy model and ex-spouse of musician Tommy Lee, Elaine Starchuk. Know where she is now and what her relationship status is!
Elaine Starchuk was born on 7th April 1964, to her parents in the city of Vancouver in Canada. She spent most of her life in the country where she went to school and got her high school education. After finishing her education, Elaine moved to the United States to fulfill her dreams of becoming a model and making a mark in show business.
Book and classes were not something, which appealed to their mind of Elaine because her interest was somewhere else. She wanted to be a model and at the age of 18, started on her journey to model in magazines, which lead Elaine to Playboy Magazine.
The infamous magazine was where she made her name, or she became known to the general public. She appeared in Playboy, and Penthouse Magazine, and also appeared in other various adult magazines by the time she was out of her teenager.
Whirlwind Romance with Tommy Lee and Their Astonishingly Short-Lived Marriage
Tommy Lee is a musician, someone who played the drums for the glam metal band 'Mötley Crüe.' The band was formed in 1981, and since then, they've become one of the highest-selling bands in the world. While the band was starting out and finding some success, the 20-year-old drummer met the 18-year-old model, Elaine Starchuk, in March of 1982.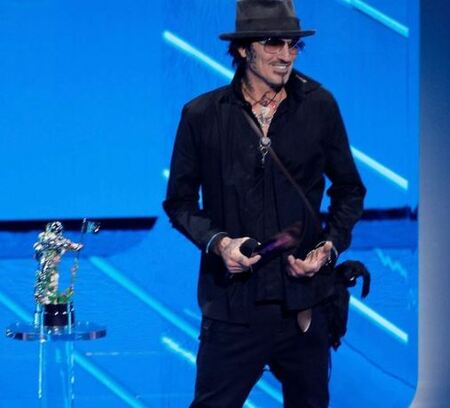 Elaine Starchuk's ex-husband Tommy Lee has been married four times.
Photo Source: Instagram (tommylee)
The duo fell in love and dated each other till 24th November 1984 when the two decided to get married. They tied the knot on the said date, but then in a funny or heartbreaking way, the relationship did not last more than a week.
Don't Miss: Kim Scott Mathers - Five Facts on Eminem's Former Wife!
After seven days of being husband and wife, the couple called it quits in December of 1984, and the divorce was finalized in 1985. Though they dated for more than two years, being married to each other was not meant to be for the couple.
Brittany Furlan and her husband Tommy Lee who was married to Elaine Starchuk.
Photo Source: Instagram (@tommylee)
This is a pattern in the two former lovebirds' romantic lives, they could never nail down a long-lasting relationship, and it all started with the seven days of marriage.
As for Elaine's former husband, Tommy Lee has been married to three other women since divorcing Elaine. Lee then married his second wife, Heather Locklear, third wife Pamela Anderson and fourth wife, Brittany Furlan whom he married in 2019.
Other Romances of Elaine Starchuk
Like we mentioned above, the model was not able to hold down a relationship, and it was the case when she first met Tommy Lee. Before the two even got into a relationship and ended up being married for seven days, Elaine got into and then left three different relationships. Before meeting Tommy Lee, the model was in a relationship with David Coverdale, Vince Neil, and Gregg Guiffria.
Elaine was never able to stay long in a relationship, and this was the case after the divorce from Tommy Lee. After the two were done, for a period of time, the model even dated Tommy's bandmate Nikki Sixx followed by a short-lived romance with Taime Downe.
After multiple relationships and one failed marriage, the model tried her hands in marriage again and tied the knot with Todd Marshall. The nuptials between the two lasted for four years when it was the same old story of getting divorced. After a while, she dated Anders Erikson for about five years, but again, she was not able to happily be in a relationship over a long period of time.
What is Elaine Starchuk Doing Now?
Elaine Starchuk, it seems, is done with relationships and getting married, two failed marriages, and a plethora of flings was enough for her to focus back on herself. She started the company Enlightened Lashes' and became the CEO of the company.
Elaine Starchuk owns a cosmetic company that sells eyelashes.
The former model's lashes business took off, and she was one of the few people who chaptalized on the growing eyelashes extension business. Elaine was also the first person to teach a Lash Course, and at the time of her starting out, there were only three last artists in the British Columbia area.
Elaine Starchuk started the Enlightened Lashes company.
The company is still going on, which is what she is focused on now, making sure the business is running smoothly and also creating employment opportunities in the lashes industry.
You May Also Like: Shannon Sharpe's Ex-Spouse Katy Kellner - When Did They Part Ways?
Before you leave, make sure to click on our Entertainment section for more news and gossip about your favorite celebrities. Also, do not forget to visit Glamour Fame to be in the know of all the happenings in the world of show business.
-->