Top 5 Facts About Arnold Schwarzenegger's Son Joseph Baena
Published Thu Jun 20 2019 By Andrew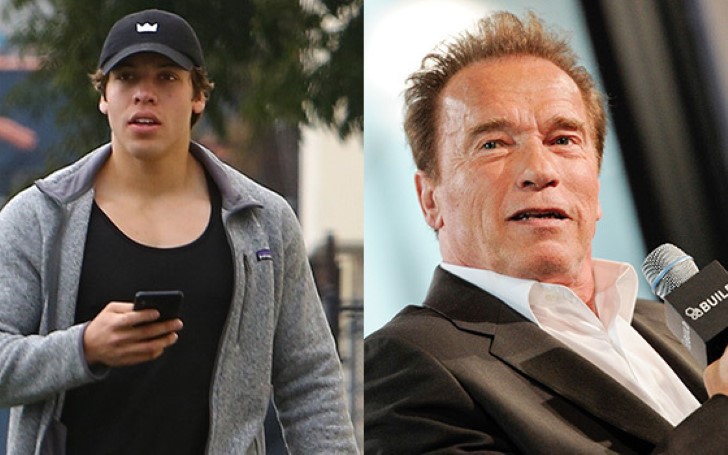 Joseph Baena, 21, is garnering a phenomenal amount of admiration and praise of social media users spread all over the world. As a matter of fact, the world just went crazy after recreated his father's bodybuilder pose on January 14.
And, the father of the 21-year-old bodybuilder no other than the prolific actor, author, and business extraordinaire, Arnold Schwarzenegger. Baena honored his 71-year-old dad's pose, inspired by the original photo which came into existence after the actor won Mr. Olympia for the sixth straight time in 1975. The son now seems to carry the torch that his father lit with his longstanding career as a bodybuilder.
Here are five facts about Joseph Baena!
5. Joseph Baena was an illegitimate child.
Joseph Baena is the son of Arnold Schwarzenegger and Mildred Patricia Baena, a chef. Mildred actually worked for the actor as his housekeeper, the two eventually got involved romantically and also had an infamous affair. The relationship they shared resulted in an illegitimate love child, Joseph. Schwarzenegger also is a father to three other children with Maria Shriver, 63 — Baena's step-siblings, Patrick, 25, Katherine, 29, Christina, 27, and Christopher, 21.
4. He's an athlete and an actor.
Baena who boasts himself as swimming champion in high school (Frontier HS), is well acquainted with a lot of sports. The son of the 'The Terminator' star is also a fitness fanatic, who enjoys his heavyweights and shows off the routine on social media. Baena even gets along with his father to get some father-son gym time together. And, Baena prefers to describe himself as an actor in his Instagram bio rather than a fitness enthusiast. IMDB lists his contributions to the entertainment industry as an actor and a creator of visual effects. To add up, he contributed his acting talents to movies like 'Wapakman' (2009), 'Aswang' (2011), and 'Shake Rattle' and 'Roll Fourteen: The Invasion' (2012).
Arnold Schwarzenegger stands Up for a 102-Year-Old Woman Who's being Evicted by her Landlord >>>>>
3. Baena is a student.
Joseph is currently pursuing his college degree at Pepperdine University in Malibu as per his Instagram profile. The profile description also maintains that the fitness enthusiast plays rugby for the University. According to sources, the 21-year-old is currently studying business as his major and also is an active philanthropist. Moreover, he is also in the Alpha Tau Omega (ATO) fraternity, of which he often posts photos in his social media pages.
2. He dated Savannah Wix.
Savannah and Joseph heading towards the gym.
SOURCE: Daily Mail
Baena and Wix— a Theta and pageant queen — commenced their love life somewhere around September 2017. However, the news of their split in mid-2018 became viral, because, coincidentally their last photos with each other were from August 2018. As a matter of fact, Wix holds the titles of Miss Arizona USA and Miss Malibu.
1. Baena loves the outdoors!
Joseph is a nature lover and can be seen constantly hitting the beach with his dog in his spare time. The sucker for fitness also enjoys his fair share of beach fun with sports like surfing and skateboarding. He loves to travel as well as having been everywhere, from Greece to Italy, Barcelona, and Switzerland.
-->