Top 6 Facts About Kamala Harris - Details Of Her Father, Husband, Family, Children, Age, Parents!
Published Tue Jun 04 2019 By Jessica
Learn all the details to American politician Kamala Harris Husband, Father, Family, Children.
Kamala Harris announced on January 21, 2019, on the Martin Luther King Jr. day that she was officially running as a candidate for the 2020 Presidential election.
The member of the 'Democratic Party' who already served as the Junior Senator for seven years from the year 2011 to 2017 was wholly focused on the preparation for running her Presidential campaigns.
Kamala Harris is not just the first African-American woman to be elected as the District Attorney of San Francisco but is also the only woman of color running for President next year.
[Update: December 4, 2019] But that all changed when she decided to pull out of the 2020 race after claiming she ran out of money despite breaking barriers. She was not doing too good in the polls either.
Learn more interesting personal 6 facts about Kamala Harris below.
6. Kamala Harris Is Married to Husband Douglas Emhoff at Age 49
2020 Presidential candidate Kamala Harris pictured with husband, Douglas Emhoff.
SOURCE: Gossipgist
Kamala Harris is married to husband Douglas Emhoff, who she met on a blind date set up by her best friend, Chrisette Hudlin, in 2013. Emhoff made a great impression on Kamala on their first-ever interaction through a phone call that the two instantly found themselves joking and laughing.
Harris then immediately asked her out the next day via emails with details on his free schedules, informing Kamala that he was too old to play games and wanted to get serious with her. After months of their courtship, Harris and Emhoff finally tied the knot on 22nd August 2014 at the Santa Barbara's courthouse, where Kamala's sister, Maya Lakshmi Harris, played the role of an officiator to their intimate wedding ceremony.
Kamala Harris' husband, Douglas Emhoff, is professionally a lawyer too.
Also See: How Will US' Ban On Huawei Impact Overall Shipments In Smartphone Market?
5. Kamala Harris Is Half Jamaican.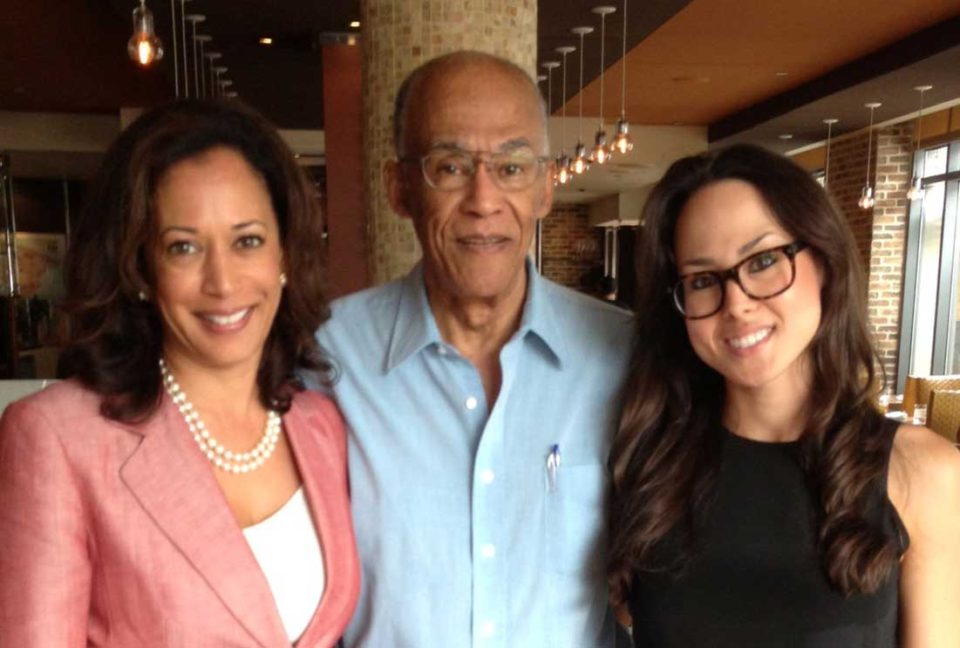 Kamala Harris pictured with father Donald Harris and a family member.
SOURCE: Abagond
Kamala Harris carries a half-Jamaican heritage from her father's side. Kamala Harris' father, Donald Harris, is a naturalized US citizen who originally hails from his native country Jamaica. Mr. Harris, also known as Donald J. Harris, professionally worked as an Economic college professor, according to his Stanford University biography.
Mr. Harris was reportedly upset with her daughter when Kamala revealed she smoked weed and marijuana at a young age as she jokingly said in an old radio interview: "Half my family's from Jamaica, are you kidding me?"
Speaking of the scandal he described as a 'travesty', Kamala Harris' father released a statement to a Jamaican website that read:
"My dear departed grandmothers (whose extraordinary legacy I described in a recent essay on this website), as well as my deceased parents, must be turning in their grave right now to see their family's name, reputation and proud Jamaican identity being connected, in any way, jokingly or not with the fraudulent stereotype of a pot-smoking joy seeker and in the pursuit of identity politics."
Don't Miss: Is Donald Trump A Time Traveller? A Person Claims To Have Found All The Proof!
4. Kamala Harris Is a Stepmother to Emhoff's Two Daughters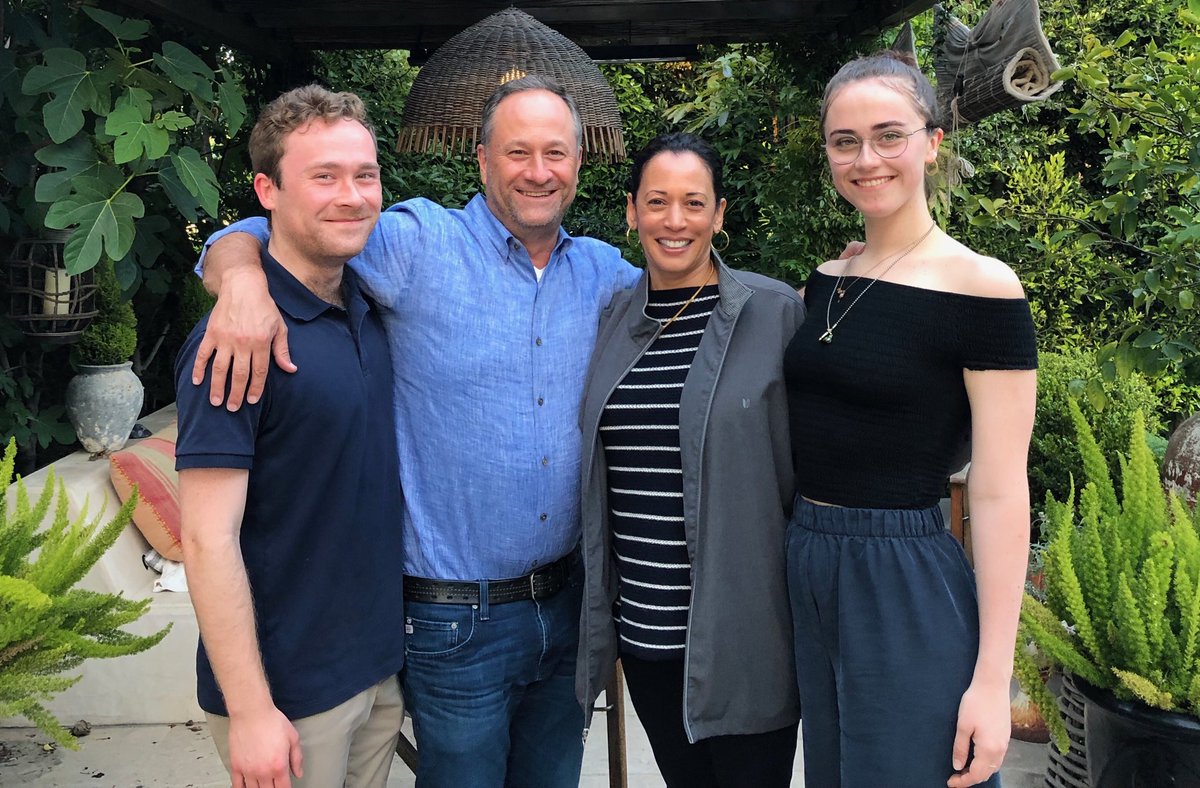 Kamala Harris alongside husband Douglas Emhoff and stepchildren Cole Emhoff, and Ella Emhoff.
SOURCE: Douglas Emhoff
Kamala Harris has no children of her own yet, but she shares two stepchildren with husband, Douglas Emhoff. Kamala waited for several months to meet Dougla's children because she felt like the children needed consistency and that she didn't want to disappoint them.
According to the senator, Kamala Harris, the children from Douglas' previous marriage, Cole Emhoff, and Ella Emhoff fondly call her 'Momala'.
"I love those kids. It was a collective decision that the word stepmother has been adapted by Disney and others, not necessarily a great word. They call me momala. We're able to be together for Mother's Day." Harris told CNN's 'State of the Union' in May 2019.
Elder stepson, Cole graduated from Colorado College, whilst Cole's younger sister, Ella, attends Parsons School of Design.
3. Kamala Harris Also Carries Half-Indian Heritage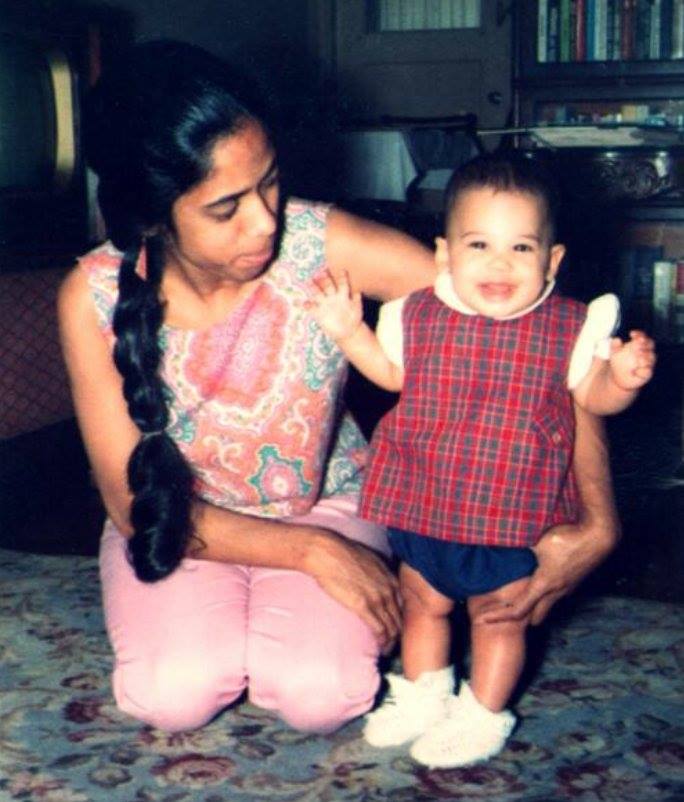 Kamala Harris pictured with mother, Shyamala Gopalan Harris.
SOURCE: Kamala Harris FB
Besides her African heritage, Kamala Harris also carries a South Asian ancestry with her. Harris' mother, Shyamala Gopalan Harris, is an Indian woman who moved to the States from Tamil Nadu, an Indian state at the age of nineteen.
In her book, 'The Truths We Hold: An American Journey'', released earlier this year, Harris mentions her mother is her main inspiration. "It was really my mother who took charge of our upbringing. She was the one most responsible for shaping us into the women we would become. And she was extraordinary."
Kamala's mother, Shyamala, gave both their daughters Indian names that hold Sanskrit meanings. Whilst 'Kamala' means the 'lotus flower', her middle name 'Devi' means 'Goddess'. As for Harris' younger sister, her name 'Maya' signifies 'love' in Sanskrit.
Kamala's mother, a colon cancer victim, passed away in 2009.
2. Kamala Harris Grew Up in Quebec, Canada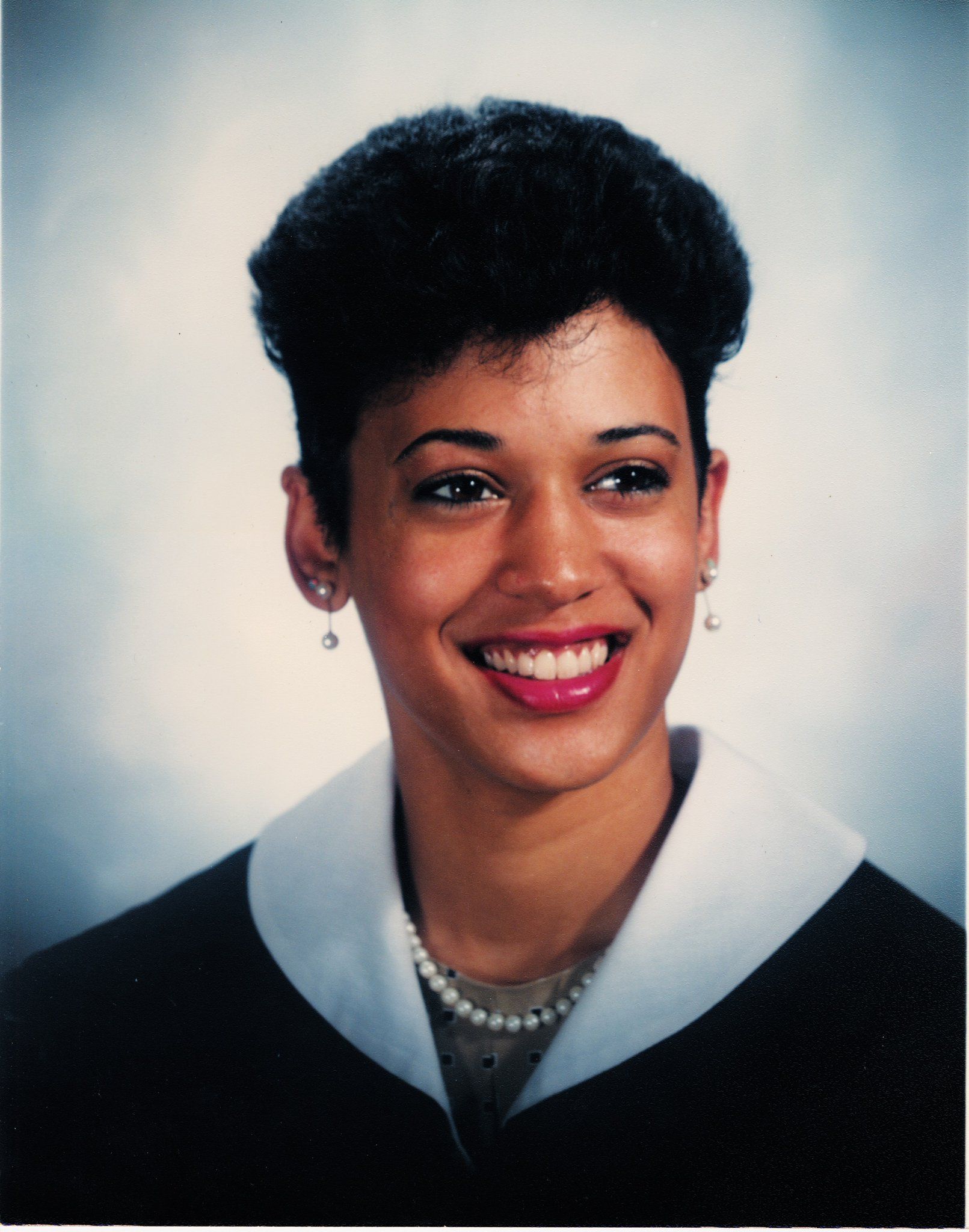 Young Kamala Harris.
SOURCE: Pinterest
Kamala, along with her mother and sister, moved to Canada at the age of 12 after her parents divorced when she was just seven.
Harris studied at the Westmount High School, where she learned to speak French and developed her political behavior. Harris once formed a group and protested against a building owner who prevented the neighborhood children from playing in the park.
The former 2020 presidential candidate only returned to the States to pursue her college degree at Howard University in Washington, D.C., where she was introduced to the liberal arts student council.
Recommended: Fake Melania? People Seem Convinced Melania Trump Has Been Replaced By 'Body Double'
1. Kamala's Sister, Maya Harris Holds a Career in Politics As Well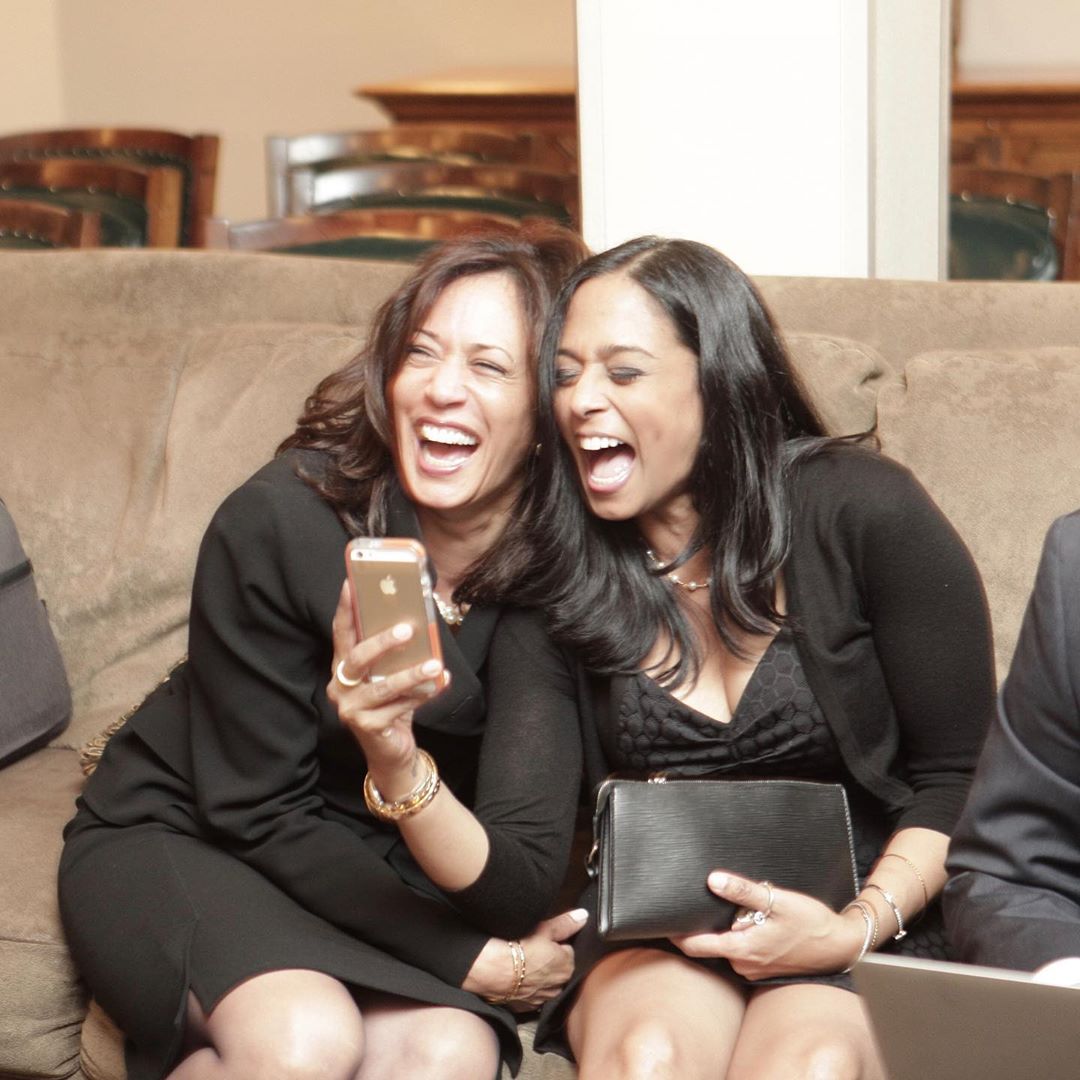 Kamala Harris and sister Maya Harris.
SOURCE: Kamala Harris

Kamala Harris' sister, Maya Harris — a lawyer, is also a politician who served as a policy advisor for former First Lady and the 2016 Presidential candidate, Hillary Clinton.
Whilst Kamala was attending the UC Hastings College of the Law, Maya went to Stanford Law School to receive her law degree.
Inspired from her late mother, "You may be the first, but make sure you're not the last." was Kamala's personal motto whilst her Presidential campaign ran under the motto, 'Kamala Harris For The People'.
[Update: December 4, 2019] The presidential campaign might be over now, but she says she won't stop fighting for the cause she started out with. She's determined to defeat Donald Trump with the campaign (video on the Twitter post below, and Trump has actually responded to her withdrawal), and her ideals remain intact.
Harris is likely to become a top-tier option for the party's vice-presidential nomination. She is, however, selected for the next presidential debate on Dec. 19, the only non-white candidate to do so until now.
Stay tuned and connected for GlamourFame for more Entertainment content.
-->