Tori Roloff Shared a Family Photo with Her Newborn Baby Girl Lilah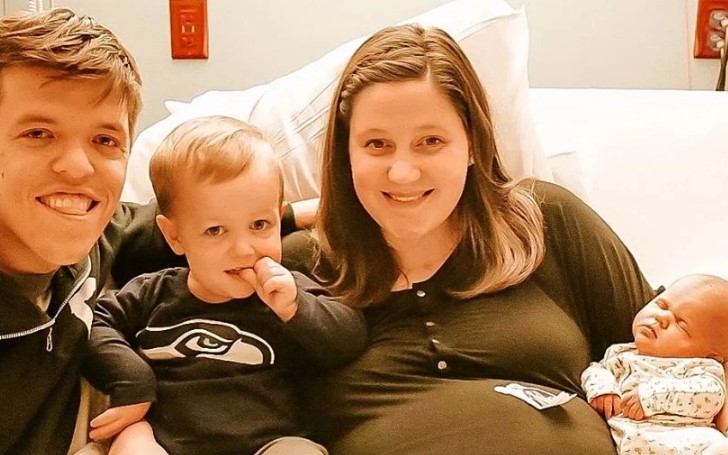 Tori Roloff uploaded a family photo to her Instagram story, and we couldn't get enough.
Tori Roloff's family could not be happier; the couple got their second child, Jackson Roloff got his baby sister. And the happiness is apparent from the number of pictures Tori is sharing on her social media lately.
Instagram posts, stories, - you name it, Tori is uploading pictures everywhere, and it makes sense too as the couple shared Tori had her concerns when she was pregnant with Lilah.
Tori Roloff uploaded a family picture, showing immense love for her family.
Source: Tori Roloff's Instagram
After the arrival of their baby girl, however, Lilah Roloff (born on November 21, 2019), the couple could not just hold their excitement.
Taking to her Instagram, Tori uploaded a family picture on her Instagram story, where she wrote, "I could not ask for better. Thank you, god, for these three human beings."
The picture saw Zachery Roloff, Jackson, and Tori all lying on a bed while the reality star was holding her newborn. After the birth of Lilah, Tori told one of the media outlets, "Zach and I are so excited to introduce you to our sweet baby girl Lilah. She has been the perfect addition to our family!"
Lilah looked absolute princess, and that crown just added to it. The 'Little People, Big World' star shared her picture when she was first delivered.
Source: Tori Roloff's Instagram
Indeed, Lilah just completed the family, and the couple could be happier. For more information on your favorite celebrities' lifestyle, stay tuned to Glamour Fame, and don't forget to sign up for the newsletter.
-->