Trailer for Terminator: Dark Fate is Out! What To Expect From The New Movie? Characters and Story Arcs Revealed?
Published Fri May 24 2019 By David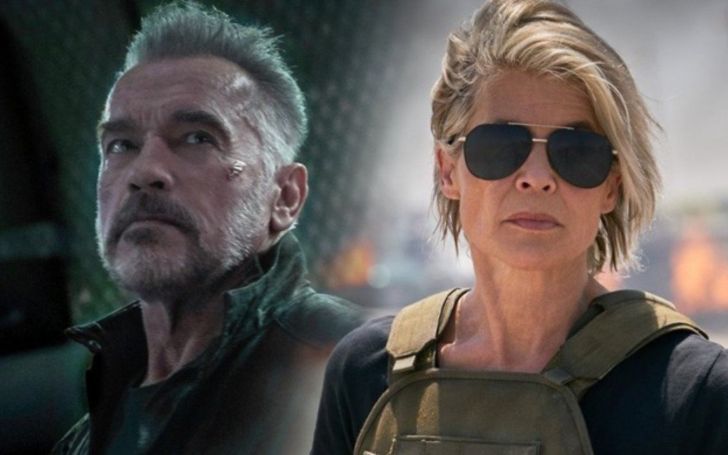 The official trailer for Terminator: Dark Fate is out! What to expect from the movie? Who are characters and what's the story about?
Yesterday morning Paramount officially dropped the trailer for its much-awaited sci-fi release, Terminator: Dark Fate. The Man vs Machine series has never been far away from the theaters and this new project wouldn't have been that much of an issue had it not involved the return of Arnold Schwarzenegger, Linda Hamilton, and franchise's founding father, James Cameron.
The Dark Fate trailer opens with the trio of new characters, Mackenzie Davis' (newcomer) "Grace" is shown trying to protect "Dani" (Natalia Reyes) and her brother "Miguel" (Diego Boneta) from the danger, the newest evil Terminator, which is able to split itself into two separate entities. Played by Gabriel Luna, Dark Fate's big villain had a ton of screen time and maybe the deadliest iterations of the man killing machine.
The trio of newcomers are eventually saved but not by a famous savior, Arnold Schwarzenegger's T-800, but Linda Hamilton's "Sarah Connor" who is shooting at this new antagonist with a massive gun, and then setting the bad guy aflame with another weapon.
One of the reasons people are being psyched for Dark Fate is the fact that the movie is serving as a direct sequel to Terminator 2: Judgment Day, the series' most successful slate till date. So when is the movie releasing onto the theaters, who else are in the casts, what's the story about? Know all about these in the section below.
When Is Terminator 6 Releasing?
Terminator: Dark Fate releases on November 1.
Shifted from its late November release date, fans will now be able to watch the next chapter in the franchise from October 23 in the UK and November 1 in the US.
Terminator 6's official title has now been dead confirmed as Terminator: Dark Fate. Fans, however, had previously speculated it would be called Terminator: Phoenix after learning that even cast members were referring to the movie with the very title. Ultimately, that was later revealed to only be a working title.
Who's Returning For Dark Fate?
Arnold Schwarzenegger and Linda Hamilton are returning from the previous movies for the new Terminator sequel
SOURCE: Hollywood Reporter
It wouldn't be a Terminator film without Arnold Schwarzenegger, who is returning as an aged T-800 along with Linda Hamilton (seemingly) on the team. Being said that, she may presumably be reprising her classic role of Sarah Connor from the first two films, the terminator (1984) and T2 (1991). Her on-screen son, "John Connor," is also set to feature in the movie, only this time he'll be played by a new actor (a child star, Jude Collie). Brett Azar, who starred in Genisys as a T-800, is also appearing in the movie.
Will There Be Any New Characters?
Gabriel Luna is playing the new main villain in an upcoming sequel of the Terminator franchise.
Producer James Cameron describes the film as being about "handing off the baton to a new generation of characters" so the new faces are quite inevitable. The additional ensembles include Dani Ramos, a young, working-class woman from Mexico City, played by Natalia Reyes. Ramos will be joined by Diego Boneta, who appears as Dani's brother, Miguel. Mackenzie Davis is also making her debut in the franchise as Grace, a "soldier assassin on a mission", while Gabriel Luna is playing a new Terminator assassin.
Is This The Last Time We Are Seeing Sarah Connor?
That comment from the producer, Cameron about Dark Fate -- seeing the baton passed on to a new generation -- went on to cause some speculations that the film could probably wave farewell to Linda Hamilton's Sarah Connor. She's been clearly mentioned as a dead character in Terminator 3: Rise Of The Machines.
You May Also Like: Here's Everything We Know About 'Avatar 2' So Far
Though, some criticized the decision -- for not giving her a proper send-off. Now that Dark Fate is confirmed to include Hamilton, it could be an opportunity to give her more of a fitting death than just fading her away off-screen.
What Happens In Terminator 6?
The film's been repeatedly confirmed of being a direct sequel to Terminator 2: Judgement Day, completely ignoring the three films that have come in between. The plot details are under deep secrecy as of now but Cameron recently told reporters that Schwarzenegger has "crossed over to the dark side." The Canadian filmmaker added that he's a "different Terminator than you've ever seen before" and said Sarah Connor was "there to do battle."
What Happened In Terminator 2: Judgment Day?
Terminator 2: The Judgment Day is considered as the best movie in the franchise till date.
SOURCE: Engadget
John Connor is living with his foster parents in LA in 1995, after his mother, Sarah was detained and employed to a mental hospital for attempting to bomb a computer factory. Skynet, an artificial intelligence system that has control of the US' nuclear missiles and set to start a nuclear holocaust (judgment day) in 1997, sends a new Terminator T-1000 back in time from 2029 to kill John. Upon learning this, the future John also sends a Terminator T-800 back to protect his past self.
Recommended: Is Dwayne Johnson Leaving Fast And Furious 9? What About The Release Date?
Sarah escapes from the hospital and, with John and T-800, rides on a mission to kill Miles Bennett Dyson, the man who would create the Skynet in the future. Eventually, the trio (Sarah, John, and T-800) defeat T-1000, and thus postpone the judgment day.
Who's Directing The Terminator 6?
Tim Miller, the director from 2016's Deadpool is directing the sixth movie from the Terminator franchise.
Tim Miller, the helmsman from the Deadpool is taking the director seat for his first Terminator movie. Whether he'll bring any of the humor from the Marvel movie remains to be seen.
Will There Be A Terminator 7?
Cameron isn't the director who relies on the success of his eventual release for the follow-up projects; just look at his Avatar project. The Academy winning director has spoken about wanting to pursue a new "three-film arc" that would begin with Dark Fate, in which he's intending to reinvent the franchise.
Also Read: Downton Abbey Film - Cast, Characters, Rumors, Spoilers, Release Date!
The only thing that needs to go right is if the project satisfies Cameron, himself and should that happen then we may not only get the seventh installment but an eighth as well.
-->