TV Personality Tommy Gabriel Caught Laughing With Mystery Girl
Tommy Gabriel speculated to have a girlfriend after he was spotted sharing a laugh with a mystery lady.
The rising TV Personality Tommy Gabriel was spotted hanging out with a mystery girl initially believed to his girlfriend.
Tommy is seen looking at the girl's phone showing him something. The TMZ Live commentator was visibly laughing as he supposedly watched something funny.
Also Read: Forest Whitaker Files For Divorce From His Wife of 22 Years Keisha Nash Whitaker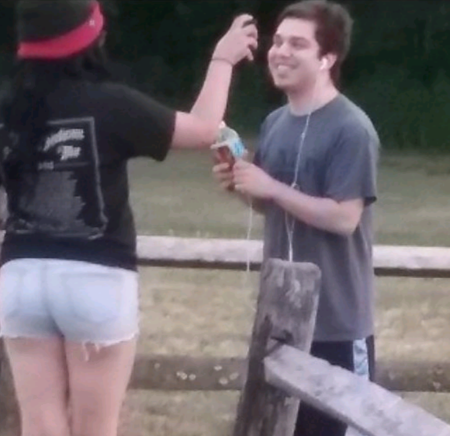 CAPTION: Tommy Gabriel caught laughing with a mystery girl
SOURCE: Anonymous
Sources close to Gabriel claim this picture is of a girl Tommy has known for years, implying she is a close friend of his. However, it is NOT his girlfriend. As a matter of fact, the two of them have never been involved in any kind of romantic relationship with each other.
You Might Also Like: Tamar Braxton Posts Hot Pics With Her New Boyfriend On Vacation
Meanwhile, the identity of the girl remains a mystery. We reached out to Tommy's team for more information regarding this photo. They denied commenting at this time.
A Short Bio On Tommy Gabriel
Tommy Sparandera, known online and TV as Tommy Gabriel, is a TV & Internet personality, and an upcoming actor. Tommy has become a social media phenomenon and has amassed a huge following on his social media and that he relates to his following as "Online Besties".
Also See: Six Artists Have Been Revealed For The 2019 Victorious Festival Line-up
Tommy Gabriel is known for his bubbly friendly personality. The topics he talks about are technology related and as well as giving his input on celebrity gossip to his audience and him talking about relatable, trending topics. As well as content that inspires others and betters the mood. This caused him to grow a following international cross all of his platforms.
-->