Tyler Herro Girlfriend - Is the Basketball Player Dating Someone?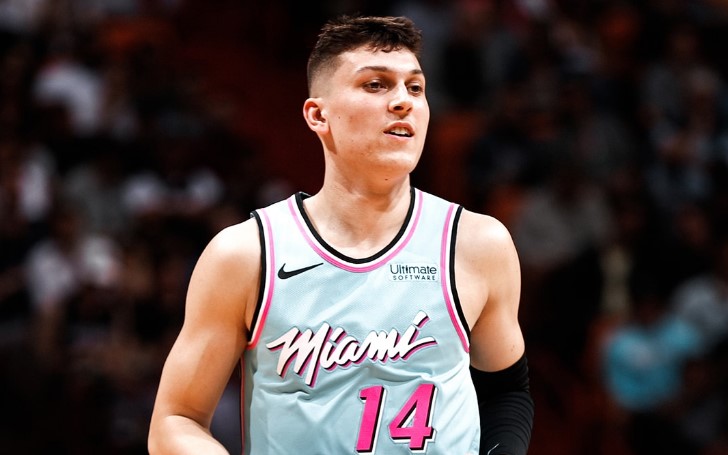 Tyler Herro (born Tyler Christopher Herro) is an American basketball player, playing for the 'Miami Heat.' Tyler was born on January 20, 2000, which makes him 20 years old as of 2020. Before his stint in Miami Heat, the 20-year-old played college basketball for the 'Kentucky Wildcats.'
While talking about his personal life, Tyler was born in Milwaukee, Wisconsin, to his parents, Christopher Herro and Jennifer Herro, and has two brothers Austin Herro and Myles Herro. The pro basketball player completed his high school education from Whitnall High School in Greenfield, Wisconsin.
Herro started playing for Miami Heat since 2019 when the team selected him with 13th overall pick in the 2019 NBA draft. Well, it's pretty much evident by now, he is doing good in his career. But all those things aside, for now, let's find out about his dating life. Is the professional basketball player dating someone? Let's find out.
Tyler Herro Girlfriend, Is the Professional Basketball Player Dating Someone?
Tyler Herro has always been the talk of the town since his college basketball. He created a buzz when the Miami Heat selected him, and also known as the best shooter; he never ceases to amaze us with his incredible talent. Recently, the star again surprised us with his abilities, while this time, it had nothing to do with basketball, but he shot his shot!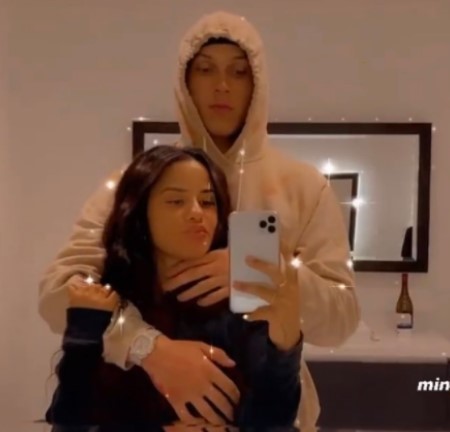 Tyler Herro is dating his girlfriend, Katya Elise Henry.
Photo Source: Sport Casting
Tyler, as we knew him, was kind of reserved person, but self-quarantine time did some magic on him. While we are sitting feeling hopeless due to prolonged 'stay-at-home' order, someone was shooting his shot, and that was a bullseye.
Tyler is currently dating his girlfriend, Katya Elise Henry, who he met on social media. See, this a perfect example of nothing is impossible, where there is a will, there is a way, and all other cliche proverbs possible, because our boy did something, we would never expect from him.
Also See: Some Facts to Know About Andre Harrell's Son Gianni Harrell
One fine day, Herro decide to hit a girl Twitter, and he gets lucky, and two continued flirting, which later turned into a relationship. It sounds like an entirely fictitious story, right? But that's precisely what happened between Tyler and Henry.
How Did Tyler Herro and Katya Elise Henry Meet?
As we mentioned earlier, the couple first started talking after Herro started flirting with Katya. The 20-year-old tweeted 'WYD' tagging Katya, and guess, what she replied, "quarantine and chill?" followed by a smirk emoji. So, what do want more, the couple started flirting, exchanging more texts and calls, and eventually, the day came, the two finally met.
So, the first time Tyler started flirting with Katya was on March 18, 2020. So, almost after two months, the couple made it official when Herro uploaded a story on his Instagram on May 6, 2020, where the couple was seen going for a drive. Well, that's when people found it, as they made it official on the same day.
Who is Katya Elise Henry?
Katya Elise Henry is the ex-girlfriend Kyle Kuzma, a professional basketball player for the Los Angeles Lakers. While basketball fans know her that way, she has her own identity too. Katya is an Instagram model. While addressing her as only a model won't be fair.
Katya is a fitness model, who promotes plant-based protein or diet, and teaches people how to achieve a healthy life. Henry is pretty big on Instagram; she has more than 7 million followers in her main account alone. She also runs 'Workout by Katya, ' which has roughly 500K followers. As you can see for yourself, she is doing pretty well on her career.
You May Also Like: Stacey Solomon Boyfriend - Find Out About Their Beautiful Relationship
For more information on your favorite celebrities' lifestyle, stay tuned to Glamour Fame, and don't forget to sign up for the newsletter.
-->