Tyler The Creator Girlfriend: Reign Judge! Are Tyler and Reign Still Dating?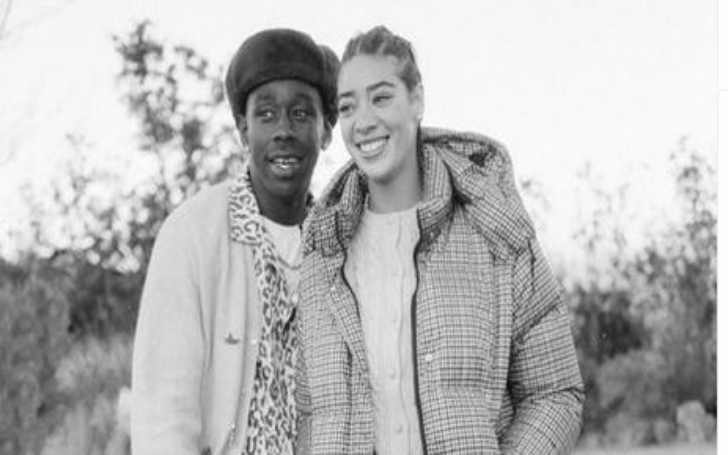 Tyler the Creator is a massive name in the music industry that hits beats differently. He is an American rapper and record producer originally from California. But is Tyler dating a girlfriend? Yes, Tyler the Creator is dating a girlfriend. However, the world-renowned artist keeps his relationship with his partner away from the public eye. The rapper keeps his personal life out of the limelight, but his career dazzles the masses.
Tyler is one of the founding members of Odd Future, an American music collective. From his impressive musical career, he has landed two Grammy Awards and amassed a massive fan following base. The singer gave hit after hit to the music world after he started his career. Tyler has worked with several renowned artists, including Eminem, DJ Khaled, and many more. Now let's know more about the Wolf rapper and his love life.
Are Tyler The Creator and His Girlfriend, Reign Judge, Still Dating?
From his eye-catching career, people often wonder who Tyler The Creator dates. On the other hand, the rapper loves to keep his private affairs low-key and far from the media's reach. He hasn't yet publicly announced anyone as his partner.
Tyler's secretive nature made his fans curious about his romantic life. The wait is over, and yes, Tyler is involved romantically with his girlfriend, Reign Judge, and hasn't spoken much about it.
Glancing at their romantic journey, Tyler and Reign's dating rumors back in 2021. The duo made headlines after appearing at the LACMA Art + Film red carpet gala in November 2021.
Despite being so much in love, The Creator and his squeeze were rarely seen in the public eye and rarely posted about one another. On September 7, 2022, they gave a rare public appearance together in New York.
Did Tyler the Creator and his Girlfriend Reign Judge Break Up?
Being fashion lovers, Tyler and his girlfriend, Reign, looked too dashing in their outfits and grabbed the public attention. This was the last time the pair had been spotted together as a couple in public.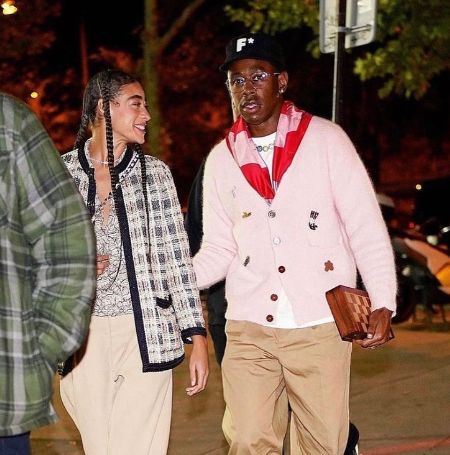 With this, fans are all stating that they are separated. Neither of the parties has ever clarified the news. So it is still a mystery whether Tyler is still dating Judge.
Who is Tyler the Creator's Girlfriend, Reign Judge?
Like Tyler, his girlfriend, Reign is part of the glamour world and often hits the top news. She is an American model and social media star originally from New York. Reign was born on 2nd October 2001, and holds the birth sign Libra.
Reign stays active on her Instagram account and has doubled her fame. Her Instagram account has over 183K followers, and she has shared seventy-four posts on it. She often uploads pleasing lifestyle and travel content on his social media accounts.
The IMG model has worked with several fashion brands, including Batsheva, Gucci, Miu Miu, etc. The beautiful model is in her early 20s and is achieving a big dream. Like every youngster, she is highly active on social media and shares daily deeds.
Did Tyler the Creator and Jaden Smith Ever Date?
Tyler the Creator keeps his love life hidden, so his dating history has been part of the mystery. Due to this, many people are speculating about his sexuality. Also, Tyler has made direct references to same-sex relationships and experienced it in several of his lyrics. In 2015, he even stated in an interview with Rolling Stone he was gay as f..k.
In several interviews, Tyler said he had a boyfriend when he was fifteen and kissed boys since 2004. One of the biggest questions in his personal life is whether he dated Jaden Smith. In 2017 their relationship hit the internet after Smith proclaimed that the two dated at Camp Flag Gnaw.
While appearing in the concert, the Never Say Never singer confronts the world about his romance with the rapper.
"Hahaha you a crazy fu.... man."
Tyler The Creator Tweeted in response.
Also, after the rapper won his Grammy in 2020, Jaden took the Twitter and stated My boyfriend just won a Grammy. However, the Flower Boy singer never confirmed the news, and it all faded away in the blink of an eye.
A Quick Look in Tyler the Creator's Fruitful Career
American record producer Tyler is often at the top of the list with his successful career. In 2009, he self-released his debut mixtape Bastard and gathered considerable attention in a short time. With this success, he released his first studio album Goblin in 2011, which brought him to the mainstream.
His horrorcore lyrics and sound not only made him famous but also left him surrounded by several controversies. In 2013, he released his second album, Wolf, moving from horrorcore into alternative hip hop. Tyler then started creating several experimental sounds and brought them into his albums.
Tyler released six albums that are at the top of the charts. His first album Goblin made #1 on U.the S. R&B charts and reached number five on U.S. Charts. Also, his songs have helped him secure three BET Hip Hop, Two Grammys, an MTV Video Music, and BRIT Award.
Also see: Kim Petras Made History As First Transwoman To Win A Grammy! Learn About Petras' Transition To Fame!
New Magic Wand Singer Tyler The Creator Has a $25 Million Net Worth
Tyler The Creator remains one of the most successful rappers in the United States. Tyler has amassed a massive name and fame. As of 2023, the record producer is enjoying a net worth of $23 Million. His songs are listened to worldwide and have sold millions of album copies globally.
In October 2019, he signed a first-look production deal with Sony Pictures. Most of his fortune is from his tours and record deals. Since 2009 he is often touring around the world and creased his wealth. As estimated, the Creator makes over $1.5 Million annually with his overall efforts.
Not only he earns an enormous sum of money as a rapper but invested it in real estate also. In 2012 he bought an 8,000 sq foot mansion in Atlanta, Georgia. However, the price of the property is still unknown. In December, the songwriter bought LA's Bel Air Mansion for $7.9 Million, which he sold in January 2023.
For More Content, Visit Glamour Fame
-->