Tyson Fury Weight Loss - How Did the Professional Boxer Shed an Incredible Nine Stone in Less Than Two Years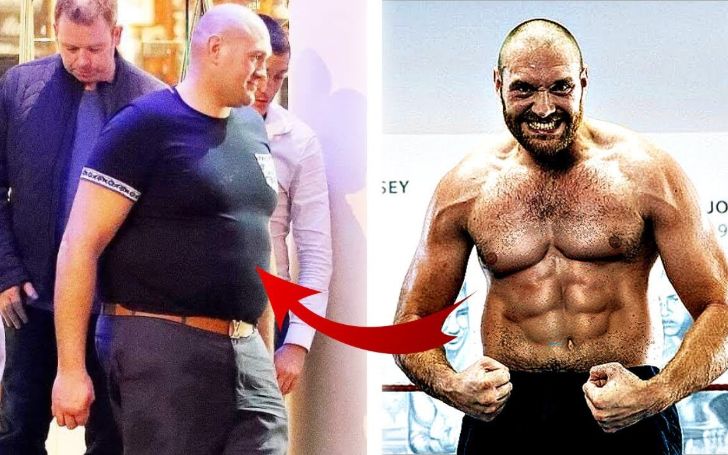 The two-time heavyweight world champion Tyson Luke Ferry officially managed to lose a massive nine stone in just two years. The news is pretty shocking yet motivating to the fans of the boxer.
Back in 2016, the heavyweight athlete vacated out of 'WBA,' 'WBO,' and 'IBO' titles due to some personal reasons of mental health, weight gain, alcoholism, and even drug abuse.
In two years of Tyson's absence, the guy ballooned up to more than 29 STONE in weight, which is like 406 pounds. Not anymore as Fury came back with a resounding bang, as he dominated the recent fight with Deontay Wilder in a technical knockout in Round 7 of a 12 round fight on Feb 24, 2020.
How did the buff guy lose all that sack giving him the chance of an epic come back? Let's find out the complete details of his weight loss.
Who Trained Tyson Fury?
The former boxer needed a severe training session to get rid of the massive fat; he garnered from his inactivity. One of the close friend Billy Joe Saunders introduced Fury to trainer Ben Davison. The pair hit it off so well that Davison even shifted to his client's house in Morecambe.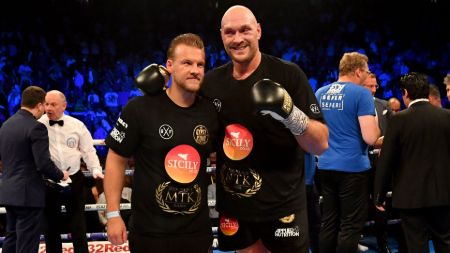 Tyson Fury with his Trainer, Ben Davison.
Source: Sporting News
Trainer Ben worked pretty hard to make our world champion shed his seven stone weight. They spent every waking hour with each other and trained rigorously mentally and physically. Tyson's brother and father were also a great source of inspiration for him.
Fury's Strict Diet
The previous world champion was already on the brink of obesity. Previously his diet included gorging on all kinds of greasy snacks, fast food, and alcohol. It was said that in a typical night out, Tyson would drink at least 18 pints of alcohol while stopping at a local takeaway to end the day.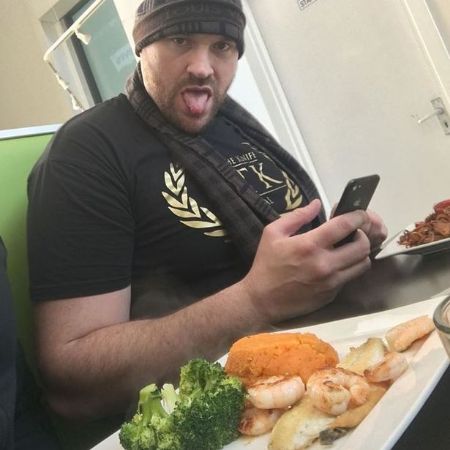 Fury's ketogenic diet included eating tons of meaty products.
Source: Mirror
Before the preparation of the diet plan, Fury weighed 385 pounds. The main help for the boxer was his professional nutritionist Greg Marriott who introduced a ketogenic diet. He advised Tyson a balanced diet of 5,500 per day intake.
Related: What is Deontay Wilder's Net Worth? Complete Breakdown of Professional Boxer's Earnings and Salary
Keto diet means eating low carb and high fat intake, which leads to a drop in insulin level and weight drop. For that, the guy ate full fatty and greasy foods like tons of meat, cheese, mayonnaise, bacon, sausages, eggs, etc.
Training Schedule of Tyson Fury
As per the Keto diet instructions, the champion needed 3500 calories per day, but he expended 2000 calories just on the gym, which was why the diet plan was changed to a 5500 calorie count.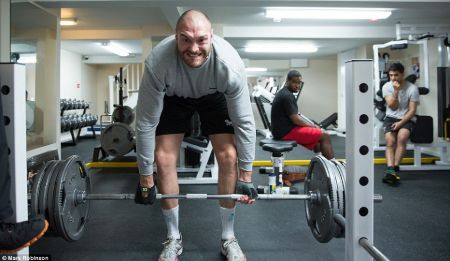 Fury lifted heavy weight as a part of his training.
Source: Daily Mail
To regain Tyson's stealth and speed back, he had to go through a series of strict boxing schedule, swimming and everything else to get his muscles back on. Determined, he lifted heavyweight to shed his mass.
You May Like: Meet Hafþór Júlíus Björnsson's Wife Kelsey Henson — Interesting Facts about the Model
By the time Nick debuted his comeback, fighting with Sefer Seferi, he'd already gone through massive changes. With all the shedded weight the boxer is back in the game, ready to rule like he used to.
If you want more of these news, make sure you follow Glamour Fame.
-->