The Untold Story of Diana Taurasi Son with Wife Penny Taylor
Published Wed Feb 26 2020 By Sea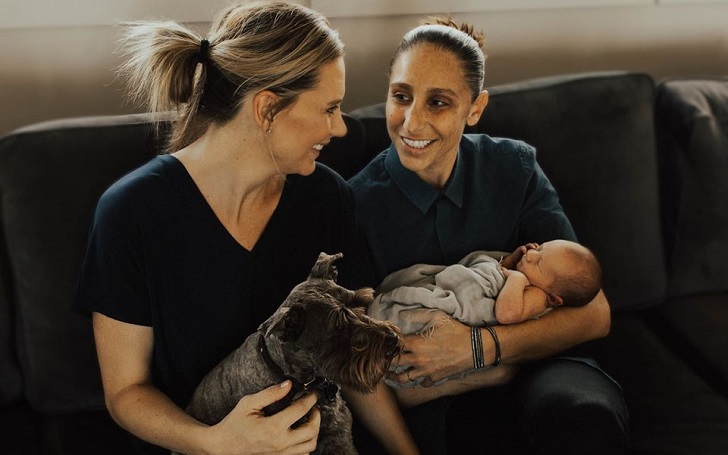 Sharing the same profession can be very effective in maintaining a relationship. Especially, when they're married. But people could work out balancing their career and domestic life together.
The story of Olympian Basketball professionals, Diana Taurasi and wife Penny Taylor, is an exceptional one. The two were teammates for the Phoenix Mercury team and found themselves winning three championships together. They were the only players to be part of all three of them.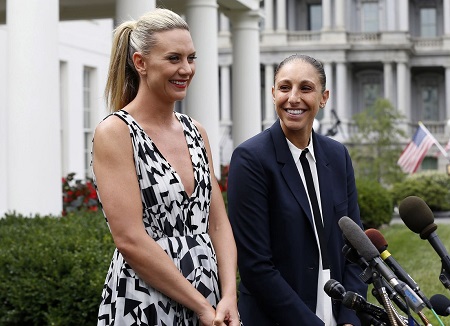 Diana Taurasi and wife Penny Taylor initially played alongside each other for the Phoenix Mercury.
Source: Geoff Burke, USA TODAY Sports
Taylor was a standout forward, and Taurasi plays guard for Mercury. For the latter player, she defied the normalcy of players growing slowly with each season. Her peak of the career came at an age that players would've likely retired. In 2018's season opener against the Dallas Wings, she became the first WNBA player to make 1,000 3-pointers.
While Taurasi is still piling up records to her legacy, Taylor didn't leave things in the back burner. The Australian won two Olympic silver medals, as well as a gold and two bronzes at the FIBA World Championship before retiring after the 2016 WNBA season.
The Personal Relationship is Private by Choice
Both the professionals' 14-year careers have got them certified as one of the greats for Phoenix Mercury. After retiring, Penny went on to take the role of Director of Player Development and Performance in 2017 at the club. The two thus reunited professionally as well.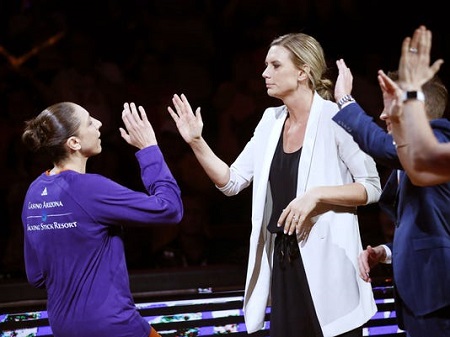 They are able to perfectly balance their personal and professional life together.
Source: Michael Chow/AZCentral Sports
The love story between the two is a complete mystery. While remaining completely secret about their relationship, Taurasi did mention they are open about the relationship, but just not when they're working. Plus, their story is their own, and they just don't want there to be issues regarding it, ever.
That was our special thing. We never kept it secret, we just didn't want that to be an issue ever. We knew when we walked through those doors, it was time to put work in and be professional.
The two got married on May 13, 2017, something that surprised their followers. They'd reportedly planned the wedding a year before the big day.
For Taurasi, it was, "Just an amazing day, one of the happiest days we've ever had." But she had a game the very next day. She played against Dallas and lost but was happy with her special day nonetheless. But sure, she would've liked the cherry on top to be a win in Mercury's 21st season opener.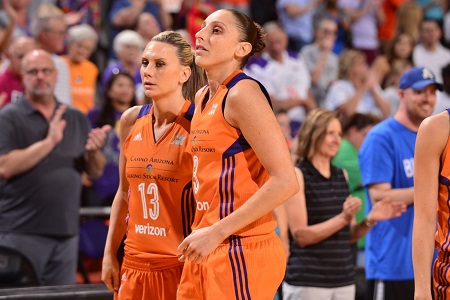 They are the only two players to be a part of Mercury's all three championship wins.
Source: Barry Gossage, NBAE via Getty Images
"I was actually disappointed we had a game the next day at 3," said Taurasi. "If anything they could have set it up at least 24 hours (later) or a 7 o'clock game. That wasn't ideal, but that's life. it's going to be one of those days we'll remember for the rest of our lives."
Taylor also wanted people to be happy for the two people in love. She took a break from work in the 2018 season to prepare for the birth of their son. But when she returned following a few months of maternity leave. She was promoted to an assistant on head coach Sandy Brondello's staff in April 2019.
You May Like: Where is Zathura: A Space Adventure Child Actor Jonah Bobo Now?
Of course, it was important for the team to have her as she'd left quite a legacy with the club, as Taurasi is also set to do as long as she continues to play.
Penny Taylor Gave Birth to Their Son Leo Michael Taurasi-Taylor with a Mystery Donor
On March 1, 2018, Leo Michael Taurasi-Taylor was born into the happy world of the married couple. Taurasi was in Russia with her team UMMC Ekaterinburg when Taylor was expecting. But she came back to the US in January that year to be with Taylor and take a much-needed basketball rest.
Motherhood is obviously stressing for new parents, especially for Taurasi, who was learning the job on the fly. She was just adapting to being a parent and admitted she's lucky to have Penny around to keep the ship afloat.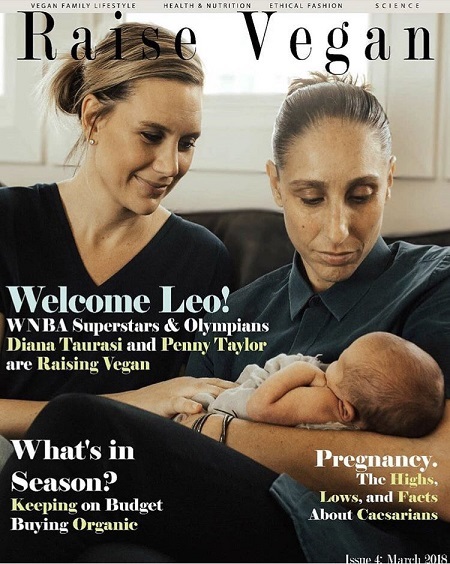 Taurasi was there with Taylor through her final months of pregnancy.
Source: Wasserman, Twitter
"There's no book, no pamphlet, no advice, a lot of it is trial by fire," Taurasi stated in a phone interview this week while playing with USA Basketball in Seattle. "I'm lucky to have Penny around, she keeps the ship afloat."
She did return to the Mercury training camp for their new season after Taylor was announced the assistant coach of the team. She also trained and played with USA Basketball.
Recommended: The Extraordinary Love Story Between William Baldwin and Chynna Phillips Despite the Hurdles
As for the son, he's given nothing but joy to the new parents. "It's incredible," Taurasi continued. "He's changed our lives the last two months in such a great way. Every day to see that little face, see him smile. When he puts on a pound and gets a little bigger, it makes you really happy."
As for more information, the parents have decided to raise little Leo completely vegan. Also, Taylor was once married to Brazilian volleyball player Rodrigo Rodrigues Gil back in 2005 but divorced three years later.
Stay tuned and connected to GlamourFame for more Entertainment content.
-->