Unveiling the Love Story: Exploring the Relationship of Chrisanne Blankenship and Alexandra Billings
Alexandra Billings is a remarkable figure in the entertainment industry, renowned for her exceptional talents as an actress, singer, and transgender activist. Born on March 28, 1962, she has fearlessly broken barriers and defied societal norms throughout her career.
Billings gained widespread recognition for her portrayal of Davina in the groundbreaking television series "Transparent." As an openly transgender woman, she has used her platform to raise awareness about LGBTQ+ issues, advocating for inclusivity and acceptance. Now let's take a look into the life of Alexandra and her partner in crime, Chrisanne Blankenship.
Alexandra Billings and Chrisanne Blankenship Were High School Sweethearts
In 1976, Alexandra Billings and Chrisanne Blankenship met at Schaumburg High School's drama club. Alexandra, then known as Scott, was a freshman, while Chrisanne was a senior. They acted together in "Twelfth Night," playing twin siblings, and Alexandra's talent for impersonation influenced Chrisanne's acting approach.
As they navigated adolescence, their bond grew stronger despite Scott facing bullying for his effeminate nature. They explored the city, assuming sibling roles, and relishing the freedom of their imaginative connections.
Years later, Scott transformed into Shante, a glamorous drag queen at the Baton Lounge, but struggled with drug abuse, prostitution, and abusive relationships. This caused a temporary rift with Chrisanne, who found it challenging to accept the profound changes.
Dates
While Chrisanne pursued a theater career and got engaged to other men, Alexandra hit rock bottom as Shante but eventually sought recovery and underwent gender confirmation surgery. They reunited, spending time together and going on double dates. Their friendship deepened gradually, with shared social activities, theater visits, and heartfelt conversations.
When Alexandra received an HIV-positive diagnosis, Chrisanne provided comfort and support. One day, while getting ready to go out, Alexandra noticed Chrisanne dressing up as though for a date. Curious, Alexandra asked if they were dating, to which Chrisanne affirmed. They proceeded cautiously, reminiscent of old-time movies, starting with holding hands before sharing their first kiss after several months.
Wedding Knots in 1996
Alexandra mustered the courage to express her love first, writing a heartfelt note to Chrisanne as a Christmas gift that simply said, "I love you." However, before their engagement, the couple had a disagreement.
To reconcile, Chrisanne took Alexandra to their cherished Chicago restaurant, where they ordered each other's favorite meal. It was during this intimate dinner that Alexandra proposed, an event she would only reveal in her biography.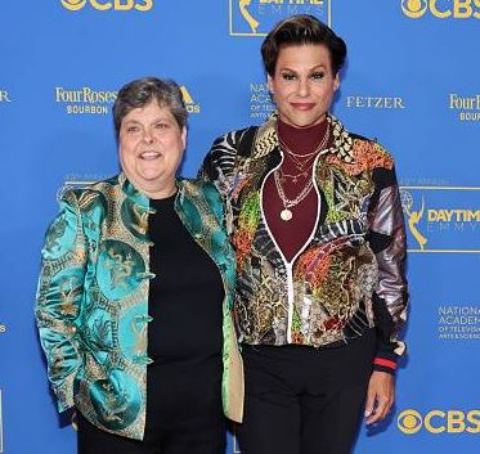 According to Alexandra, Chrisanne asked if she would marry her, beginning the question with, "What would you say if?" as Chrisanne had reservations about receiving a positive response to her proposal.
The couple tied the knot in 1996 at the Bailiwick Theatre, despite gay marriage being illegal at the time. The wedding was a beautiful affair with two reverends, one male and one female. Due to prevailing societal attitudes, the 130 attendees presumed they were witnessing a performance rather than a legal marriage ceremony.
Alexandra BilliBillings'sngs Mother Didn't Attend the Wedding
Alexandra's mother boycotted the wedding due to her lack of understanding, while her father feigned illness. However, Chrisanne's parents and brother wholeheartedly embraced the occasion.
On December 5, 2022, Alexandra commemorated their anniversary on Facebook, reminiscing that 26 years prior, Chrisanne had said yes. She affectionately referred to her as "wifus" and proclaimed her as home.
Recently, the couple embarked on an adventure in South Africa, which they fondly shared with others. Alexandra expressed gratitude for being able to explore the world together during the middle phase of their lives.
In May 2023, Alexandra opened up about their early years of marriage, disclosing that they relied on food stamps while she battled HIV and endured a prolonged period of illness with little faith or hope.
Early Life and Working as Sex Worker
Alexandra Billings was born in Illinois to a multiracial family. Her father, Robert Billings, served as a music teacher at Los Angeles Harbor College and was involved with the Los Angeles Civic Light Opera, which played a significant role in sparking Alexandra's interest in theater.
She gained backstage experience while working alongside renowned figures like Carol Burnett and Yul Brynner. Alexandra's early theatrical credits include appearances in productions such as Jesus Christ Superstar and The Roar of the Greasepaint—the Smell of the Crowd.
During her early adult years, Alexandra faced numerous challenges, including homelessness and struggles with addiction to cocaine and opioids. She also engaged in sex work for a period.
Alexandra Billings Philanthropic Deeds So Far
Alexandra Billings is a prominent AIDS and LGBTQ activist, dedicated to advocating for equality within the LGBTQ community and encouraging others to use their voices to effect change.
In 2016, she received the Human Rights Campaign Visibility Award for her outstanding contributions as an openly LGBTQ individual. During her acceptance speech, Billings expressed gratitude for the audience's presence but also stressed the need for action beyond mere words and appearances.
In 2017, while accepting the GLAAD Media Award for Transparent, Billings urged the audience to engage in dialogue with those who hold opposing views, emphasizing the importance of conversation and understanding in driving progress. She called upon older LGBTQ individuals to guide and empower the younger generation as they continue the fight for equality.
During her commencement speech at California State University, Long Beach in 2015, Billings underscored the significance of using one's voice, encouraging graduates to speak boldly and widely to amplify their messages. Her activism and advocacy reflect her unwavering commitment to amplifying marginalized voices and promoting inclusivity.
Also See: NikkieTutorials Opens Up About Growing Up as Transgender
Visit Glamour Fame For More Related Content
-->