Vanderpump Rules Star Stassi Schroeder Wishes Newcomer Billie Lee Would 'Just Leave'
Published Wed Apr 17 2019 By Eden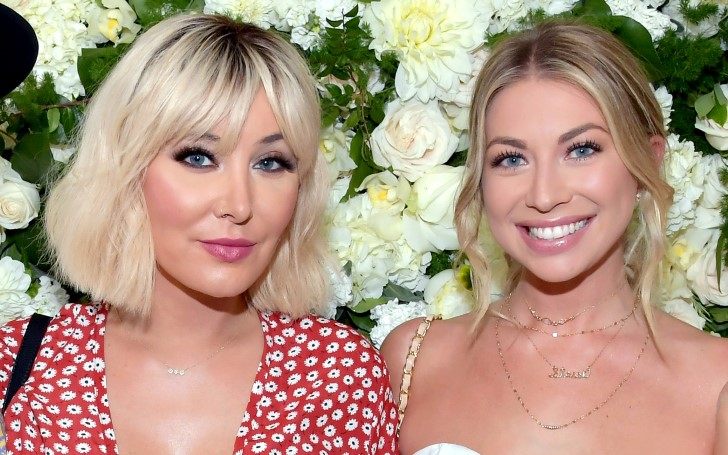 Vanderpump Rules star Stassi Schroeder rules out making new friends.
During a recent interview with Jenny McCarthy on SiriusXM's The Jenny McCarthy Show, Schroeder, 30, opened up a lot of stuff. The one that caught the immediate attention was why she's not thrilled about the new cast members - Billie Lee in particular.
McCarthy, 46, began the conversation by asking Schroeder whether there was ever a moment on the show where she felt she acted out or started a fight just to remain in the spotlight.
You Might Like: Lisa Vanderpump and Kyle Richards Feud Doesn't Stop 'RHOBH' Premiere Party
Schroeder said, "Honestly, I was there from the beginning, so I don't feel like I ever really had to."
"I don't really feel like any of the original cast members have to prove themselves," she continued. "We're all such great friends and we have history and we're like family and we started this together. We're so ride or die with being honest and making a great show."
Schroeder, however, doesn't feel the same way for the newcomers. "I don't actually feel that bad for new people, because I wish they would just leave."
Watch: Stassi Schroeder Always Hates the Newbies of 'Vanderpump Rules'
The reality star later admitted she feels for her new costars because it "must suck" to try and fit in with such a tight-knit group. However, she reckons the newbies aren't exactly leaving the best impressions.
Schroder told McCarthy, "They come in and they think they're about to be a star, and it's, like, 'You have no idea what's coming for you'."
When asked to reveal the "most guilty" cast member, Schroeder said 'Billie Lee'. "It's just the things she tries to fight about is ridiculous," Schroeder said of Lee, 35.
Also See: 'Real Housewives of Beverly Hills' Star Lisa Vanderpump visits fans in Katy
Back in July, the female cast members of the show threw a party at Sur where Lee was not invited. She subsequently expressed her frustration accusing them of leaving her out because she's transgender. The accusation led to a big blowout between Lee and the staff at Sur.
During the time, Lee wrote on Twitter, "When yo coworkers don't include the only trans girl in GIRLS night at your own job! On the night you work!"
Check Out: Billie Lee Accuses the Girls of Leaving Her Out | Vanderpump Rules | Bravo
Meanwhile, on Tuesday, Schroeder claimed Lee just doesn't fit in. Quoting Mean Girls, she said - "'You don't even go here' — that's what it feels like."
"If she was actually nice and kind and friendly to us, I think she would [fit in], but to just expect to be invited to every little thing we do, when we don't know you, and pitch a fit when you're not… acting like we've been friends for years? You just met us, so, no you're not coming to my little four-girl wine night."
However, Lee insists she is not looking for Schroder's approval or even friendship: "I've never fought with Stassi and I for sure never tried to be bffs with her."
The reality star said, "I don't recall missing out on a wine night of only four? So to call me mean is another crazy accusation. I've barely hung out with her, but thus far our interactions have been nothing but kind."
Lee added, "And to call my 'fights' ridiculous? It's ridiculous to want to be included? It's ridiculous to want diversity and inclusion at the workplace? Shame on her."
Also Read: The Real Reason Lisa Vanderpump Is Feuding With The RHOBH Cast Finally Revealed
Despite her differences with Schroeder, Lee is happy to be on Vanderpump Rules.
"I'm living my truth, on television, because I want people who went through the same thing that I went through to know that they have somebody. And when I was little and I was bullied, and I was told I was wrong my whole life, I was alone."
Meanwhile, Lee calls Lisa Vanderpump 'my fairy godmother.' - "She has a wand. She makes all these amazing things happen."
-->