Veronica Berti is the Wife of Italian Musician Andrea Bocelli - The Couple Has a Very Special love Story to Tell
Published Thu Apr 23 2020 By Chester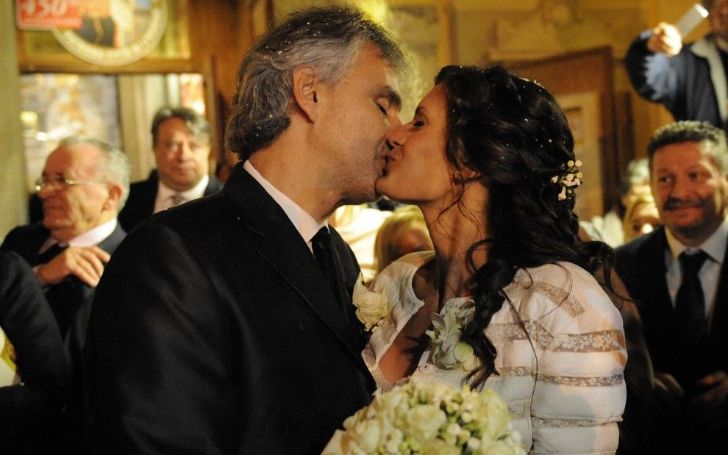 Learn the heart soothing love story of iconic musical sensation Andrea Bocelli and wife Veronica Berti.
It was like 'love at first sight' for Italian opera mogul Andrea Bocelli, 61, to fall in love with his manager turned wife, Veronica Berti, 36.
If you've been following the musical stars, then you might well know that the lovebirds officially got married on March 21, 2014. But many of you might be wondering how did Andrea win the heart of Veronica despite having an age interval of 25 years and being visually challenged right? Hold on as we've brought you with all the details here,
Andrea and Veronica Love Story
The story originates back from 2002, Andrea and Veronica were at a same party, and Andrea sang a beautiful rendition of Occhi Di Fata (Fairy's Eyes) dedicating to her - That was it, Berti was flattered and impressed.
Over the period, Veronica was just 18 years old; and Andrea had divorced his first wife, Enrica Cenzatti, after ten years of the marital bond. The former partner shares two sons, Amos and Matteo.
You May Like: The Extraordinary Love Story of Grant Gustin and Wife Andrea Thoma
Andrea once shared one of his best life experiences sharing to The Guardian, he recalled to the outlet about meeting Veronica,
Effectively the marriage began when we met. Everybody was there, it was a really wonderful moment between us. It was the quickest, speediest start because we moved in with each other that same night.
On the same magical night, they started their relationship, and since lots of the singer followers keep citing about their age gaps, Andrea shares that their 25-year age gap made things much "easier, not harder."
Music Connected Them
Bocelli added that music was what kept them together as they were discussing, performing, and listening to it together all the time. If you've been following the stars, then you might've heard their beautiful rendition of the love song "Qualche Stupido."
Find Out: The Untold Love Story of Edward Norton and His Wife Shauna Robertson's Secret Marriage
Going slightly off the topic, Andrea recently gave a beautiful yet inspiring vocal performance on the recent One World: Together At Home, held on April 18, Saturday. Yes, music surely helps people to connect together.
The Beautiful Wedding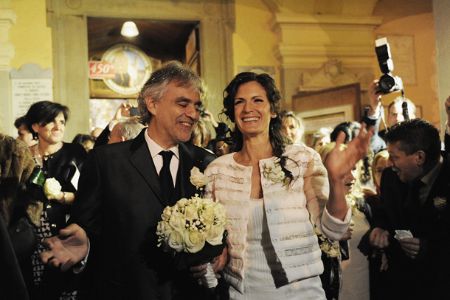 Snippet of Andrea Bocelli and Veronica Berti's wedding in 2014.
Image Source: LA Times
After 12 years of a romantic relationship, the soul mates then decided to take their relationship to the next label and 'walked down the aisle' in 2014 in a beautiful venue at the Sanctuary of Madonna di Montenero in Tuscany, Italy. By then, they were already parents of then two-year-old daughter Virginia.
As in now, Andrea and Veronica are happily living in Tuscany and celebrating their six years of marriage. Presently the partner in crimes seems to be raising money for the COVID-19 relief efforts through their charity organization Andrea Bocelli Foundation.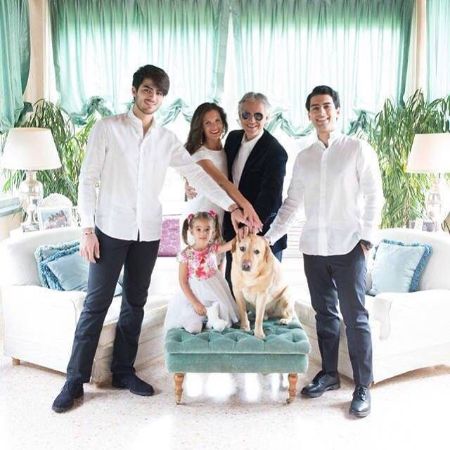 The Bocelli Family.
Image Source: Instagram (@veronicabertiofficial)
Before we end, the couple is a solid example of "unconditional love" and saying "age is just a number" as they seemed to be totally proving it with their beautiful relationship. We always wish to see them shine together through 'thick' and 'thin'.
We hope you enjoyed the article, stay tuned for more Entertainment updates only on Glamour Fame.
-->