Wendy Williams Is Officially off the market - Who Is She Dating?
Published Fri Jul 12 2019 By Travis
Wendy Williams is in a relationship and it's serious!
Wendy Williams is off the market, people! Boys lose her number, girls…well, she isn't into girls so whatever. It seems Wendy is taking no time to find a man and settling down, at 54 people do need comfort, 20 years old do, and so do 50 years old obviously.
This is not the same man that she has been seen roaming around in the streets of L.A. and going on a shopping spree in New York. Marc Tomblin was a convicted felon that she was seen in New York with, the 27-year-old was with her in her car when Wendy broke down crying about her family. Well, it seems that was just a stop-gap for the host of the show Wendy, who returned from a five weeks hiatus.
During the segment in the show called 'Hot Topic of the day,' she talked about herself as he allowed her adoring fans a little peek into her dating life after her split from longtime husband, Kevin Hunter. She said, "Well, I'm not on the market anymore. I don't know how I'm doing! I'm not in love, but there's somebody that I'm crazy about." Well, that sounds really nice for the host who said that to wild cheers from the audience.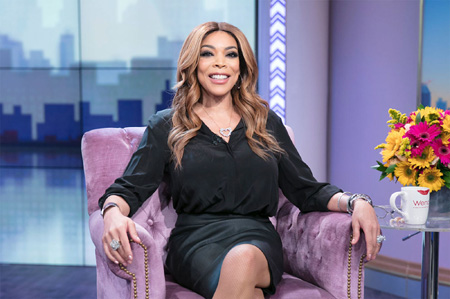 In what appeared to be a swipe at her past affair with the former convict, she said, "Mother doesn't deal with children. But it just so happens that I guess with my charm and wit I attract people of all ages." We can agree on that; guys are falling at her feet, and she seems really charming.
"If you're 27, like my new friend Marc — okay, relax. So here's the deal. The paparazzi are chasing. [Marc is] from L.A. He came to New York, he had never been to New York before. And I am a hand-holder. If we go out, I am holding your hand. I went out last night for dinner with my executive producer David Perler, and I held his hand," she said about her recently highly reported supposed fling with the 27-year-old Marc Tomblin.
Watch: Wendy Williams cries talking about her family, while out with Marc
It seems Wendy is okay fooling around with 20-year-old as long as she can find a suitable man of around her age that she can come home to. She said, "You all think I'm messing around with a 27-year-old — 27-year-old boys, quite frankly, do find me very attractive. I get it. But when it comes time for the comfort of a man, I need somebody in his 50s, too. And he's got to work."
Then finally she revealed to a screaming crowd that the mystery man that she is dating is a doctor (great catch Wendy!). Then she played coy as not to jinx her newly minted relationship. She said, "I am not going to say one more word. You're not going to blow this for me. But he's been married; his kids are in their 20s. And yes, he's black. I know you're wondering."
It seems that Wendy has finally found a man who can understand her, and she also revealed that he was a married man with kids who are in their 20s. She has been having a tough time after it was revealed that her husband fathered a child with another woman and then she filed for divorce. Wendy's son, Kevin Hunter Jr., was even arrested for hitting his father outside a convenience store.
Dating life can be hard and even harder after coming out of a long relationship. It can be tough to trust people and bring new people into your life. Wendy, it seems, is finally allowing herself to trust someone and bring them into her life and we are happy for Wendy, she deserves it.
-->