Who is Amy Lee Husband, Josh Hartzler? Know About Life of Josh
Josh Hartzler is widely recognized as the spouse of Amy Lee, the renowned lead singer of the rock band "Evanescence." Josh and Amy's relationship brought relief to fans of the band, as Amy had experienced difficulties with several previous partners.
The couple's deep friendship eventually blossomed into a romantic relationship, leading them to tie the knot. Josh's professional career and occupation have not been widely reported. However, it is known that he is a therapist by training, specializing in marriage and family therapy.
Starting a Loving Romance With Amy Lee
The Evaescence's Lead singer, Amy Lee is happily married to her husband, Josh. They are bounded in nuptial vows for more than a decade and share a great understanding. So how did all this star? Well, Lee and Josh's relationship had a complex history.
They were initially friends, but Amy had developed feelings for Josh even while she was in another relationship. This situation led her to distance herself from him for a period of time. However, whenever they reconnected and started talking again, her feelings for him would resurface.
Eventually, Amy couldn't contain her emotions any longer and expressed her true feelings to Josh. This heartfelt revelation sparked a deep and enduring love between them that has lasted for many years. Their relationship evolved from friendship to a romantic partnership, culminating in their marriage and the start of a family together.
Josh Hartzler and Amy Lee's Wedding Details
According to reports from the Arkansas Democrat-Gazette, Amy Lee, 25 at the time, married Josh Hartzler, who was 29, in a ceremony held at her family's home in Little Rock, Arkansas.
The wedding took place on May 2007., and the ceremony was conducted by Amy's grandfather, Bob Cargill. David Hodges, a friend of Josh's and a former member of Evanescence, served as a groomsman, while Terry Balasamo, the guitarist of Evanescence, was among the guests in attendance.
Amy announced her engagement to Josh on January 9 during the taping of a special for Canada's MuchMusic network. She revealed that her fiancé had proposed the previous night and described the experience as "awesome," mentioning that he got down on one knee.
For the wedding, Amy wore an ivory Victorian-style dress and veil, as reported by the Democrat-Gazette. After the wedding, the newlyweds spent their wedding night at the Peabody Hotel in Little Rock before departing for their honeymoon on an island located south of the Bahamas.
Parents of One Child Son, Jack Lion Hartzler
Indeed, Amy Lee has acknowledged that her collaboration with Josh Hartzler has had a profound influence on her music career, both personally and professionally. She has spoken openly in interviews about Josh's unwavering support and the role he plays as her biggest supporter and source of inspiration.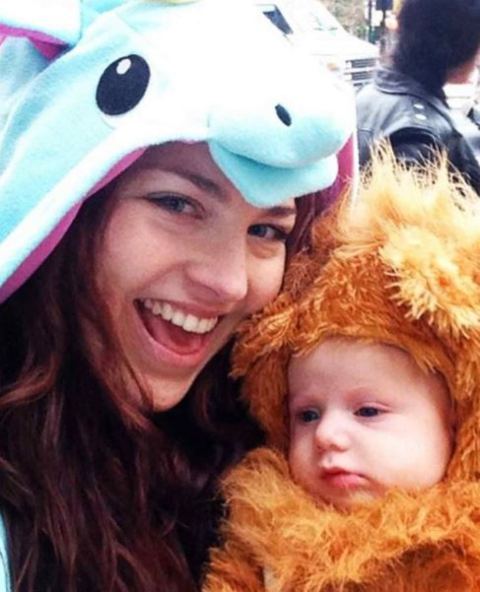 Not only that, their romance has helped them to welcome a beautiful child. The Duo have one child together, a son named Jack Lion Hartzler. Jack was born on July 24, 2014. As a private couple, not much information is publicly available about their son's personal life beyond his birth and name.
Amy and Josh have maintained a relatively low profile regarding their family, choosing to prioritize their privacy and protect their child's personal information.
Co-Writing Songs With Wife, Amy Lee
Josh Hartzler has made notable contributions as a songwriter, including co-writing songs for his wife, Amy Lee. Two of these songs, "The End of the Book" and "If You're a Star," were featured on Amy Lee's children's album titled "Dream Too Much."
The inclusion of these songs on the album helped it gain recognition and led to Amy winning the 2016 Family Choice Awards and the Parents' Choice Awards.
Furthermore, Josh has collaborated with David Hodges, co-writing lyrics for David's album "Musical Demonstrations Pt.1." Some of the songs he contributed to include "Crowd of Me" (with Stuart Upchurch), "Fly," and "Thursday."
Beyond his role as a songwriter, Josh has been a significant source of inspiration for Evanescence's hit songs such as "Bring Me to Life" and "Good Enough." His influence and support have played a part in shaping the emotional depth and powerful lyrics of these songs.
Also See: Facts about Maria Teresa Vera; Acclaimed Cuban Singer
How Rich is Amy Lee's Husband, Josh Hartzler?
Josh Hartzler's net worth is estimated to be around $1.5 million as of 2023. However, it is important to note that this figure is based on estimations and there is limited information available regarding his actual income. Josh has not publicly disclosed specific details about his earnings or financial status.
Josh has pursued various endeavors throughout his career, including music writing, photography, and working as a therapist. While the exact financial gains from these endeavors are unknown, it is reasonable to assume that they have contributed to his overall net worth.
Additionally, Josh's connection to Amy Lee and her successful music career with Evanescence is likely to have had an impact on his financial situation. Amy's estimated net worth of $12 million suggests that their combined success and shared assets may have provided financial stability for the family.
Recommended: Victor Arroyo - Net Worth Details About The Celebrity Husband
Wiki/Bio
Josh Hartzler, Amy's long-time husband, was born on November 4, 1977, in Encino, California, USA. As a Scorpio, he holds American nationality and is currently in his mid-40s.
While information about Josh's family is limited, he has not publicly disclosed details about his parents, siblings, or other relatives. His family background remains private.
Josh spent his formative years in Encino, California, and did not move elsewhere during his upbringing. After completing high school, he graduated in 1995. He then went on to attend Arkansas Baptist College, where he earned a BA in Psychology in 1999.
Following his graduation, Josh pursued a career as a psychological counselor. His expertise in marriage and family therapy has been a significant aspect of his professional life.
Stay Tuned To Glamour Fame For More
-->