Who is Anansa Sims' Ex Husband, David Patterson?
David Patterson is a former NFL athlete known for his time playing with teams such as the Atlanta Falcons and the Saskatchewan Roughriders. After experiencing a serious injury, Patterson made the decision to step away from his football career and transition into a different path. He has since been involved in various corporate engagements and business ventures, embracing a new chapter in his life.
While his ex-wife, plus-size model Anansa Sims, has moved forward with her life alongside a new partner, there is curiosity surrounding Patterson's current endeavors. Although information regarding his current activities remains undisclosed, Patterson continues to navigate life beyond the realm of professional sports.
Anansa Sims and David Patterson's Dating Life
David Patterson and Anansa Sims first crossed paths in 2008 at a party in Atlanta, where both of them were residing at the time. Patterson, who was playing professional football for the Atlanta Falcons, noticed Sims from across the room and mustered the courage to approach her.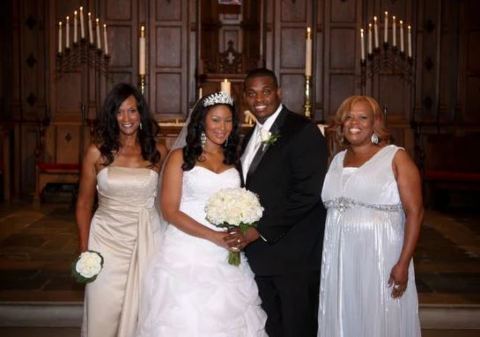 They engaged in conversation and continued talking even after the venue was closing. The very next day, Patterson asked Sims out on a date, and they proceeded to go on five dates within that week. Their connection grew stronger, and they became inseparable.
In the fall of 2009, Patterson proposed to Sims, and they shared a heartfelt moment of laughter and tears. By the time of their wedding, Patterson had transitioned from his NFL career to working as a State Farm Insurance agent.
Wedding in 2010
David Patterson and Anansa Sims got married on July 10, 2010, at First Congregational Church, followed by a reception at the Columbus Athenaeum. Their wedding was attended by notable guests, including Beverly Johnson, a renowned model, and Sims's mother, as well as Patterson's former Ohio State teammates Roy Hall and Ashton Youboty.
Shaya Bryant-Tabb, the older sister of Kobe Bryant, and Talani Diggs, the wife of RZA from the Wu-Tang Clan, were also present as bridesmaids. For their honeymoon, the couple traveled to Playa del Carmen, Mexico, where they enjoyed various activities like snorkeling, scuba diving, cliff jumping, and ziplining.
Sims had previously made waves as a plus-size model, posing nude for Glamour magazine and advocating for a new beauty standard. She also worked with Essence magazine and appeared in advertisements for Vassarette lingerie.
How Many Children Does David Patterson Have?
During their marriage, Anansa Sims and David Patterson welcomed three children into their family. Their first child, a daughter named Ava Brielle Patterson, was born in July 2011. They then had a son, David Bernard Patterson III, in November 2012.
In June 2014, their second son and third child, Dean Danny Benjamin Patterson, was born. The couple's children brought joy and love into their lives, creating a strong bond as a family. Despite their eventual separation, their shared role as parents continued to be a significant aspect of their lives.
Appeared With Anansa Sims in Beverley's Full House
After their engagement, Patterson and Sims moved to Columbus, Ohio, where they settled and began planning their wedding. Prior to getting married, when they were still dating, they had a brief period of living in Upland, California.
It was in Columbus that they decided to make their home. They had three children together during their relationship. Patterson established his own insurance agency in Rancho Cucamonga, California, where they eventually moved.
The former pair even appeared in the reality show, Beverly's Full House on OWN. Their shared journey as parents resulted in the joy of raising their three children.
Why Did Anansa Sims and Her Ex-Husband, David Patterson Divorced?
After being married for approximately seven years, Patterson and Sims reached a point where they had to reevaluate their priorities. This ultimately led to their decision to divorce in 2017. The specific reason behind their separation remains unclear, as they have chosen to keep it private.
Like many couples, they faced challenges and changes in their lives that ultimately impacted their relationship. Despite the end of their marriage, both Patterson and Sims continue to focus on their respective paths and the well-being of their children. They have moved forward with their lives, seeking happiness and fulfillment in their individual journeys.
David Patterson's Ex-Wife is Now Engaged to Former NBA Star
During the Christmas holiday, Barnes proposed to his longtime love, Sims, making their relationship official. Sims shared the exciting news on social media, posting photos of Barnes proposing in front of the Christmas tree.
Also, she express her joy with the caption, "YESSS" She also shared a video showcasing her stunning oval-cut engagement ring from Barnes.
The announcement of their engagement garnered enthusiastic reactions from several celebrities, including Nia Long and Loni Love, who congratulated the couple with heartfelt messages.
Their engagement comes after a tumultuous period in their relationship. Despite meeting in college at UCLA and welcoming their son, Ashton, in 2019, Barnes and Sims experienced a highly publicized breakup in early 2020.
Did David Patterson Gave a Death Threat to Matt Barnes
According to several media, former NBA star, Matt Barnes has reportedly received death threats from David Patterson, the ex-husband of his fiancee, Anansa Sims. Barnes recently filed his own restraining order against Patterson out of fear for his own life and the safety of his family.
It was mentioned that Sims has also filed her own restraining order against Patterson. Barnes stated that Patterson has made threats to shoot him, and he claims to have video evidence of these threats.
Barnes believes that David is very jealous of his and Sims' relationship. Verbal threats from Patterson have allegedly occurred multiple times, as reported by Barnes.
For More Stay With Glamour Fame
-->