Who is Billy Beane's Wife in 2021? Learn About His Married Life Here
Who Is Billy Beane's Wife? Everything There's To Know About His Married Life!
Portrayed in the 2011 film "Money Ball" by Brad Pitt, he is a former professional baseball player and general manager of Oakland Athletics of Major League Baseball.
William Lamar Beane III, professionally known as Billy Beane, was born on March 29, 1962, in Orlando, Florida. As depicted in the movie, Beane supposedly changed the way baseball players were recruited and evaluated.
Billy grew up in San Diego, where he attended Mt. Carmel High school and excelled at baseball, football, and basketball. Billy was drafted by New York Mets in 1980 and later traded to the Minnesota Twins.
But the athlete's playing career was short and his performance mediocre. Beane quit playing in 1990 and instead became a scout for the A's, gradually acquiring the general manager position. Continue reading to know more about Billy and his personal life.
Billy Beane's Wife And His Married Life!
Billy Beane was first married to his childhood sweetheart Cathy Sturdivant. Cathy, at the time, was a three-time tennis All-American at the University of California-San Diego.
Billy Beane is married to a childhood friend named Tara and they have two children together.
Photo Source: Glamour Path
And Beane himself was a known name in baseball. They shared a daughter together named Casey Beane. It is not known when but the duo called quits after some years together.
After his divorce from Cathy, Billy came across his childhood friend Tara Marie Graves, whose life before meeting Billy is still a mystery.
Check Out: Shantel Jackson's Kids: Learn all the Details About Her Family Life Here
All the early shared memories sparked romance between them and the duo dated for few years before finally tying the knots in 1999 They were soon blessed with twins named Brayden Beane and Tinsley Beane.
Billy Beane's Legacy!
Billy, while working for the Oakland Athletics in 2002 faced a pressing issue when three of their players were to other franchises, Billy had to replace the players but the Oakland had one of the lowest budgets.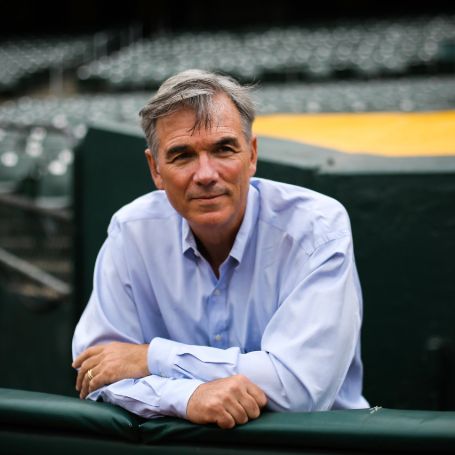 Brad Pitt portrayed Billy in the 2011 hit film Money Ball.
Photo source: SF Chronicle
Billy then used a detailed statistic that would favor runs and getting on the base to build a cheap team. His strategy wasn't liked much in the beginning but after his team had an overall great season, Beane's method was followed everywhere in the league.
Don't Miss: What is Alex Smith's Net Worth? Learn All About His Earnings and Financial Assets Here
Billy was offered a spot as the general manager at Oakland's rival Boston Red Sox and was offered a price that would make him the highest-paid GM in the baseball league. But Beane chose to stay with Oakland. Billy was awarded multiple awards for his skills and loyalty to Oakland.
Billy's inclusive strategy back in the 2002's season changed the thinking around baseball as a game and made it fairer.
Billy Beane Today!
The renowned GM was named Major League Baseball executive of the year twice and was fairly accorded ranks and accolades for his service for the Oakland Franchise.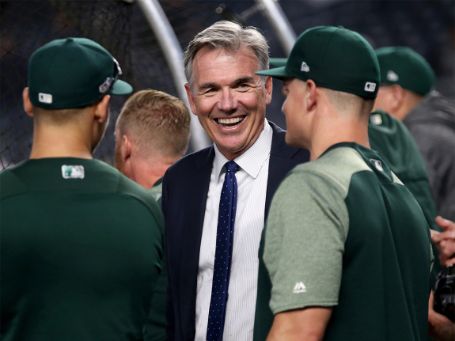 Billy Beane is an executive vice president of the baseball operations currently.
Photo Source: Fifty Thirty-Five
The 59 years old today is an executive vice president of baseball operation and minority owner of the Oakland Athletics and Major League Baseball (MLB). After enormous success in the league, Billy has been keeping low for years now.
More than a decade later his "Money Ball" fame, which made him a familiar name outside the league, Beane's revolutionary method is still recounted as the biggest game-changer in Baseball and has stood as a paradigm in the sports world.
For more information and news on your favorite stars, stay connected to Glamour Fame.
-->