Who is Bob Baffert's Wife in 2021? Learn The Details Of His Married Life Here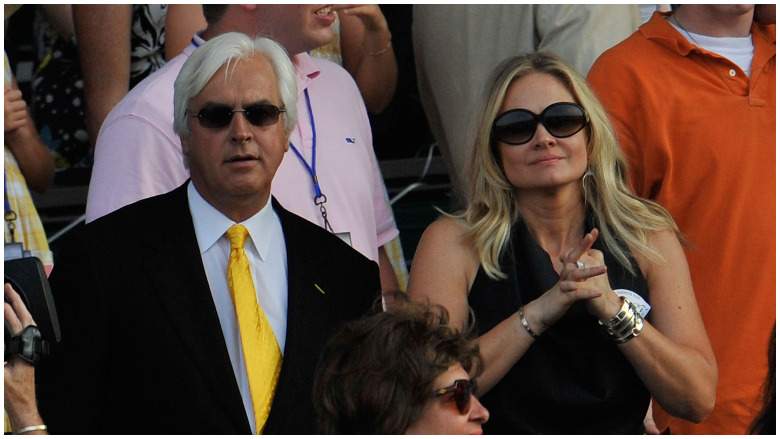 Who Is Bob Baffert Married to? Get All The Details Here!
A record-breaking winner of the Kentucky Derbies, Bob Baffert has taken seven trophies home from that horse race. His most recent victory from the Louisville, Kentucky-held racehorse was with "Medina Spirit", a horse breed so modest and its physical impute, unimposing.
Born Robert A Baffert on January 13, 1953, he is better known as Bob Baffert. Brought up in Nogales, Arizona, he learned horse racing growing up became a known name in it when he scored his first win at the age of 17.
Baffert today is a racehorse trainer and is the leading money-winning trainer in America. Married to a former television reporter, Bob is known for living an exuberant lifestyle with his wife, fourteen years younger than him. Continue reading to find more about Bob's married life.
Bob Baffert's High Profile Married Life!
The Hall of fame trainer may be leading a candidly happy life with a local star right now but Bob has had his share of marital issues and ugly out-turns from his first marriage.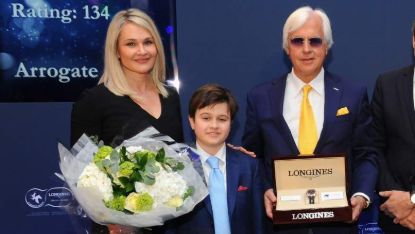 Bob Baffert is married to Jill Moss and the couple share one so named Bode together.
Photo Source: Heavy
Bob was first married to Shelly Baffert, whose info stands undisclosed yet. They had four children together namely Savanna, Taylor, Forest, and Canyon.
The couple reportedly got estranged in 1999, and the reason cited was Bob's workaholic nature. As their marriage started going downhill, Bob met Jill Moss, a former television anchor. The duo got married in 2002 and now has a 17 years old son named Bode Baffert.
Check Out: Bill And Melinda Gates Ending Their Relationship After 34 Years Together
Jill once told in an interview that she and her husband sparked an easy penchant in their first meet because they shared similar background of drudgery and constant wish to be at the top.
Bob Baffert's Wife; Jill Moss Baffert!
The Kentucky Derby superstar rented a one-bedroom hotel suite for his family of three during his stay in Derby, the Baffert couple also known for their generous contribution to charity, a magazine wrote, "It is down to earth nature of Bob that has made him a bigger star".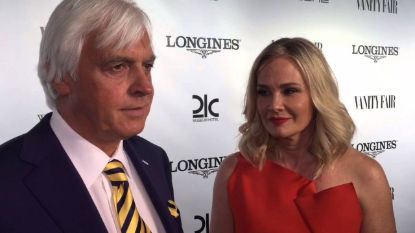 Bob Baffert was previously married to Shelly, with whom he shared four kids.
Photo Source: YouTube
Jill has been with Bob as he was emerging as the Most renowned horse trainer. Having battled severe health crisis as a child, Jill says; "I was on crutches for four years as a child, from ages 9 until 13."
She worked as a waitress for nine years while pursuing her anchoring career, immensely proud of her journey, Jill says she had always been diligent and ambitious and it was the same qualities in Bob that she found attractive.
Recommended: What is Amr Zedan's Net Worth? Learn all the Details of His Wealth and Earnings Here
Married for almost two-decade now, Jill Baffert said her affinity for horses has grown over time to the point that she can't imagine living a life away from a barn.
Bob Baffert's 7th Kentucky Derbies Win!
The 68 years old baffled everyone as his trained Medina Spirits wins the race. Following his record 7th victory with the cheap breed horses, people have surely learned their lesson to never bet against the trainer.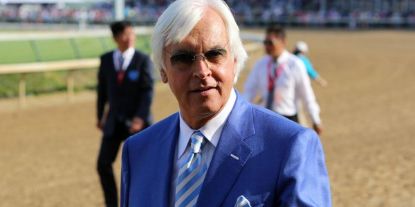 Bob Baffert recently won his 7th Kentucky Derbies with Media Spirits.
Photo Source: Derby City Weekend
Baffert told NBC Sports; "I cannot believe he won this race, "This little horse, that's him - he was all guts."
For more information and news on your favorite stars, stay connected to Glamour Fame.
-->