Who Is Jimmy Kimmel's Wife? Grab All The Details Of His Married Life And Dating History!
Published Wed Jul 31 2019 By Jasmine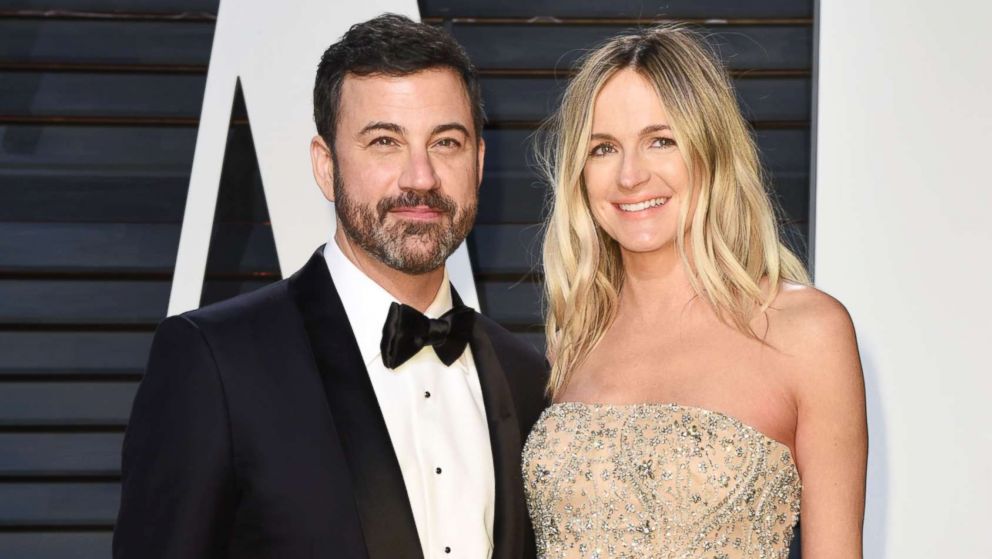 Know more about Jimmy Kimmel's personal life and his wife Molly McNearny.
Unlike most of the celebrities who prefer to keep an intensely low profile, Jimmy Kimmel is completely open to his fans. Many a time he shares private details about his life on his show. One of the topics he loves to keep somewhat under wraps, though, is his relationship with his wife, Molly McNearny.
Despite the fact, many people warn against not mixing professional and personal lives; Jimmy doesn't seem to follow those rules. He is now happily married to his Molly and still works as his boss!
Jimmy Kimmel's Past Relationships
Before tying knots with Molly, Jimmy Kimmel was married Gina Maddy. The marriage lasted from 1988 to 2002. The former couple is till date reluctant to reveal the reason behind their split.
Gina, however, did give birth to a daughter named Katherine in 1991, and a son named Kevin in 1993. Jimmy is incredibly close to his children from Gina to date.
You May Like: What Is Jimmy Kimmel's Net Worth? How Rich Is He Compared To Other Late Night Hosts?
After the divorce with Gina, Jimmy was in a relationship with Sarah Silverman from 2002. The couple, however, parted ways in the March of 2009.
How Did Jimmy and Molly McNeary Meet?
Molly McNeary does not recall her first interaction with Jimmy Kimmel to be a pleasant one. She used to work as an assistant writer for his show. She recounted, presenting a few ideas to Jimmy when he replied coldly, 'That is really stupid! What a waste of time,'" she said, laughing. "That was the first and only thing he probably said to me the entire first year of working there."
Interestingly, Molly never wanted to be romantically involved with Kimmel. She was the only female writer in the show. According to her, dating her boss was too "awkward."
Despite Molly's initial reluctance, the future couple slowly developed a friendship, which eventually turned romantic. After Kimmel decided to cook all of McNearny's favorite foods, including pizza, crab claws, cheeseburgers, gnocchi, and even a BLT sandwich, she started to appreciate Jimmy's presence. Finally, the McNeary let go of the fear of workplace dynamics. Later she remarked:
I remember telling Jimmy, 'If this doesn't work out, nothing in your life changes, but mine changes completely'.
After dating for three years, the couple finally got engaged in 2013 while on vacation to Kruger National Forest in South Africa. Molly walked down the aisle on July 13, 2013, at a star-studded ceremony in Ojai, California, according to the magazine. Celebrity guests included Ben Affleck, Jennifer Garner, Jennifer Aniston, Justin Theroux, Matt Damon and his wife, Luciana Barroso, Ellen DeGeneres and Portia De Rossi, and Emily Blunt and John Krasinski.
Also Read: What Is Jimmy Kimmel's Net Worth? How Rich Is He Compared To Other Late Night Hosts?
According to Kimmel, he was too terrified to tear up during their wedding. So, the comedian invited the actress Gabourey Sidibe provided comic relief by walking down the aisle during their ceremony in a full wedding gown. And no one in the guests knew the prank was coming!
Following the wedding, McNearny became a stepmother to Kimmel's two children from his first wife. In the July of 2014, McNearny and Kimmel were incredibly excited to announce the birth of their first child, a girl named Jane Kimmel. In a classic Kimmel-Family humorous style, McNearney announced the good news with a funny tweet.
Jimmy and Molly's second child, Billy Kimmel, was born on April 21, 2017. The baby boy was named by Kimmel's longtime sidekick, Guillermo. Despite Billy being born with a congenital heart condition; after a several surgeries, he is now fine. Molly considers witnessing that stage of her son the "most-difficult time" of her life. Thankfully, baby Kimmel is currently doing great and both Jimmy and Molly are having the best time of their life.
-->