Lil Pump Rocks Jimmy Kimmel Live With A Late Night 'Be Like Me' Performance
Published Thu Feb 28 2019 By Jessica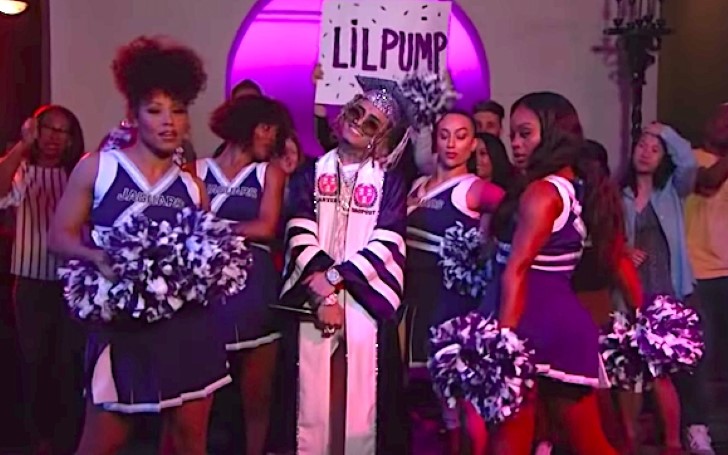 Rapper Lil Pump promotes his new album and performs 'Be Like Me' on Jimmy Kimmel Live.
American Rapper Lil Pump finally released his much-anticipated second studio album, 'Harverd Dropout' last week on Friday.
On Monday night, to support his sophomore album, the rapper whose real name goes by Gazzy Garcia made an appearance on Jimmy Kimmel Live.
Donned in a purple graduation gown, bedazzled cap, white matching shirt, and pants, the 18 years old rising star took to the stage to perform 'Be Like Me.'
Rapper Lil Pump Performs 'Be Like Me" On'Jimmy Kimmel Live!
SOURCE: Power 106
Whilst a marching band and group of cheerleaders accompanied him, banner and confetti showered all over him.
You may also like: Lena Dunham Posted Snap of Herself Clad in Lacy Lingerie while Sharing Powerful Message about Self-acceptance
The 'Gucci Gang' singer rapped the first verse of the song:
"Everybody wanna be like Pump/ Everybody got fake dreads and love to take drugs/ I do this, bitch you do whatever you want/ Yes, I'm hella ignorant, I don't give a fuck,"
'Be Like Me' is the latest single from Pump's freshly released album that includes eleven soundtracks in total.
'Harverd Dropout' features some of the biggest rapper's names in the industry including Grammy Award-winning singer&rapper Kanye West, Migos' member Quavo and Offset, 'How To Love' hitmaker Lil Wayne, 2 Chainz, and Lil Uzi Vert.
In addition, Pump's recent album follows a controversial scandal-filled last few months. One of his concerts had to be evacuated last year in November, followed up by an arrest for disruptive conduct later the next month. Nonetheless, the charges were reportedly dropped after video footage of the arrest became viral, as per Consequence Of Sound.
See more: Bella Thorne Splits from YouTuber Tana Mongeau but is Still with Boyfriend Mod Sun after Dating Both Simultaneously
Lil Pump comes among one of those singers who will perform at the 2019 Coachella in April. Sources reveal the rapper will debut a new collaboration with Smokepurpp and Gucci Mane under the name 'Gucci Gang'.
-->