Who is Lily James' Boyfriend in 2021? Learn Her Dating History
Published Thu May 13 2021 By Frances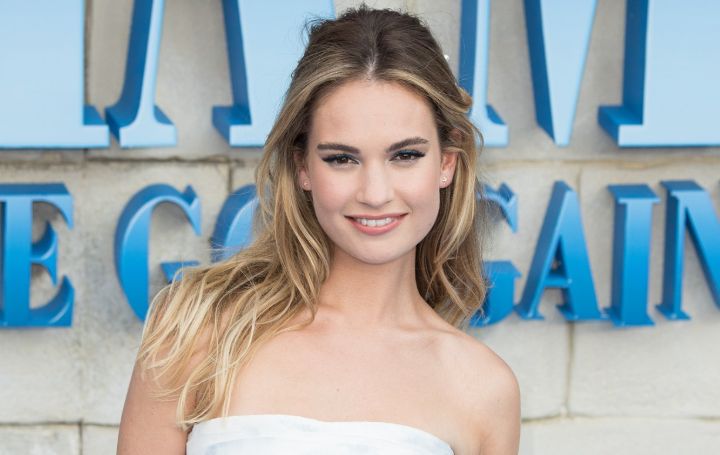 Is Lily James' Dating? Check Out Her Relationship Status As of 2021.
Lily James is popular for her amazing performance in the fairy tale Cinderella in a leading role. She was also nominated for different awards such as Teen Choice Awards, Harper's Bazar Women of the Year Awards, Kid's Choice Awards, etc. With being nominated for such recognition, Lily won Harper's Bazar Women of the Year Awards in 2015.
Born as Lily Chloe Ninette Thomson, on April 5, 1989, Lily was welcomed by her parents Ninette Mantle and James "Jamie" Thomson in Esher, Surrey, England. Lily was close to the showbiz industry from an early age as her parents were actresses and musicians. Not only this, but her patrilineal grandmother Helen Horton was also an actress.
While we are on the topic of Lily James, she recently became the focal point for media headlines as James, along with her boyfriend, Michael Shuman, was spotted being all smitten while doing Easter shopping. Let's get to know about them.
Lily James Seems to be Enjoying Her Love Life
Downtown Abbey actress Lily James is enjoying her love life as much as she can. With her private life being exposed to the public, James might be a little worried about it, but due to her immense support from her fans worldwide, she is blessed to have a boyfriend like Michael Shuman, who loves her unconditionally.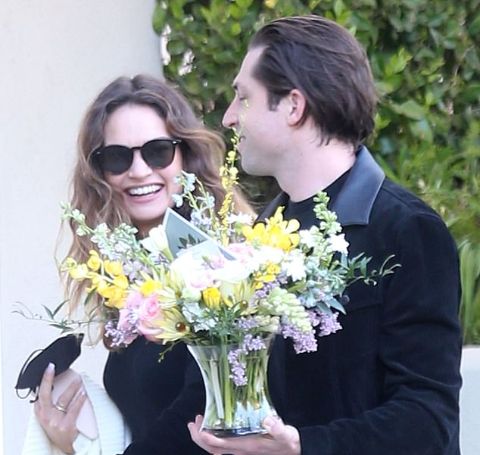 Lily James along with her boyfriend Michael Shuman being lovey-dovey.
Photo Source: Culture-Read Sector
The two lovebirds met each other through their mutual friends. It is a stated fact that they are enjoying their spaces merrily, but as for the fans, it is still a topic to think hard that the two persons from totally different fields of profession came to be paired up as per Daily Mail UK.
Check out: Bob Baffert's Family: Learn all the Details Here
While talking about James and Shuman's profession, Lily is a well-known actress for her family-friendly roles. In contrast, Michael is popular for being a part of the legendary band renowned for on-stage nudity and was claimed for drug and alcohol abuse.
Cinderella Actress Lily James Rumoured Being in a Relationship With Captain America
Lily James and her lover Michael recently made their relationship public. However, some time ago, when people were still speculating, many thought that the Cinderella actress and Captain America star Chris Evans were a thing.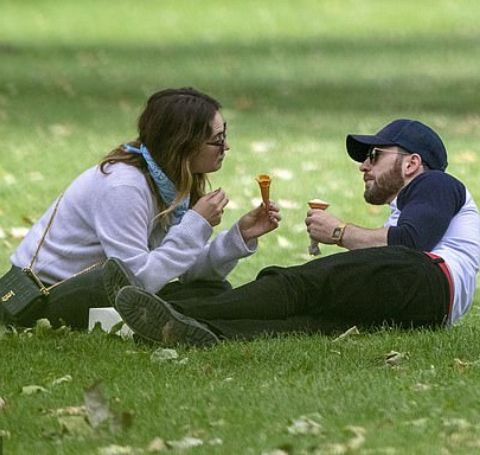 Lily James and Chris Evans enjoying ice cream beside each other.
Photo Source: Daily Mail
News about James and Evans dating started after they were seen together leaving London's Mark Club Mayfair on July 4, 2020; they have been rumored to be paired up as per Elle. The inside story might be different on one hand as they were never seen together before, but their activities tell the other way. On July 8, 2020, they were again seen together while eating ice cream alongside each other in London park.
Back then, when the rumor was still in the air about James and Evans, both parties never spoke about their relationship, and their null responses made the news true. However, after James and Michael came out as a couple, it all faded away.
Lily James Found Kissing Dominic West
Besides Chris Evans, the Darkest Hour actress was rumored dating Dominic West. Lily James was seen kissing The Affair actor, both of them were pictured, but it seemed they were not bothered by it.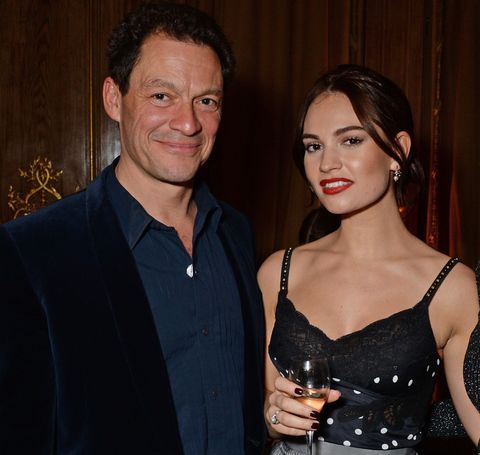 Lily James with Dominic West at a party.
Photo Source: Elle
As per US Magazine, Lily and Dominic were on vacation in Rome with their manager Angaharad Wood. It was reported that while spending time with each other, 51-year-old West was not wearing his wedding ring, and it gave birth to the news that he completely forgot about his relationship with his wife Catherine FitzGerald during the trip.
Also Know: Jeff Bezos Reportedly Building $500m Superyacht
Regarding her relationship with Dominic, James had spoken about it, but she has not fully provided the information to the media yet. As per her interview with The Guardian, James said that there are many more to their relationship with Dominic, which she will tell when the time comes.
However, on the other hand, Dominic and his wife Catherine shared a joint statement saying that their bond is strong, as noted by Heart. Talking more about Lily's romantic relationship, she previously dated Doctor Who stars Matt Smith. The former love birds began to date in 2014 and were together for five years.
Check out more articles and get the latest news and updates on your favorite celebrities at Glamour Fame.
-->