Why Did James Corden Leave The Late Late Show? Know All The Details
James Corden has stepped down from his role as host of The Late Late Show. Learn the reason behind his decision.
James Corden, born on August 22, 1978, in Hillingdon, London, is a renowned British actor, comedian, and television host. With his infectious laughter and magnetic personality, Corden has captivated audiences worldwide. He rose to prominence through his role in the play and film adaptation of "The History Boys."
However, it was his co-creation and performance in the hit television series "Gavin & Stacey" that propelled him to international recognition. In 2015, Corden took over as the host of "The Late Late Show" on CBS, where he introduced innovative segments like "Carpool Karaoke."
The Late Late Show Host, James Corden Bids Farewell From The Show
James Corden has bid farewell to The Late Late Show when it is at the pinnacle of his career. When the beloved comedian revealed his impending departure from the talk show in mid-2022, fans couldn't help but be intrigued.
Corden explained that he and his wife, Julia Carey, desired to give their three children an opportunity to spend quality time in their homeland. Additionally, he expressed his desire to leave the show on a high note, rather than wait for its decline.
The Emmy winner reflected on the toll his demanding schedule and the high-profile job had taken on his personal life, particularly after witnessing his son's disappointment when he couldn't be with the family on weekends.
The Final Episode
On April 27th, Corden's final episode aired, and he took the opportunity to convey a heartfelt message to his American viewers as he bid farewell to both the show and the country.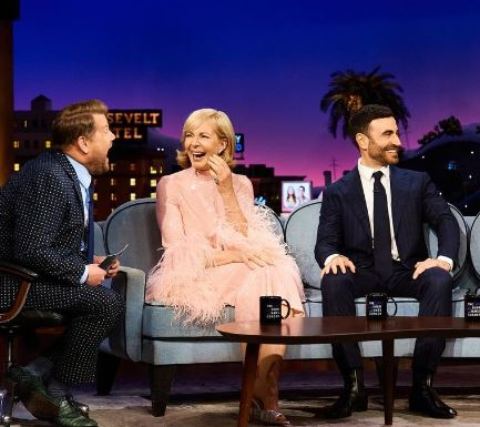 During his time on "The Late Late Show," James Corden, renowned for his fame on the show, expressed his observations about America becoming more intolerant over the past eight years. He lamented the gradual loss of the nation's essence of joy and optimism.
While Corden's personal reasons for leaving the show were significant, an insider recently disclosed that the decision to continue "The Late Late Show" was no longer a feasible option.
One Decade Married Life With Wife, Julia Carey
James Corden quickly realized that Julia Carey was the woman he wanted to spend the rest of his life with. Their love story began in 2009 when they started dating, and within a year, they were engaged.
Although the exact details of the proposal remain unknown, it was reported by Daily Mail that James popped the question during their Christmas celebration in the Maldives. Upon the news spreading, James took to Twitter to express his gratitude for the well-wishes and shared his feelings of immense luck.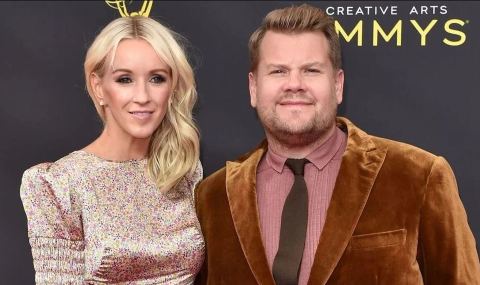 Shortly after their engagement, the couple wasted no time in setting a wedding date. In 2012, James and Julia tied the knot, staying true to their chosen date. The exact details of their wedding ceremony have been kept private, allowing the couple to cherish this special moment in their lives.
Their union in September 2012 marked the beginning of a lifelong journey filled with love, companionship, and shared dreams. James and Julia's commitment to one another has been unwavering, and their love continues to grow stronger with each passing day.
Father of Three Children
James Corden and Julia Carey are proud parents of three beautiful children who bring immense joy to their lives. Their eldest son, Max McCartney Kimberley Corden, was born in March 2011. His middle name, McCartney, is a nod to the legendary musician Paul McCartney, while his second middle name, Kimberley, is shared with his father.
In October 2014, just before the family's relocation from London to the United States, their daughter Carey was born. She proudly carries her mother's family name, creating a special bond between mother and daughter.
Their youngest addition to the family came in December 2017, with the arrival of their daughter Charlotte. The timing of her birth coincided with James Corden's hosting duties for "The Late Late Show," but he made the selfless decision to ask his friend Harry Styles to fill in for him on that special night.
The following evening, Bryan Cranston graciously stepped up to host the show, allowing the couple to fully embrace and spend time with their newborn daughter.
How Rich is The Late Late Show Former Host, James Corden's Net Worth?
We all know that Jame Corden is one of the most successful hosts in the world. Since 1996 he is in this show business and has achieved everything. With his involvement, the comedian has gathered a huge amount of fortune.
As of 2023, James is enjoying a net worth of $70 Million. His annual salary at The Late Late Show was over $9 Million. On May 2022, he even turned down $50 Million to stay on the show.
The talented Corden is also an actor who has appeared in several blockbuster movies and series. His starred film, Smallfoot made a total of $214 Million under the budget of $80 Million.
Similarly his other starred film Peter Rabbit 2: The Runaway even made a total of $154 Million within a budget of $45 Million. As an important cast in every appearance, the actor is paid a huge amount of remuneration.
Investment in Real Estate
In October 2017, James Corden made a significant real estate investment, purchasing a luxurious mansion located in the prestigious Brentwood neighborhood of Los Angeles.
The property, previously owned by "Modern Family" creator Steve Levitan, came with a hefty price tag of $9.7 million. This stunning residence became the Corden family's cherished home, providing them with comfort and elegance.
However, in February 2022, James and his wife, Julia, decided to list their Brentwood mansion for sale. With a remarkable increase in value and market demand, they set an asking price of $22 million for the property.
This move showcases their astute understanding of the real estate market and highlights their intention to explore new opportunities and ventures. Also, the former Late Late Show host owns several multi-millions of homes in the United States and Can
Visit Glamour Fame for more similar content.
-->