When Will The Terminator 6 Trailer Drop?
Published Fri Feb 22 2019 By David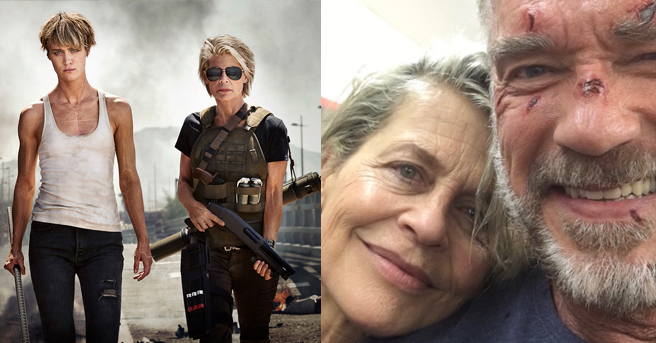 Terminator 6 still hasn't a trailer; likely to air during July 18-22 at a special carnival!!
Terminator 6 is currently operating under the working title of Terminator: Dark Fate which is also meant to pick up the narrative that left off with James Cameroon's 1991 Terminator 2: Judgement Day.
Cameron who is currently busy working on his four Avatar sequels recently said, "We're calling it, Terminator: Dark Fate. That's our working title right now."
Following the new lesson popularized by Blumhouse's Halloween sequel last year, Terminator 6 is overlooking everything - every sequel, prequel, and reboot - that came after Terminator 2 hit theaters almost 3 decades ago—given none of the follow-ups met the standard set by Cameron's Academy winning T2.

Mackenzie Davis set to star as Grace, a soldier-assassin in Terminator VI

SOURCE: Collider
In order to guide the new sequel through, Cameron, the franchise founding father returned to administer the writer's room for Terminator 6 along with the movie's helmsman being Tim Miller, popularly known for directing the first Deadpool movie.
What came out of Dark Fate screenwriter's room is a story that will potentially set up a new Terminator trilogy thus making Terminator 6 a new foundation that would open the door for many other sequels and even the spin-offs—given it meets the expectation of box-office and the critics alike. And now that the avant-garde, Cameron himself is overseeing the film, the odds of series being successfully revived looks quite strong. But when can audiences expect the first T6 trailer to arrive?
Terminator Six set to continue the story left by Terminator 2: Judgement Day

SOURCE: IMDB
While Paramount Pictures has been adamantly silent about Terminator 6 so far, the first outlet should presumably release in either late April or early May. Since Dark Fate hits the big screens in early November, releasing the first preview of the Terminator 6 about five-to-six months beforehand would be quite off the course for the studio, and significantly unorthodox for a blockbuster film. Given that Paramount will boast a presence at CinemaCon 2019, it's possible they'll launch the first Terminator 6 trailer followed by an online release a few days or weeks later.'
Recommended: Early Reactions For Captain Marvel is Very Exciting
However, it's equally possible that Paramount will choose to withhold the T6 trailer until early summer (and, ultimately streaming it on Comic-Con 2019; July 18-22). Last year, the production house debuted the first footage for Bumblebee and Overlord, but the first trailers for both movies didn't air online until early June and mid-July, respectively.
In this case, Bumblebee is the best to consider the prediction, seeing as it was Paramount's big blockbuster release for the holiday season. Since Bumblebee's first trailer debuted online a little over six months ahead of its release date, that would suggest May is the forecasted time for Terminator 6, as then it will also be half a year ahead of its release.
Also Read:Chinese Sci-Fi Blockbuster 'The Wandering Earth' is Coming To Netflix
The first Terminator 6 trailer could very well premier at CinemaCon in early April and then emerge online later that month, so that it could be played ahead of the season's heavy blockbuster movies, like Avengers: Endgame, for instance. Regardless, it shouldn't be too much longer until the promotional campaign for Terminator 6 kicks off, which will include the first official photos as well as the awaited trailer.
-->