Will There Be The Third Season Of Big Little Lies?
Published Mon Jun 24 2019 By Jessica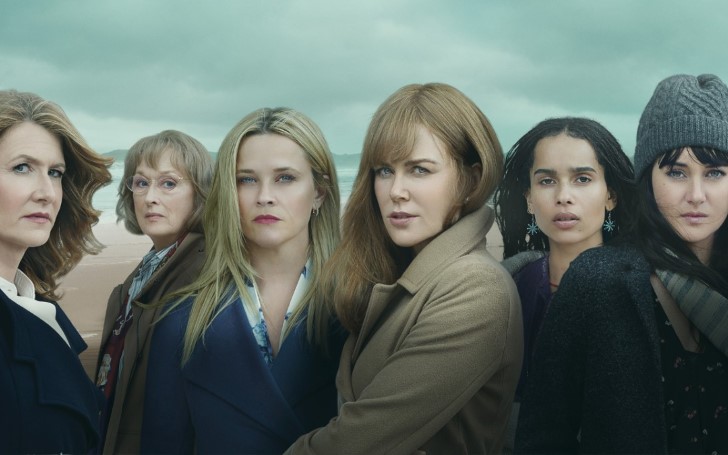 Do Big Little Lies stand a chance to secure a third season?
'Big Little Lies' starring A-lister Reese Witherspoon, Shailene Woodley, Nicole Kidman, Zoë Kravitz, and Laura Dern is back on HBO with its second season.
With Meryl Streep being cast on the second part as 'Mary Louise Wright', the mother-in-law of Celeste, the storyline couldn't get more thrilling.
As the title of the show hints, 'Big Little Lies' is all about the mystery that focuses among five mothers residing in Monterey, California.
Related: Richard Speight Jr. Announces Episodes He's Directing On 'Supernatural' And 'Lucifer'
The first season manifested Madeline played by Witherspoon contradicts her married life whilst Jane portrayed by Woodley was traumatized by the memory of her sexual abuse story, and Celeste played by Kidman hid her husband's real truth.
Will there be a third season of Big Little Lies?
SOURCE: Big Little Lies IG
All of the secrets, however, are finally coming to the surface among these five Monterey mothers on the second season.
'Big Little Lies' based on the same-titled best-selling book by author Liane Moriarty who also serves as one of the executive producers at the show, is one excellent work from HBO with the directing, screenplay and writing, all over.
David E. Kelley, the show's creator previously spoke on the series: "We wrote it as a one-off and we ended it in a way that was very lyrical. But we ended on a lie. I get so protective of characters and series, too, that I don't want to damage them in any way, and I so loved how we ended year one and I thought, Let's just leave it at that."
As for Moriarty, she initially didn't seem pleased with the idea of making another season after the conclusion of the first.
"I was saying, 'No, no. I think it's a great idea to do a season two, but I'm not interested in writing it,' But then I kept saying, 'But if you do it, you could do this.' So I kept coming up with different scenes," said the 52 years old author.
But thanks to Liane's sister who helped her with the ideas of creating the second season by bringing up her favorite actor.
As a matter of fact, it was the moment after that Moriarty invented a new character for Perry's mother, specifically for Streep.
"And it was really from there that it all came together because you bring this new character in and the storylines just emerge," said Moriarty.
Not long after being packed with the firsts season, Streep said 'Yes' to the offer to play as the mother in law of Celeste.
A Merry Christmas for Moriarty.
Also see: Game Of Thrones Prequel: 10 Legendary Characters Fans Would Love To See
The answers to getting a third season are most likely to unhappen as Kelley addressed they have not thought of such plan at the moment with further claiming that they would like to conclude the show on the second season.
Kidman, however, previously revealed that the majority of the cast wouldn't mind doing another season. But then again, she also admitted that bringing back all of the cast won't be easy.
-->