'X-Men - First Class' Star January Jones Confirms She Dated 'The Bachelor' Star Nick Viall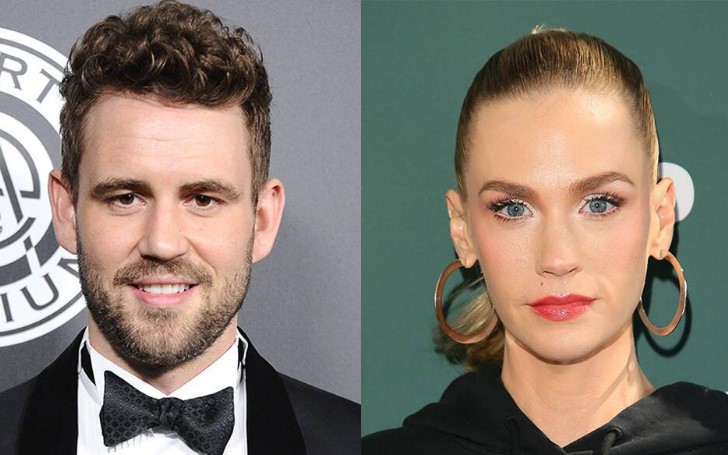 January Jones confirmed she dated Nick Viall.
A shocking revelation came from 'X-Men: First Class' star January Jones, who played the character of 'Emma Frost' in the movie. According to the 42-year-old actress revealed she once dated 'The Bachelor' star Nick Viall.
Talking on Monday episode of the 'Armchair Expert with Dax Shepard,' January confirmed she went on a couple of dates with Nick Viall, 39. Not only she dated the Bachelor star, but Jones once said she wanted to appear on 'The Bachelorette.'
Watch: January Jones Dated Nick Viall From 'The Bachelor'
Jones said, talking on the Armchair with Expert, "I was just blasting that guy. Nick slid into my DMs, and he's like, 'I am sorry that your perception of me is so negative. I'd love to take you out to coffee and see if I can change your mind.' I Squealed."
Also Read: All You wann know about Michael-Leon Wooley, star of AJ and the Queen
Well, about the perception, January weighed in on Viall's season of the show with James Corden, so, Nick slid on Jones DMs to see if he can change her mind.
According to the 42-year-old star, she went on a couple of dates with the Bachelor star and also grilled him about the show. Jones said, "That's all we were talking about really. But I got a lot of juicy inside stuff. When they come out of the limo, and they have these little shticks or whatever, producers are handing them to them.
Watch: January Jones Reveals She Dated 'The Bachelor's' Nick Viall After He Slid Into Her DM's
January further added, "And then I just feel bad for the people who get, like, the dolphin costume." Well, it seems like the two had a great time together though it was short.
Also See: Dracula star Mark Gatiss married to his husband Ian Hallard; Facts about the English actor
For more information on your favorite celebrities' lifestyle, stay tuned to Glamour Fame, and don't forget to sign up for the newsletter.
-->