19 Kids and Counting: How Often Do The Duggars Hit The Gym?
Published Tue Sep 03 2019 By Sea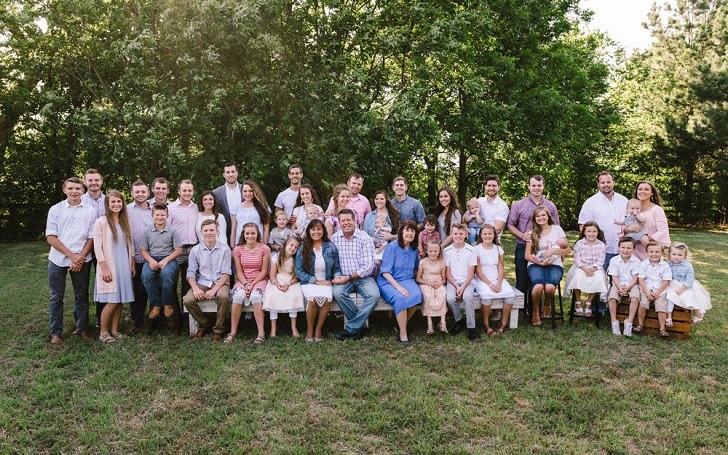 It's a frequently asked question on the Internet regarding the Duggars — how often do they hit the gym?
Family-related reality TV drama is a trend in the current world, and it's partially thanks to the Duggar family with their show '19 Kids and Counting' that started way back in 2008. What's interesting is that it started with 17 children of Jim Bob Duggar and Michelle Duggar, which increased to 19 as the show went on.
All of the nine girls and ten boys' names start with the letter 'J'. Guess Jim wanted more than just his last name to be passed on (The 'J' trend was Michelle's idea by the way). The oldest is 31, and the youngest is just 9. 14 grandchildren are already born while four are still on the way. They keep themselves quite busy all year around. (The family tree can be found here.)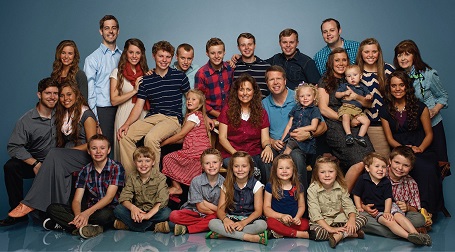 This photo is not complete at all!
Source: Cringe
What's more intriguing, or perhaps a little disturbing is the amount and types of rules the members should follow to remain a Duggar. If they don't want to, they need to leave the club. But, of course, over the years there were many of them broken by some of them and still remained. The family is a god-fearing one, and it's not surprising how they don't mind following them.
The parents are strict Christians, and they like to keep the children in line. Sometimes, things they ban for their children are over the top, as if they don't want the women to be independent. Michelle even warned her kids to not help unmarried women in their need. No kisses or hugs until marriage and no hand-holding until engagement. Phone call and messages are monitored. No certain TV shows can be seen. And absolutely no dancing to modern or any music for that matter. Women aren't allowed to wear pants or anything that reveal much of their skin, and men can't even turn their heads to other women who don't follow their dress code.
There's plenty of bizarre rules that are impossible to cover; a particular one was related to the gym. It was kind of forbidden before, but as their show progressed and they were a household name in the US, their ideologies also gradually progressed. Aside from many that changed for the family, the gym is the most significant one, as the mom herself started leaning towards better body care and believes it is what God wants for her.
The Answer To The Big Question Under Discussion
So yes, the Duggars do hit the gym regularly. At least many of them for now. It started way back in 2011 after Josie was in the NICU and they had to eat hospital food. It made them aware of getting in shape. Some of them do make an effort to stay healthy, despite many of their favorites being fast foods and processed foods. Joy-Anna Duggar talked about working with health coaches to learn how to "use food as fuel and lose weight", after giving birth to Gideon.
They don't talk about it often, but if you watched their show before 2016, you might've seen some glimpses of the home gym, located in one of the buildings on their property. They apparently enjoy making use of various equipment they acquired over the years.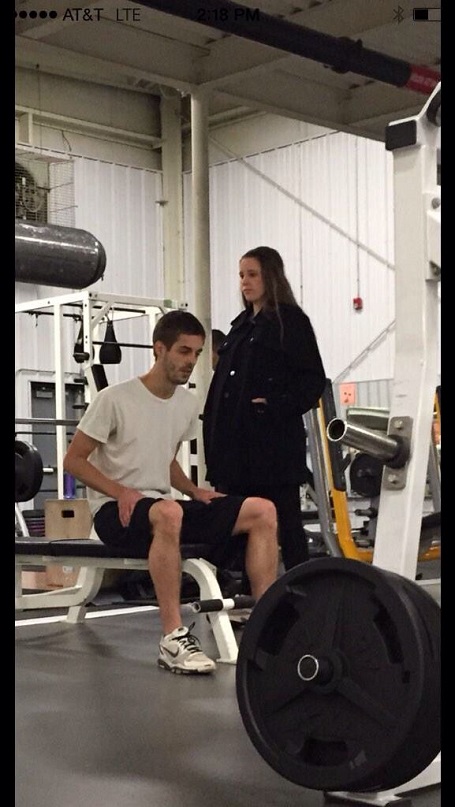 Derick and Jill Dillard often hit the gym.
Source: Pinterest
It's weird that dance isn't still allowed because it can be a great exercise routine. Meanwhile, the dress code still messes things up for workout time; wearing a revealing dress is forbidden. Lots of things to keep in mind even while exercising.
Who is doing what for physical exercise in the family
TLC followed up on the elder members of the Duggar family with 'Counting On' after their former show was finalized in 2016. In one of the episodes that year, Joseph Duggar and his brother-in-law, Ben Seewald showed off some of their favorite machines at the home gym as Ben offered some tips to carefully lift weights. Jim Bob and the older kids, including the married ones, use it quite often.
Watch: Joseph Duggar and Ben Seewald Introduce the Home Gym
It gets asked around a lot — do the Duggar girls go to the gym? The mom is the reason for the family to start looking after their body, which pretty much answers the question — they do. Michelle and her childhood friend, Cindy, became exercise accountability partners and exchange encouragement for workouts via text. She hits 'Planet Fitness' with her, and even gave workout tips on the show. She wakes up often around 6 a.m., before the others do, and exercises on the elliptical, a birthday present from Jim Bob the year after Josie was born.
Watch: Michelle Duggar About Her Teenage Insecurities and Gym
It is not abnormal for women to exercise regularly, but we're talking about the Duggars. Still, it's the womenfolk who is mostly seen working out. In October 2014, Joy-Anna was seen with her brothers, Justin and Jason, at the gym. Ben's wife, Jessa Duggar was also there. She shared a video of Joy-Anna doing some parallel squatting.
Joy-Anna with brother, Justin and Jason at the gym in October 2016
Source: Duggar Family Blog
The Seewalds are quite active in the gym as Jessa visits it often, besides in her pregnancy periods obviously. They even started their own '19 Kids and Counting' workout club in 2015, where members didn't need to worry about seeing others in an attire that is not appropriate for a Duggar. It was a little controversial when Jessa posted a snap of her lifting the weight with a skirt on though. You know, with the dress rule and all. Hiking in flip flops was news once as well.
In January 2019, Anna Duggar, married to Josh Duggar - the eldest member, invited fans to join her on her resolution for physical health. Her fitness quest was a target for the month of February — 50 miles of walk during the month. The resolution came after her last year's pregnancy rumors led to the mention of her gaining some weight. She was determined to do something "physical" to change her lifestyle. She mentioned she would do about two or three miles each day to successfully complete the goal, with a few spare days for rest.
Well, she completed it alright and even exceeded it by five more miles. "#February50 ended up being February55." For the next month too, she targeted another 50 miles. Well, we don't know if she did, because she is now pregnant and expecting her sixth child. So much for the rest of the year.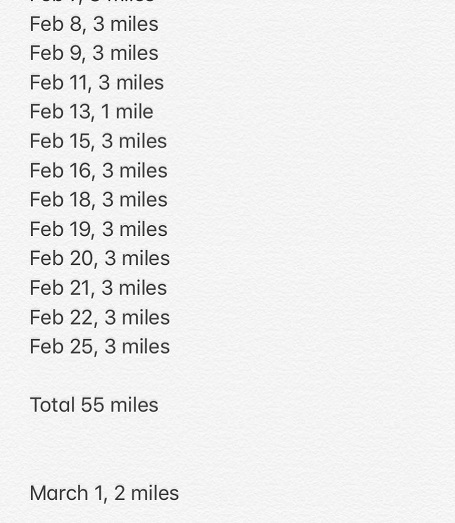 "Now on to March - hoping to go another 50 miles!"
Source: Anna Duggar, Instagram
Rumors sparked about Anna wanting to leave Josh, just because she started walking every day to stay fit. If she did divorce him, she and possibly he too would be exiled from the Duggar family. Not sure if she wants to let him go through it. Divorce is frowned upon by the Duggar elders. Still, no need to speculate anymore. Another addition is on its way, and Anna herself blasted haters spreading such rumors.
In a recent QnA with husband Jeremy Vuolo, Jinger Duggar talked about how she used to work out occasionally with weights before she got married. She enjoyed outdoor activities and played a game called broomball with her family.
Jinger really enjoys working out, now more than ever, and makes it a habit of exercising every day.
Wondering what music plays on the headphones when the family is working out?
Dancing to modern upbeat music is forbidden, to say the least. So any such music is probably not allowed in the house either. What in the world could be so relaxing to listen to while working out?
Well for a family with rules of the biblical era, it is obvious what kind of music they listen to — sermons and bible verse recitations. That's right. In January 2015, the second daughter, Jill Michelle Dillard (married to Derick Dillard), shared a photo of her walking in the family gym with no makeup but headphones on. Clear enough, we got to know what they listen to during exercise. A sermon by Pastor Rick Warren was playing on her music source, One Place app. The guys and gals do like to get some spiritual knowledge while staying fit.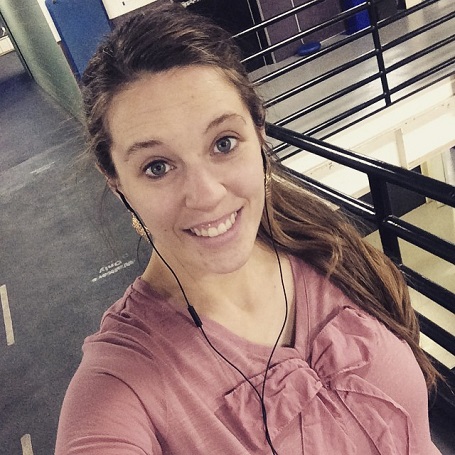 "Walking at the gym this morning while listening to a sermon by Pastor Rick Warren on the #OnePlace app!"
Source: Jill M. Dillard, Instagram
With many strict rules, it's unlikely that the workout music is changing with the times. Even though times are getting different, their faith in God won't. Bible is as relaxing as it should be for them.
In the end... Skirts in gym matters!
So there you have it; most instances the Duggars were seen hitting the gym or just plain exercising in public with any means available. The multiple weird rules may be keeping the Duggar kids bound to certain traditions, but they do work out often, mostly women. Well, they also have to juggle their own kids now.
You might have noticed the attires for the womenfolk when working out by now. No matter what, they won't let go of the skirts. They pair them with pants, which of course was forbidden. But the pairing of the gym pants with skirts makes it all good for them, as the skirt prevents men from thinking unsavory thoughts. They believe it is necessary and helps them define as a woman. However, even Michelle started wearing pants only, and it's one of those trendy ones. They take every means necessary to ensure girls aren't confronted with potential wardrobe issues. And if men somehow saw them, there would be some stern talking to they could get. So skirts matter.
-->