What is 6ix9ine's Net Worth in 2021? Learn About His Earning Details Too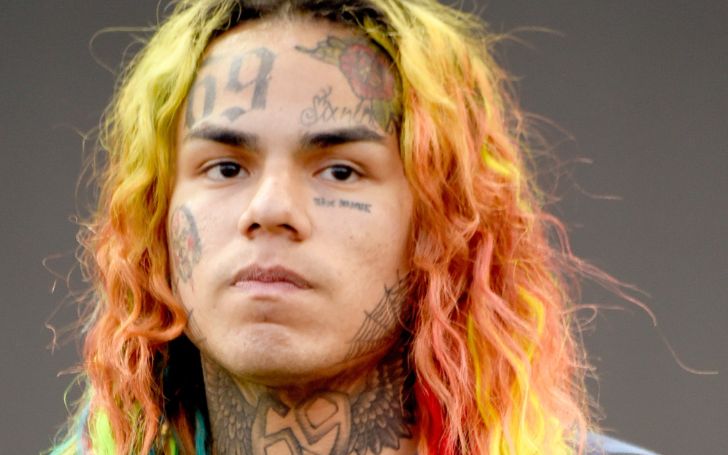 How much does 6ix9ine's earn? Here's the complete detail
Daniel Hernandez, proficiently known as Tekashi69 or 6ix9ine, is a rapper. An aggressive rapping style has marked his music. Along with his music, he is distinctively known for his distinctive rainbow-colored hair and extensive tattoos. He has been associated with legal issues and publicized "beefs" or celebrity feuds.
On May 8, 1996, Tekashi was born in Bushwick, Brooklyn, New York City, to a Mexican mother and a Puerto Rican father. His parents raised him until he turned 13, and he grew up alongside his brother.
The tattooed rapper was expelled from school in the 8th grade and did not return. In 2009 his father was murdered, which led to him to sell drugs to help his mother. As a popular rapper, many of his fans are curious about his networth, which is right ahead of this article.
Inside 6ix9ine's Total Net Worth And Career
According to wealthy gorilla, it is reported that Tekashi has roughly a total net worth of $8 million as of 2021. He has earned a massive amount of income from the record album, concerts, live TV Shows, sponsorship, and big contract with paid companies.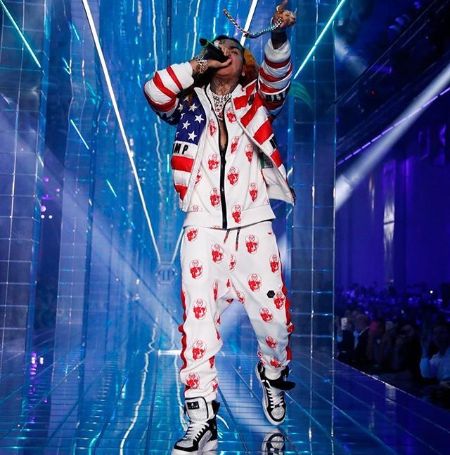 Tekashi holds a staggering net worth of $8 million as of 2021.
Photo Source: Pinterest
In October 2019, Tekashi confirmed a record deal 10K Projects. The deal involved two future albums, one in English and one in Spanish, reportedly worth at least $10 million; his single Yaya, released in 2020, is in Spanish.
Related: Robert Pattinson's Net Worth in 2021- How much ' The Batman' Star Earns?
Tekashi gained fame in late 2017 after releasing his first commercial single name, "Gummo," which became a sleeper hit; it is also his debut single. It was certified platinum by the American recording association, RIAA.
The father of two afterward released the mixtape Day69 (2018), which included the singles "Keke," "Kooda," and "Gotti," all of which were charted on the Billboard Hot 100. "Fefe," featuring Nicki Minaj and Murda Beatz, became a huge hit worldwide and peaked at number three on the Hot 100; it got double platinum from RIAA.
The single was included in his debut album Dummy Boy (2018). Despite negative critical reception, Dummy Boy was certified platinum by the Recording Industry Association of America (RIAA).
6ix9ine's Legal Issues
Tekashi69 has been arrested on several occasions for his controversial acts. He pleaded guilty back in 2015 to a felony count for using a child in a sexual performance, for which he served 3 years of probation. He was arrested on an outstanding warrant in 2018 when he allegedly choked someone in an incident at a mall in Houston.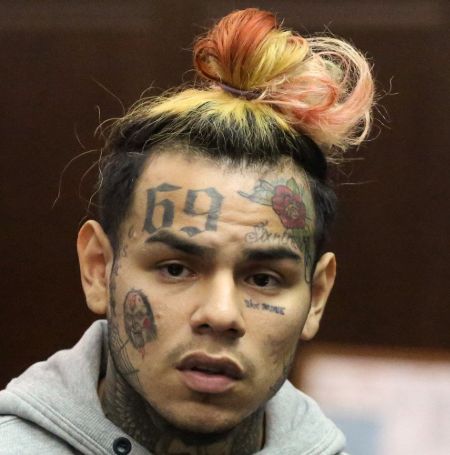 Brooklyn rapper Tekashi 6ix9ine was arrested on federal racketeering charges.
Photo Source: Pinterest
Along with the incident, he was arrested on drugs, weapons, and racketeering charges. He agreed to testify to reduce his prison sentence, which took over several days in September 2019. Tekashi testified that the Nine Trey Bloods Gang allowed him to essentially pretend to be a member as long as he bankrolled the group.
As per his arranged deal with government prosecutors in December 2019, he entered a guilty plea, and with his cooperation, The defendants he testified against are facing life sentences. For this, the judge ultimately ordered Tekashi to serve just 13 months.
Don't Miss: What is Halle Berry's Net Worth in 2021? Learn About her Earnings Here!
Due to the COVID-19 virus spreading wildly throughout the prison system, on March 22, 2020, he requested to be released early. Before, he was scheduled for release in August 2020, but the government did not object, and he was released early on April 2 and placed under house arrest.
For more information and news on your favorite stars, stay connected to Glamour Fame.
-->