A Woman Who Licked A Tub Of Blue Bell Ice Cream In A Grocery Store May Face 20 Years In Jail
Published Wed Jul 10 2019 By Chester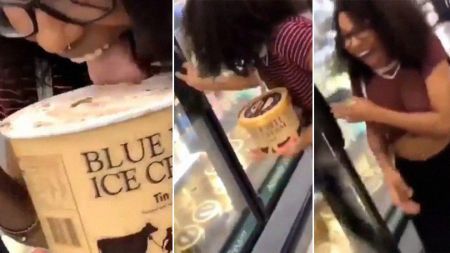 The young lady who tainted a tub of Blue Bell Ice cream is bounded of 20-years imprisonment.
You might have seen a nasty viral clip of a young teenager licking an icecream tub and putting it back on the freezer. Yes, the same awful video is trending all over the web with more than 10 million views within a few days.
Well, for those who are unfamiliar with the news, a mysterious guy pulled a dare with his friend to lick sealed ice cream in Wallmart. Here see a short CCTV footage of the miserable act.
Check Out: Police searching for woman who licked ice cream in viral video
The disgusting video uploaded on June 28 is now netted all over the internet, drawing lots of criticism and buzzing off in loathsome of tweets and comments.
However, this time, the vine video that teenagers often pull out for fame or drawing popularity among the groups was not taken lightly.
You Can Now Buy 'Scented Flatulence Pills' That Make Your Farts Smell Like Roses >>>
The reputed ice cream company, Blue Bell Creameries, released a statement on Monday, "This type of incident will not be tolerated", adding that they are working with the law enforcement.
Well, the disgusting act was neither funny nor taken for granted as the so-called 'freezer felony' is rumored to land into the jail for twenty years for tampering.
How Did They Figure The Licked Tub?
Well, the production team says that, during the production, half-gallons are flipped upside down and sent to a hardening room where the ice cream freezes to the lid. Creating a natural sea, the tops are frozen tightly to the cartoon, and any attempt at opening the product should be noticeable as it gets melted and exposed.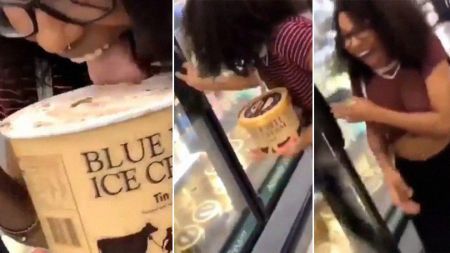 Moreover, the company writes few words to their customers form their official website which reads.
"We want to thank our consumers for alerting us to the incident this past weekend of a video posted to social media showing a Blue Bell item being tampered with. We take this issue very seriously and are currently working with law enforcement, retail partners and social media platforms. This type of incident will not be tolerated. We will continue to monitor this situation."
We know it sounds gross and disgusting as authorities are looking for the woman who opened a cartoon of the blue bell at East Texas, Wallmart.
Vitaly Uncensored - Everything You Need To Know About Vitaly Zdorovetskiy' X-Rated Website >>>
Fortunately, the tainted tub was found before anyone bought it, but the lady who is claimed to be from San Antonio is still under surveillance.
We hope the lady shortly gets the deserving punishment so that the upcoming pranksters can witness impacts of such horrific acts.
So for all the people who are looking up for queer things just to be a viral sensation, watch out as it can lead up to 20 years in imprisonment.
How Not To Bag A Date? Man Becomes 'Most Hated Man On Tinder' With Controversial Bio >>>
Stay tuned and connected to find out news and updates.
-->