Actress Felicity Huffman Released on $250,000 Bond and Ordered To Surrender Her Passport Amid College Admissions Scandal
Published Wed Mar 13 2019 By Tess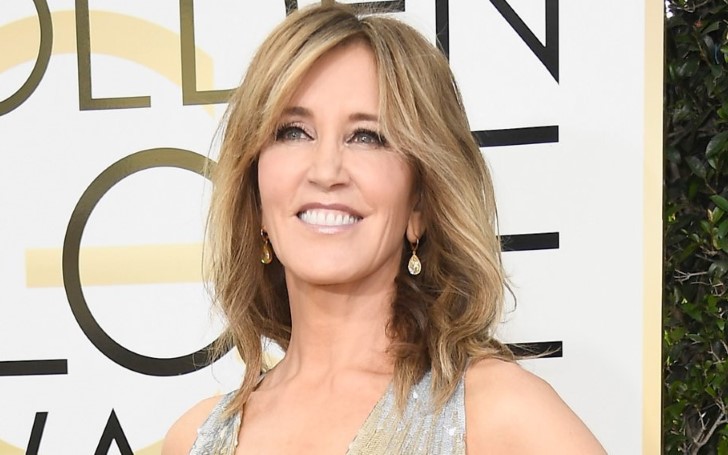 Actress Felicity Huffman released on $250,000 Bond and ordered to hand over her passport following her arrest.
The Desperate Housewives actress Felicity Huffman was released on Tuesday after paying $250,000 bond. She was further ordered to surrender her passport the same day amidst the college admission scandal.
According to the Federal prosecutor Adam Schleifer, Huffman owned real estate assets valued "in excess of $20 million." In addition, the actress was estimated to hold $4 million in immediate funds thus, $250,000 bond was warranted.
Felicity Huffman is released on $250,000 Bond
SOURCE: Yahoo
The American Crime actress appeared in the federal court in Los Angeles for almost 12 minutes with her husband, actor William Macy to face the charge of paying the bribe to boost her daughter's SAT scores.
Huffman was amongst the 50 people charged in the FBI's investigation of massive bribery, money laundering, and document fabrication in order to get students admitted in the elite colleges.
As per the court documents, the college athletic coaches were bribed while college entrance exams were monitored per their ease as a part of the alleged scheme.
See more: Lori Louglin Roped in an Alleged Admission Scam; Deletes Social Media account
Huffman is accused of participating in the cheating scheme in order to boost her eldest daughter's SAT scores by making what was described as a "charitable contribution" of $15,000, according to the criminal complaint.
Huffman is further accused of planning the same arrangement for her younger daughter before backing out.
The next court date is set for March 29 in Boston for Huffman who surrendered her passports to the court. She is apparently barred from traveling outside the continental United States.
Read more: Jennifer Lopez and Alex Rodriguez got Engaged A Few Days; Relieve The Moment as A. Rod got on his Knees in a Surreal Backdrop
In the largest possible college admission scandal, federal prosecutors filed charges against 33 parents, some of whom allegedly paid millions of dollars to get their kids into elite universities.
The scheme is allegedly centered around William "Rick" Singer, a Newport Beach, Calif., admissions consultant who reportedly developed a network of college coaches to assist his clients to get into selective universities.
Also read: Tamara Ecclestone and Husband Jay Rutland Leave Roka Restaurant in Mayfair After a Scrumptious Lunch Together
Singer pled guilty and the liable charges against him are still under discussion as the admissions scandal consists of very few precedents in absence of similar cases of this sort in large scale earlier.
-->