Adele Weight Loss - The Full Unabridged Story
Published Fri Dec 20 2019 By Sea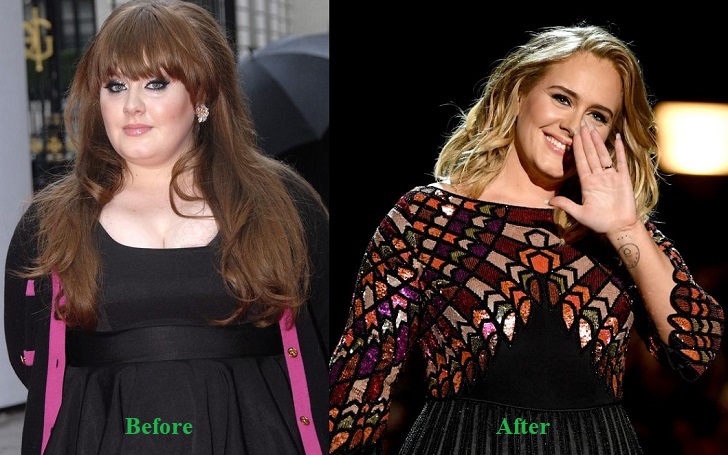 Oscar-winning singer Adele (b. Adele Laurie Blue Adkins) will always make her fans adore her for the songs that could truly relate to at least one large group of people each time. Her discography doesn't contain as much music as the world's so-called legendary singers do, but each of those in hers has given us at least something to rejoice about.
While weight may have been something of an issue for her over the years, she never felt insecure about her body. Although, she does respect keeping her body in shape, despite admitting that she hates going to the gym. With proper diet and exercise (yes, as lame as it sounds, it's true), it has helped Adele look slimmer and slimmer every year.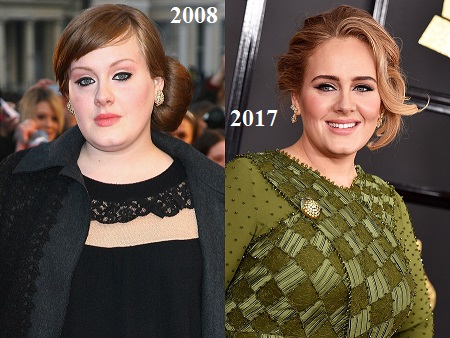 The weight loss journey didn't stop in 2017. More on that below.
Source: Getty Images
So, here's the full story of what she said and did over the years, regarding her weight loss journey.
"I Don't Find Thin Girls Attractive," The Things She Said about Weight in the Beginnings, 2009
Fun Fact (only if you didn't know): Adele named all her albums as the age she was when she released them. Her first album, '19', released when she was 19 in January 2008, had charted number one in the UK when she first talked about her comfort with her body.
The 31-year-old is extra-conscious about her private life and used to cancel tours so that she could give herself some breathing space. In an interview with Daily Mail in February 2009, she talked of feeling confident about how she looked.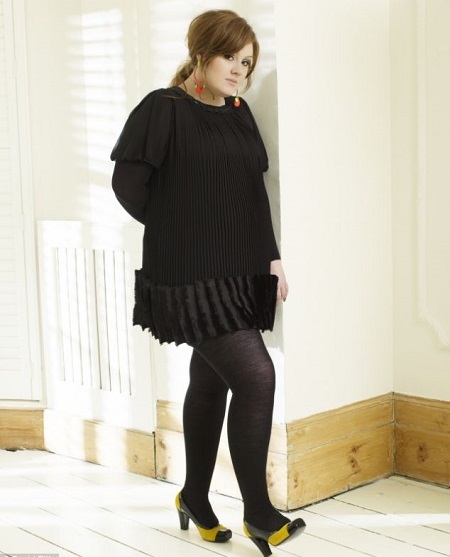 Adele was never pressurized to lose weight early on.
Source: David Ellis
Here's everything she said about her body image extracted from Daily Mail.
"I don't find thin girls attractive; be happy and healthy. I've never had a problem with the way I look. I'd rather have lunch with my friends than go to a gym."
"I'm 5ft 9in and a 14, 16."
"You can't go to America and be s**t; you could have an amazing figure, and they won't buy it. I could wear a bin liner, and they'd still like me."
"I have never been insecure, ever, about how I look, about what I want to do with myself. My mum told me to only ever do things for myself, not for others."
"I never date people I don't know. If my husband called me fat, I'd murder him."
This was before she met her future boyfriend-turned-fiance-turned-husband-turned ex, Simon Konecki. She was pretty confident of herself back then, and whenever she needed to take a break, she would just cut herself off from the entire world.
Resisting Pressure to Lose Weight after the Vocal Cord Operation in 2011
Adele already cleared it up in the aforementioned interview that she won't take the pressure of losing weight thrown at her. In another interview, she followed it up, stating she would've lost weight only if she was in the acting business, which requires a slimmer body.
After the second album from her, '21', was released and stayed at #1 on the Billboard 200 list for 18 weeks in early 2011, she had to go through a vocal cord surgery later that year. A vocal cord hemorrhage had silenced her, and she had to cancel her tours, or any other performances for that matter.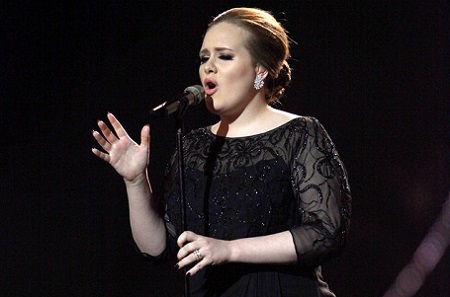 Adele performing on stage during the Brit Awards 2011 at The O2 Arena in London.
Source: Joel Ryan, AP Photo
The silence went only for a couple of months though. She made a comeback with a performance at the 2012 Grammys in February. Like the first album, the second album was also full of emotions of heartbreak and such. But the only difference was, the unnamed person who inspired the album didn't cheat on her like the one who inspired '19' did.
The performance was also featured in the interview she had with People Magazine. By this time, it is important to note she was already dating Konecki.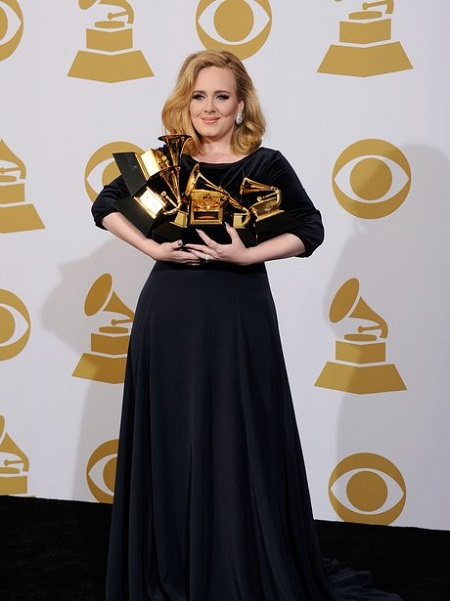 Adele won six Grammy for her nominations in 2012.
Source: Getty Images
In the interview, she talked about how she went to the lowest point of her life following the earlier breakup. She was holed up for nine months in her room, drinking four bottles of wine a night. With that, she also talked about her body image and how she embraced her curvy figure.
"I've never wanted to look like models on the covers of magazines. I represent the majority of women, and I'm very proud of that."
"I'd lose weight if I was an actress and had to play a role where you're supposed to be 40 lbs. lighter, but weight has nothing to do with my career,"
"Even when I was signing, most of the industry knew if anyone ever dared say [lose weight] to me, they wouldn't be working with me."
She was determined to resist any pressure to slim down this time too.
But She Did Slim Down; The Billboard 2016 Awards Appearance Was a Shocker
The Brit Awards 2012 saw Adele slim down a bit. It might've been the hospital diet, who knows. That same year, she gave birth to her first son Angelo Adkins, born on October 19. Another hiatus came because of motherhood. She clearly never merges her career with her personal life.
Adele came back at the 2013 Grammys to receive her Best Pop Solo Performance award for her song, 'Set Fire to the Rain'. The floral gown was pretty.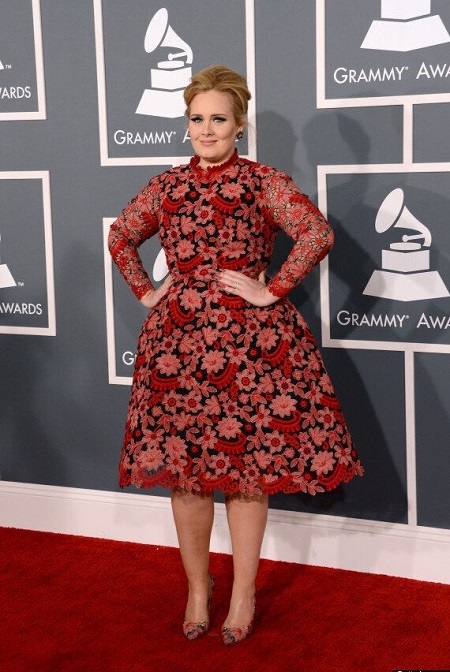 After her son's birth, people started seeing her slimming down.
Source: Getty Images
The mother-of-one was looking better and better in each passing year, with no one knowing what she did to shed some weight. Then, at the Billboard Music Awards 2016, people truly saw how much she'd slimmed down. Her waist was a lot smaller than it used to be.
The singer premiered the video for her song, 'Send My Love (To Your New Lover)' at the awards show, and she looked way thinner than she was before.
The Secret Weight Loss Diet — She'd Been Following 'The Sirtfood Diet' to Lose 30 Pounds
Adele lost a total of 50 lbs in all her years under the spotlight. But she did it in two phases, both alleged values as she never showed her weight results on the scale.
Watch: Video Premiere of Adele's Single, 'Send My Love (To Your New Lover)', and Her Slimmer Figure
The music-video premiere prompted people to ask how she was able to get to that figure. They speculate she lost about 30 pounds since 2012. It was uncovered that her personal trainer, Pete Geracimo, had urged her to follow 'The Sirtfood Diet'.
Geracimo is a fan of the meal plan, on which the book was released in the UK in January 2016. Moreover, she'd already decided to lose some weight for self-image immediately after the birth of her son.
'The Sirtfood Diet' took the UK by storm after it's publication, with people claiming 7 pounds could be lost in seven days using the plan. It basically is a diet that is rich in sirtuin enzymes, proteins that help regulate metabolism and may have anti-aging properties.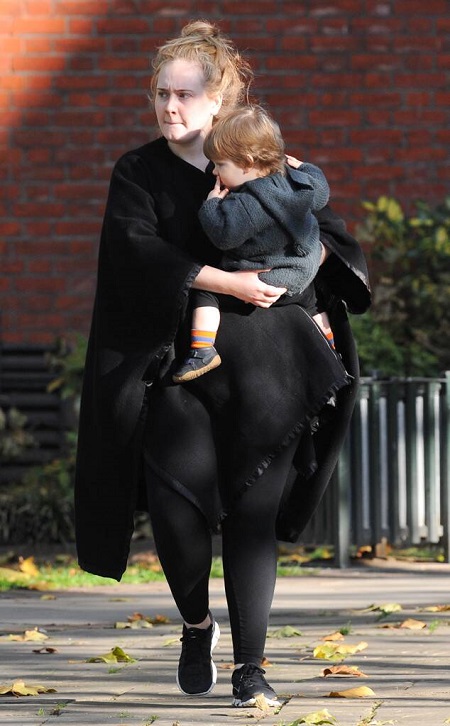 Angelo's birth put on some more weight for her, but she was determined to lose weight.
Source: Splash News
During the weight loss process, Adele's nutritionist, Jennifer Irvin, was all the way with her. The change happened within like three to four months. And she was very disciplined during the time.
"She's eating a really clean diet, with lots of fruit and vegetables, plus lean protein and complex carbohydrates."
She'd Already Reduced Her Carbohydrate Intake Before the Sirtfood Diet — Why She Did That
Drinks and smoke were heavily reduced by 2015, with the latter one completely given up by Adele. She was already reducing her carbohydrate intake until then too, you know, her determination after Angelo was born.
Adele even dropped her sugar cubes.
Source: Heidi Gutman, AP
Before the diet, she'd also reduced the number of sugar blocks she took each day. Her weight loss signs were already there when she spoke to The Sun in December 2015. She shared how she reduced her coffee intake from 10 cups a day. With that, the sugar cubes were also much less in her daily diet.
"I used to drink 10 cups a day with two sugars in each, so I was on 20 sugars a day. Now I don't drink it, and I have more energy than ever."
Despite decreasing the sugar intake, she said she would never deprive herself of some tasty, sugary treat once in a while. She was not trying to be size zero or anything like that.
Adele was on the cover of Vogue Magazine's March 2016 Issue.
Source: Vogue
In an extensive interview with Vogue for her March 2016 cover, she also talked about her feeling comfortable under her own skin, while also revealing why exactly she attempted to reduce weight. Here are her own words.
"But actually I like myself more than ever. I feel so comfortable in my own skin. I really like how I look, I like who I am, I like everyone that I surround myself with."
"Obviously I have insecurities, but they don't hold me back."
"I was trying to get some stamina for my tour. So I lost a bit of weight. Now I fit into normal, off-the-shelf clothes—which is a really big problem for me!" — She had to protect her throat too.
She has such a joyful personality in front of others that she laughed about her 'bum chin', her 'intense forehead', and her 'potato fingers'. She also revealed she always uses Spanx for her public appearances but felt putting them on "like pumping a sausage bag full of meat!"
Adele's Views on Workouts — She Did It Despite Hating It
The 'Rolling in the Deep' singer did already share her distaste for working out at the gym (the Daily Mail interview) — she'd rather have lunch with her friends than go to the gym. After the attempts and successes of losing weight, her view on 'Gym' hasn't changed one bit.
That doesn't mean she won't ever do it though. With respect to her determination, she started going to the gym. Of course, Geracimo trained her.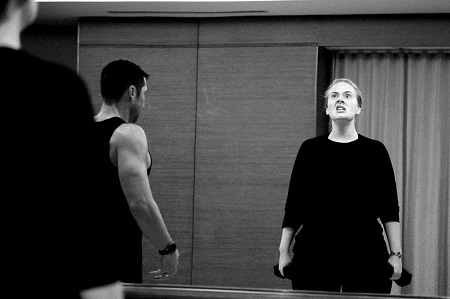 Workout sessions started to become a regular thing, despite initially hating it.
Source: Adele, Instagram
'The Sirtfood Diet' may not have been the entire cause for her 30 lbs weight loss. With carbs and sugar already reduced, workouts also was a major factor, as it often is for others.
Geracimo is extremely experienced, and he knows what kind of routines Adele needed and would possibly not feel the hesitation to perform. He knows some really good ways with which you can keep yourself fit. Give it a read if you're interested.
As for Adele, for her return to the road (for the one she told Vogue), she hit the gym "to get in shape for myself, but not to be a size zero or anything like that".
She told Rolling Stone, too, in 2015 for her hatred for the gym, "I'm not, like, skipping to the f**king gym. I don't enjoy it. I do like doing weights. I don't like looking in the mirror. Blood vessels burst on my face really easily, so I'm so conscious when I'm lifting weights not to let them burst in my face. And if I don't tour, you'll catch me back down at the Chinese!"
What Adele Did for Her Recent 20 Lbs Weight Loss to Look Amazing at Drake's Birthday Party
The 'Someone Like You' artist organized a lavish 'Titanic' themed party for her 30th birthday in May 2018, with a hope of turning 30 to bring about a lot of changes. But on her 31st birthday, May 6, 2019, she acknowledged she's been changing for a long time before that.
With an Instagram post, she declared her life from then on will be focused on her (and obviously her son, which she didn't need to mention).
When we saw Adele at Drake's lavish 33rd birthday party on October 23, fitness, nutritionist and body expert, Ray Abdwell estimated she lost about 15 to 20 pounds of weight in the last few months. People suspect it might have come off a change in health mindset after the separation from Konecki in April 2019.
Abdwell added, "You can see much more definition in her clavicle, the weight loss through her arms and her legs. Her jaw is much more sculpted as well. She has lost fat evenly from all parts of her body."
About 14 lbs of those 20 lbs she lost were reported to have happened by July already. A source came up to US Weekly to share what she did for the weight loss endeavor.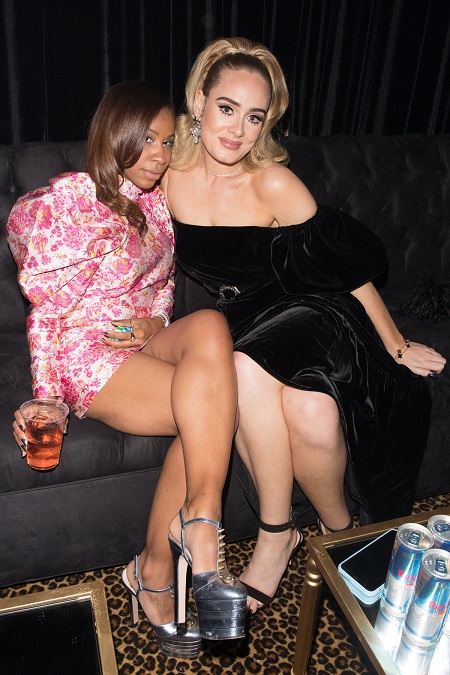 She was reported to have undergone 20 lbs weight loss in the last few months before Drake's birthday.
Source: Kevin Wong, MEGA
The 'Hello' singer hired a personal trainer in LA for a fitness regimen. She did 60-minute sessions that include cardio, circuit training and Pilates, a routine she found enjoyable and working for her.
"She really wants to be healthy and set a good example for her son," the source further added. "She's more focused on feeling good and the health benefits than the weight loss."
Friends Are Worried She Might Be Overdoing it
Yes, as impressive and emotional her journey is, some people are worried she might be doing to the weight loss thing a bit too much. Friends have so many health concerns for her and are urging her to stop from her current condition.
"Nobody disputes she's done brilliantly to lose this weight, but now it's getting obsessive," an insider told Radar Online. "If she left it as she is now that would be fine, but she's talking about losing a bunch more and really pushing herself to get the body of an athlete."
She's just learning to love life right now.
Source: Adele, Instagram
More of them include, "She's eating bird-sized portions and working out non-stop in the gym – often up to three times a day!" and "Fitness has turned into a real OCD obsession, but she can't seem to do moderation at all."
Love is somewhat weird when it comes to Adele. But while she may not be looking for anything now, media and tabloids obviously can't help but link her to some other celebrity. But now, if she needs a break, she will take one abruptly to heal herself, like she always does for her private life.
People need to just lay off of her and let her enjoy the bits of life that she wants to. You know she won't resort to the worst of things. Don't push her too far. We just hope the best for her too.
Adele Weight Loss Update: Adele Wasn't Recognized During the Beach Vacation with Harry Styles and James Corden
After the Christmas Party photos, the pictures of the New Year beach vacation with Harry Styles may have stirred relationship rumors between the two, but a different subject matter was more pressing than that. Besides, James Corden was with the two when fans ran into them.
Time after time, Adele has been looking skinnier and skinnier, which has fans divided on praising her and wishing she was back to her old self. But this new appearance left people in awe. Fans who encountered the stars in Anguilla didn't even recognize the single mom.
One fan also claimed Adele told her she lost about 100 lbs. "At first we barely even recognized her because she lost so much weight. The 19-year-old fan Lexi Larson told People. "She told us she lost something like 100 lbs., and that it's such a crazy positive experience."
As for the update on the Adele-Harry Styles situation, the latter recently (Feb 3) claimed they were not dating while in the Caribbean, and the former's plan to release an album this year (2020) has been confirmed.
Pilates Trainer, Camila Goodis, Slammed for Sharing Adele's Weight Loss Secrets on Camera
Adele's trainer, Camila Goodis, was tracked down, and she shared how she trained Adele in order to lead up to her drastic weight loss. She is no longer her trainer, but she told, on 'Lorraine', "She just had a kid so it was kind of like her first workout so I had to work her pelvic floor. She changed her lifestyle and she changed her diet…now she's just maintaining eating healthy."
Camila Goodis is no longer Adele's personal trainer.
Source: Fitness Goodis
Goodis, known as 'Brazilian Body Wizard', said she met Adele at a party hosted by Robbie Williams and that the main secret was her diet, like 90%. "They do a lot of green juice and they eat 1000 calories a day," she said of Sirtfood Diet.
The reveal by the former trainer was not processed by many people, most notably a fitness expert named Alice Liveing. She went on to Twitter to slam the 36-year-old for betraying the singer's trust from the client confidentiality.
Also known as 'Clean Eating Alice', Liveing alleged Goodis to not have had a hand in Adele's weight loss journey and that she was just doing it further her own career. Here's the entire story in Liveing's words.
Whatever the situation, Adele is actually happy and is on the verge of releasing new music soon. Most possibly, early this year.
Stay tuned and connected to GlamourFame for more updates. There are other beautiful Weight Loss stories being told here. Be sure to check them out.
-->