'Ah Shit, Here We Go Again!' - Bachelorette Finalist Peter Weber Had a Secret Girlfriend!
Published Tue Jul 16 2019 By Travis
Another controversy as it turns out Peter Weber also had a secret girlfriend.
This season of the Bachelorette has been amazing and controversial last week's "I fu**ed in a windmill" was epic and now there is a new controversy that has rocked the fan base of Bachelorette.
We knew that frontrunner Jed Wyatt cheated on his girlfriend Haley Stevens. It was a shocking revelation when it was discovered that Jed was in a relationship while competing for the heart of Hannah. And now another bombshell revelation after it was revealed that another front runner Peter Webber broke up with his girlfriend to come on the show.
The rumor about Peter was circling around the internet for a while but it was all confirmed after in a shocking move the ex-girlfriend of Peter decided to come out and talk. To make things worse she told Entertainment Tonight that the he broke up with her right before Christmas (douchebag).
Calee Lutes, a model from Atlanta, said she and Peter were in a relationship when the two met through a dating app in June of 2018. They had been in a relationship since then and making the relationship work even if Peter was based out of Los Angeles.
Lutes said, "Even though we lived on opposite sides of the country, we saw each other often — every week/every other week. It was as easy as a long-distance relationship could be. We went on vacations together around the U.S. and we even went to Switzerland in November."
Calee also said how he wanted her to move to Los Angeles permanently and even shared "I Love Yous" back in October.
Though they met each other through a dating app, she said that they hit it off ever since the first meeting and also they were crazy about each other. The long distance thing was a hindrance but they were making is as easy as long distance relationships can be. That was one of the reasons why he wanted her out in Los Angeles living with him.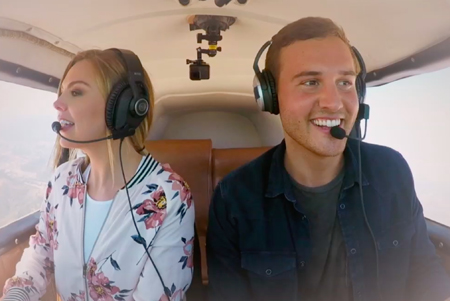 "I was open to moving out there for a year or so, to give our relationship a fair chance, but he told me he didn't want me out there temporarily... he wanted me out there 'forever,'" she said.
Their relationship wasn't about just being boyfriend and girlfriend, the two were even talking about starting a family together and were even discussing the logistics about having kids. Lutes said, "We also talked about kids, down to the logistics of how we would fly them back and forth between L.A. and Atlanta to visit my family if we did settle down in California. We talked about all of this right up until he broke up with me."
Peter gave the audition for the Bachelorette while he was in a relationship with Calee and that was the reason why she felt betrayed by him. Calee said, "He absolutely betrayed me. He interviewed for a reality dating show while simultaneously planning a future with me. I trusted him entirely and he pulled the rug out from under me."
Watch: Peter Weber's girlfriend speaks out
That wasn't the only time that Peter was accused of cheating, as she stated in the interview that multiple friends had told her that he was unfaithful while the two were in an exclusive relationship.
Peter said in the show that he was heartbroken by his previous relationship, but as it turns out Peter is a cheater and a liar too.
Also Read: Why Do Contestants Keep Coming On The Bachelorette When They Have Girlfriends Back Home?
The relationship between the two ended but she is thankful now, knowing everything she knows, she is thankful that she never moved to LA. Calee said, ""I thank God that this happened now. I can't imagine if I had uprooted my life and moved across the country, only to find these things out later. I definitely dodged a bullet."
Well, we hope Hannah has the same sense as that of Calee so she can dodge this lying and cheating douche named Peter.
-->