Alex Jones Shows Off Her Growing Baby Bump At The BBC Studios
Published Mon Feb 18 2019 By Jessica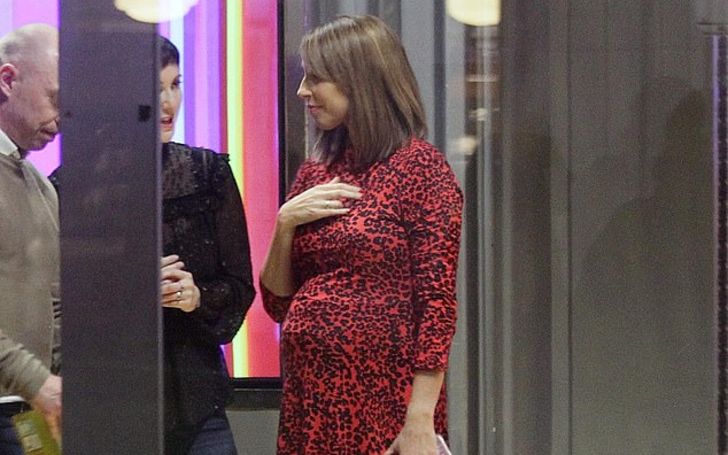 The One Show popular TV host Alex Jones shows off her growing baby bump in a red leopard print at the BBC studio.
On Friday, the Welsh television presenter Alex Jones, usually popular for hosting BBC One network's The One Show put her growing baby bump on display.
The mother to be for the second time looked all glowy and happy in a scarlet dress marked with leopard print as she showed off her baby bump when she arrived at the BBC studio.
Alex Jones shows off her baby bump at the BBC studio
SOURCE: The Daily Mail
The 41 years old TV personality announced the pregnancy news with her second child with New Zealand insurance broker husband Charlie Thomson last year in December.
The TV star shared the exciting pregnancy news live on air on the same show she hosts.
You may also like: Nick Grimshaw Walks Hand-In-Hand With His Boyfriend Meshach Henry For London Fashion Week Event
Alex styled her pregnancy look by keeping her short straight dark brown hair free and by applying a light touch of a palette of make-up on her face.
The knee length red leopard skirt covered most of her body parts from top to the knee part of her body.
Apart from accessorizing her pregnancy look with just rings on both of her wedding fingers, the brunette kept everything else simple. The star carried nothing with her except her iPhone with a pink phone case.
In the released pictures of Mrs. Jones, the star looked working around and greeting her other colleagues at the BBC studio.
Don't miss: What Famous Celebrities Think of the Persistent Issue of Global Warming
As a matter of fact, one of the pictures included Alex happily interacting with the show's special guest, American famous country singer Dolly Parton.
Alex Jones and Dolly Parton at the BBC studio

SOURCE: The Daily Mail
Jones previously recorded the struggle of her conceiving baby for the second time.
She reportedly addressed to the celebrity news site, The Sun:
"I suppose I'm older now, but we took it for granted that it would be OK. But you don't really know until you start trying how it's going to go, do you?"
Alex added:
'The majority of couples I know have had something, not always IVF, but some problem that needs to be sorted out.
The star further concluded:
"Suddenly you see someone pregnant or with a newborn and you don't really hark back to what happened before because everyone's just delighted there's a baby."
Previously too, the TV presenter flaunted her growing baby bump publicly in casual denim dungarees outfit combined with a striped shirt when she headed to the BBC studio.
Before entering the building, Alex even took a few pictures with some of her passing by fans.
See more: The Reason Jennifer Lopez Represented Black Music History at the Grammys
Alex and her husband Charlie married three years ago and welcomed their first child, two years old Edward Alun Burrell Thomson also known as Teddy in short on 22 January 2017.
-->