Alexis G Zall Mesmerized Her Fans with Unique Voice - Find Out Some Intriguing Facts About the Actress
Published Mon Apr 20 2020 By Chester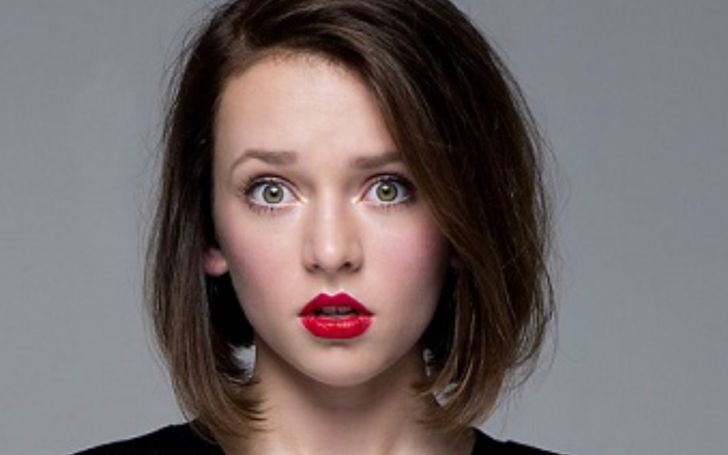 Learn the never before facts of Alexis G Zall.
We all have been mesmerized with the gorgeous yet versatile actress, youtuber, writer/performer Alexis G. Zall. She is one of a source of inspiration to the LGBTQ community, millions of girls, and heartbeat to boys.
Since fans seem to be never over with Alexis and her unique voice and contents here, we present you with the never before the fact of the 21 years old star.
YouTuber Shane Dawson is not Her Cousin
Snippet of YouTube conspiracy star Shane and Alexis.
Image Source: Instagram
Yes, while many of the fans still believe, the popular YouTuber Shane Dawson is her cousin, but on reality, they are not.
However, the rest of the facts about them are true as both Dawson and Zall share a close bond and friendship together. Both internet celebrities timely meet and hang out together.
Alexis G Zall Has a Good Movie Taste and Preferences
Zall has quiet remarkable fictional character, crushes, and all of them are unique on their own.
The actress shares she "I'm in love with Nancy from Stranger Things," Yorkie from San Junipero [one of the best episodes of Black Mirror], and Dolores from Westworld.
Check Out: Top 5 Facts About Pop Singer Megan Nicole
And similarly, her favorite villain happens to be the teacher in Colin Heist, the movie she loved working for.
Survived a Dangerous Injury
Yes, few of her followers might be aware of the fact of the Bedeviled star had encountered a hazardous accident during her childhood.
Zall since little, to be precise from age 2 showed her interest in gymnastics, yes to early right! She spent most of her time in the gym until one day; she was sidelined by an injury. After that, she molded her skills and initiated her acting skills participating in the school play and not turned back.
Find Out: Bella Cuomo is TikTok Star - Find Some Intriguing Facts About Chris Cuomo's Daughter
Alexis also got few tips for the YouTube content creators and, which is to "make anything literally and learn from doing it."
G. Zall is Trending All Over Social Media
Yes, Alexis is a trend all over social media, to star with she has a 1.1 million subscriber filled YouTube channel where she uploads satirical videos and shares life lesson, totally intriguing and fun to watch.
Similarly, Z is also on 410k followers filled Instagram account where she posts more of her personal and day-to-day activities. She has over 1,309 fun posts upload.
And last but not least, Alexis is also on the now-viral and trendy video-sharing app TikTok; well, Zall is a newbie to the platform; however, it does not limit our excitement about what she's coming up with.
Shares Her Role on Zac & Mia was completely Opposite to Her Personality
Being an actress sometimes can be a really tough job. It's not just a thing you do behind 'Lights & Camera' as sometimes the role can be quiet challenging, which might contradict totally to your personality.
And similarly, Alexis, who portrays the role of Bec in Andrew Rothschild, and Allen Clary's 'Zac and Mia', had a tough time playing the role.
You May Like: Meet Steven Spielberg's youngest kid, Destry Allyn Spielberg
The character Bec was really 'dark sense of style of style and is quite the firecracker'. Adding to the role she exclusively shared, it was just opposite to her personality traits as on reality, she finds her generally level headed and pragmatic person, so it was tough acting a total blast with lots of yelling.
Nevertheless, she did it amazingly, and that's why she is our all-time favorite. We hope you enjoyed the article, stay tuned for more Celebrity Facts on Glamour Fame.
-->