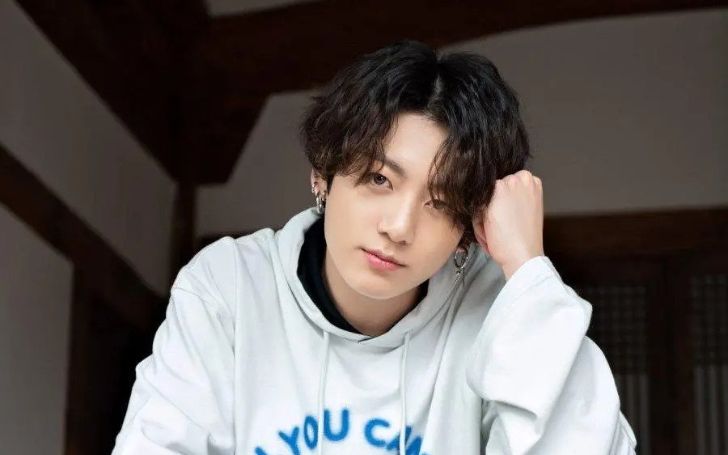 Jeon Jeong-guk is a famous Korean artist who is better known from his stage name, Jungkook. He is the lead vocalist, rapper, and dancer of the South Korean musical band, BTS.
The boy group BTS was in a break, which ended in September 2019, and every member of the band seems to enjoy their vacation. After their first break, Jungkook looked a little changed than other members. He was spotted with new tattoos, ARMY on the knuckles of his right hand, which made his followers think whether the tattoo is permanent or temporary.
Fans of the Korean band, BTS was skeptic and wanted to know the meaning behind the new tattoo of the young member of the group, Jungkook. Therefore, for diehard followers of the popular boy band, BTS, we brought some details which might help them find meaning behind the Jungkook's tattoos.
NewTattoo, ARMY In The Right Hand of Jungkook
Like we told you guys earlier, the new tattoo of Jungkook created lots of mystery in the mind of his followers. He got his new tat during his first break after making a debut in 2013 with his band member.
Jungkook new tattoo, "ARMY" is represented to his bandmate and his beloved fans.
Photo Source: Quizur
The tattoo 'ARMY' resembles two meanings, and you people might already know the first meaning of the tat.
First Meaning of The Tattoo
The fandom of BTS is famous by the name Army. The Korean boy band, BTS, loves to call their followers by the name Army and on the contrary, their fans like to call themselves Army.
Recommended: South Korean Actor Park Seo Joon Won The 2018 Star of Korean Tourism Award
Because Jungkook from the beginning day, like every member in the group, was close to his fans and it was their first break; as a result, the young Korean artist Jungkook might miss his supporters during the break, which lead him to ink those words in his hand.
Second Meaning of The Tattoo
The new tattoo of Jungkook has another meaning too. Except for his fans, he also dedicated his tattoo to his team members.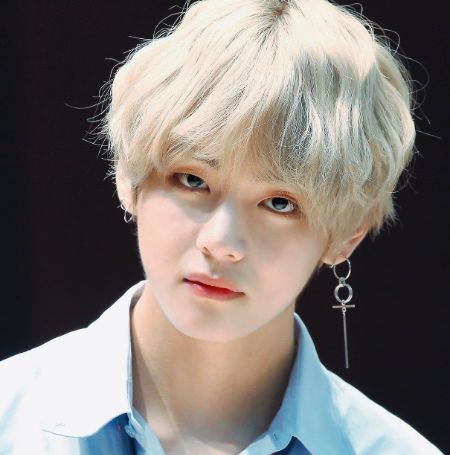 'V' is one of the band members of the Korean boy band, BTS.
Photo Source: Imdb
It is a human nature, as a social being, to get emotionally attached to their friends and family. Because the young member, Jungkook is with his team for more than five years, he is very close to his band members. So, it is normal for him to dedicate one of his tats to his brothers.
Also See: K-pop Sex Scandal Spreads; Second S. Korean Star Quits
The word 'A' in the tattoo is for Kim Tae-hyung, whose stage name is 'V,' making the word A vertically opposite we can see he devoted his tat first word to his best pal Tae-hyung.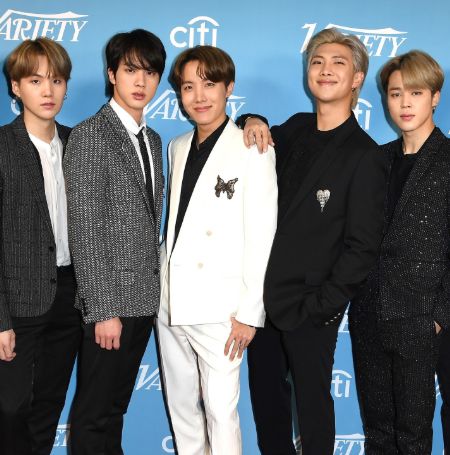 Jungkook is the member of the popular Korean boy band, BTS.
Photo Source: Teen Vogue
The next word RM in his knuckles represents his next team member, Kim Nam-joon, whose stage name goes by Rap Monster (RM). Further, 'MY' in the 'ARMY' is for his teammate, Min Yoon-gi, who is as known as Suga or Agust D.
Also See: Korean Pop Star Sulli Passes Away at 25
Above the word, 'M' in the tattoo, the young artist also inked the alphabet, 'J' which is the first word of his own name Jeon Jeong-guk or Jungkook and rest of his bandmate, 'J' for the handsome Jin (Kim Seok-jin) puls adding and 'J' and 'M' of the tat, we will get 'JM' for Park Jimin who is popular with the name Jimin within his fan circles.
'Tiger Flower / Please Love Me' Inked in His Forearm
Except for 'Army,' Jungkook also inked other tattoos in his hand during his vacation. He has a 'Tiger Flower' in his hand, which is the birth month flower of the youngest member in the band. He also tatted 'Please Love Me' behind the 'Tiger Flower.'
'Skeleton Hand' on Jungkook Right Hand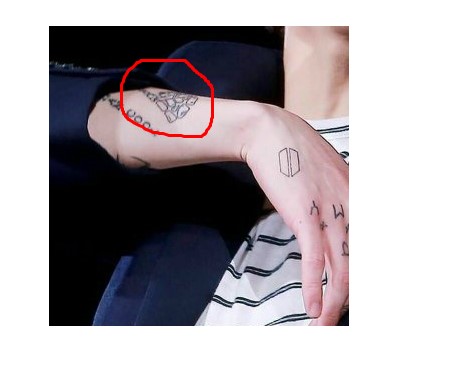 The Korean singer, Jungkook got a skeleton hand tattoo in his hand.
Source: Kpop Profiles
The lead singer of BTS also got another sketch on his right arm, which resembles a skeleton hand that symbolizes rock on.
Jungkook's Crossword Tat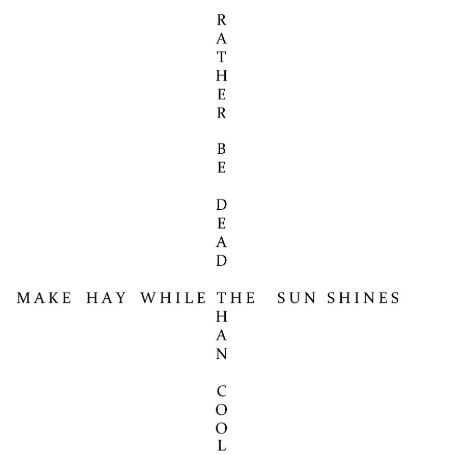 Jungkook's got two Crossword Tat in his right hand.
Photo Source: Twitter
Another tattoo Jungkook got for himself appears on his lower right forearm. According to Elite Daily, the vertical script reads as " rather be dead than cool," which is an adopted phrase, originally a lyric from Nirvana's 1991 hit "Stay Away," as his life motto.
The REAL Meaning Of Jungkook's Tattoo
Further, the horizontal script on the crossword tattoo appears to say, "Make hay while the sun shines," which, according to fans, represent a old proverb meaning "to take advantage of a chance to do something while conditions are good."
06.13 Under His Thumb
The Korean artist, Jungkook got another tattoo on his hand for his band, BTS.
Photo Source: Kpop Profiles
Jungkook has another tattoo in his right hand, "0613," which represents the debuted date of the team, BTS, June 13.
A Purple Heart on Jungkook Right Hand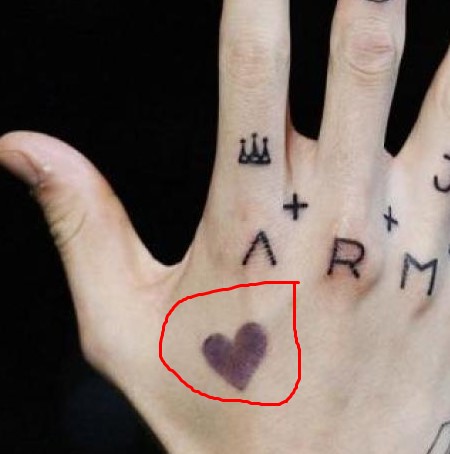 Near the "0613" tattoo, Jungkook got another tat, "Purple Heart," which was first seen on September 19, 2019, and stands for "I Love You."
Tatted Truth
In BTS's "ON" Kinetic Manifesto film on February 21, 2020, Jungkook was seen with the new tat, "Truth," which is rumored to be a matching tat with another Korean boy band, GOT7's Yugyeom and Mark.
A Woozy Face Emoji in The Middle Finger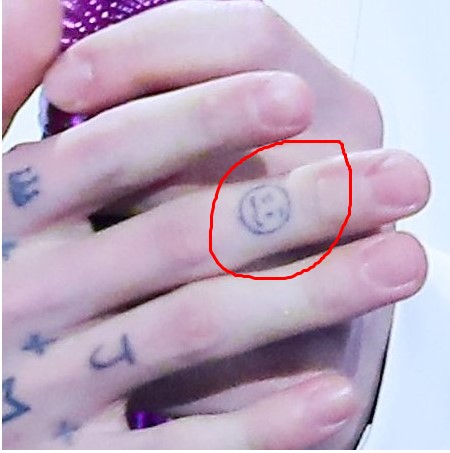 A woozy face emoji in the middle finger of the K-pop artist, Jungkook.
Photo Source: Kprofiles
In the middle finger of Jungkook's right hand, he inked a "woozy face emoji," which meaning is still unknown to the mass. However, we will update with the information whenever it makes to the media.
Black Stripes Tattoo
Everyone loves their country, and Jungkook, like all people in the world, has enormous love for his country, Korea.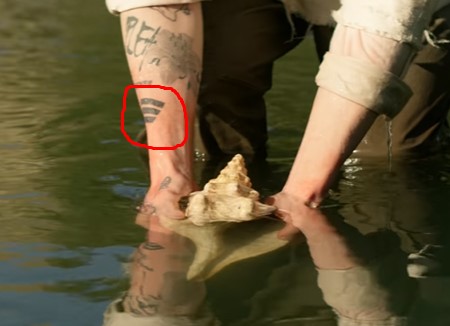 The youngest member of BTS got a tattoo which is a portion of the South Korea Flag.
Source: Elite Daily
So, one of his tats is dedicated to South Korea. As per Kprofiles, black stripes in Jeon Jeong-guk hand is a part of the South Korean flag, meaning justice.
A Crown on His Index Finger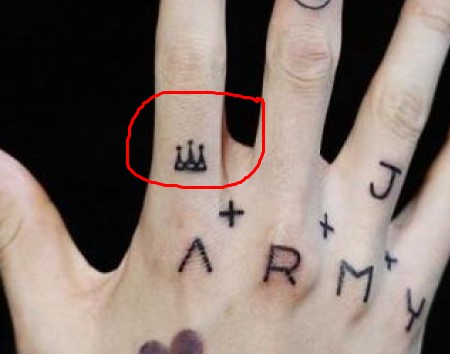 The lead singer of BTS, Jungkook had dedicated a new tattoo for his fans.
Photo Source: Daily Elite
On the break of BTS, Jungkook also inked another tattoo, which is a "Crown," which is his way to show his love to his fans by telling them that they are the kings.
ARMY Logo on The Right Side of His Hand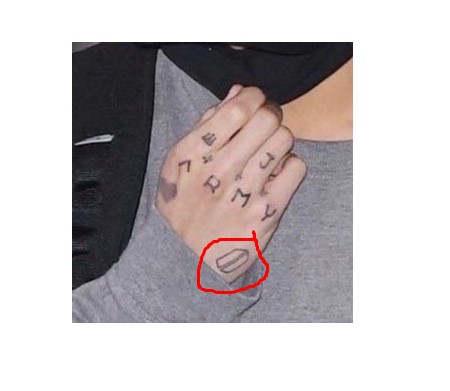 The K-pop star aslo tatted BTS logo on his right hand.
Photo Source: Pinterest
Until now, we are pretty clear, Jungkook loves his fans, aka, Army and he also sketched another tat for his followers.
You May Also Like: Supermodel Heidi Klum Is Finally Engaged To Her Musician Boyfriend Tom Kaulitz
The tat on the right side of Korean artist Jungkook has a logo that combining with the BTS official logo creates a shield. It is one of the tattoos which he acquired at the tattoo shop in Geoje Island.
Unknown
Except for all the tattoos mentioned above, there are other tattoos inked in the talented Korean artist, Jungkook, but details related to those tatts are still unknown to the mass.
BTS (방탄소년단) 'Black Swan' Official MV
However, we will provide you with the information on those tattoos too, whenever it hit in any media on 2020.
-->