Who is Alvaro Morte's Girlfriend as of 2021? Learn About His Relationship Status Here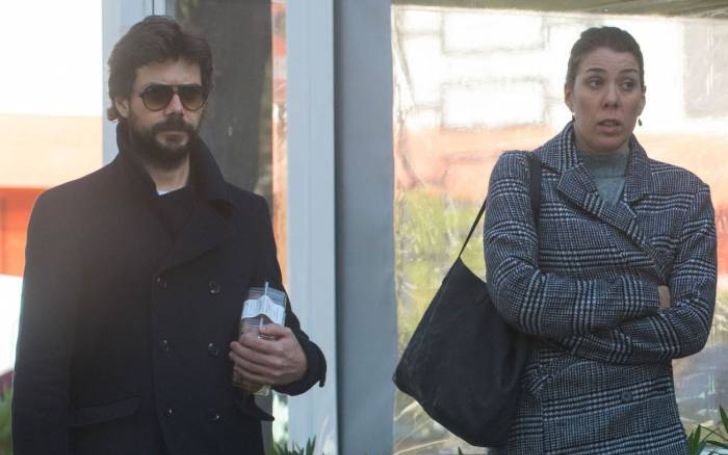 Is Alvaro Morte in relationship? A look into their love life
Álvaro Antonio García Pérez, is a Spanish actor widely known as Álvaro Morte. He gained worldwide fame playing the role of Sergio "El Profesor" Marquina in the Spanish heist series Money Heist.
On February 23, 1975, he was born in Algeciras, Spain, to Spanish parents. He attended the University of Tampere. He specialized in interpretation techniques and management but later became a researcher.
The character 'Sergio Marquina' played by him touched millions of hearts. Now, many fans are eager to know more about his movies and his love life status. Continue reading to learn more.
Is Alvaro Morte Married ?
Alvaro Morte is married to 42-year-old stylist Blanca Clemente. They have been leading together quite blissful life. It seems Raquel might be the only woman for the Professor on-screen, but off-screen, it's otherwise actor Morte who plays him, seems happily married to his wife, Blanca.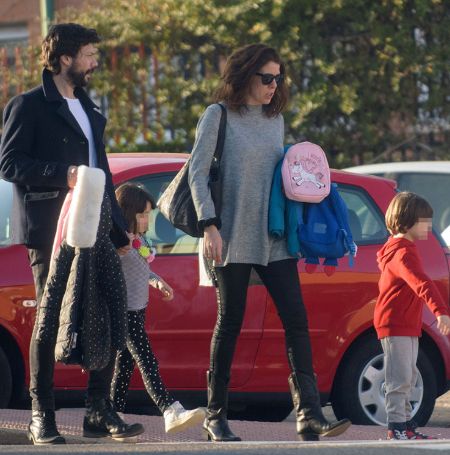 The most paternal and unknown side of Álvaro Morte, the star of 'La casa de Papel.'
Photo Source: Hola!
Blanca and her husband Alvaro have non-identical twins. Born as non-identical twins, Morte and Blanca decided to name their son Leon and their daughter Julieta. The family currently resides in Madrid.
Related: Who is Melissa Roxburgh's Boyfriend as of 2021?
Very little information about the couple and how they met is known. They like to keep relationships low profile and less attraction to the media spotlight.
Alvaro Morte's Career Progression
Morte began his early acting career when he starred in the minor role of the Spanish television series Hospital Central. He debuted his first main role in a TV series in Planta 25, which aired on several Spanish regional TV and in which he characterized a role of Raya (driver) from 2007 to 2008.
Afterward, he played the role of Adolfo Castillo in the Spanish television series Bandolera and Gabriel Areta in the TV series of the Soap Opera (Amar en Tiempos Revueltos). Morte also performed a mini role in Lola, la película (2007).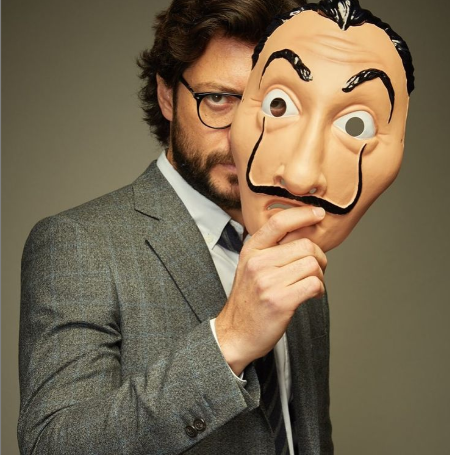 Alvaro Morte as a Sergio "el Profesor" Marquina in the television series Money Heist.
Photo Source: Instagram
In addition to his acting work, Morte possesses a theatre company called 300 Pistols, initially founded in 2012. Later, Morte also joined the cast of the long-running telenovela El Secreto de Puente Viejo in 2014, illustrating the role of Lucas Moliner—a small-town physician—until the timeframe of 2017.
After his subsequent exit from Puente Viejo, Morte got the role of Sergio "el Profesor" Marquina in the television series Money Heist, whereas the first season aired on Antena 3 in 2017.
He was heavily applauded for his portrayal of the character—the meticulous criminal mastermind behind the heist plot central to the series—and gained a lot of worldwide fame, along with the television series. Later, in late 2017, Netflix bought the series and dispersed it worldwide on its platform.
He secured his first main role in a feature film in the Netflix film Mirage (2018). Later, Morte also starred in the Movistar+ television series El Embarcadero, playing Óscar, in 2019.
Also, see: Who is Ella Balinska Dating in 2021?
In late 2019, Morte also announced that he joined the Amazon television series in The Wheel of Time, a key adaption of the epic fantasy novels of the same name, reportedly set to portray Logain. Likewise, in 2021, he also announced to have joined the cast as Juan Sebastián Elcano in the miniseries Sin límites.
For more information and news on your favorite stars, stay connected to Glamour Fame.
-->