Alyssa Milano's Family Grows: Introducing Daughter Elizabella Dylan
Elizabella Dylan Bugliari, the daughter of American actress and political activist Alyssa Milano, pursuing a career as an actress in Hollywood. While her mother, Alyssa, is well-known for her successful acting career in TV series like "Charmed," "Romantically Challenged," and "Who's the Boss?".
Her father, David Bugliari, is a renowned Hollywood agent representing various actors and media personalities. For the latest updates on Elizabella's endeavors, it is advisable to refer to recent news sources or official statements from her parents.
Elizabella Dylan's Age and Early Life
As of 2022, Elizabella Dylan Bugliari is 8 years old, born on September 4, 2014, in the United States of America. She weighed 7 lbs., 7 oz. and measured 19½ inches long at the time of her birth.
Growing up with her parents and sibling in their Los Angeles home in California, Elizabella enjoys a luxurious and happy life with her famed parents, American actress and political activist Alyssa Milano, and her father, Hollywood agent David Bugliari.
While she belongs to a white ethnic background and is an American native, specific details about her school and educational journey have not been disclosed in the media.
Why is Elizabella Dylan Celebrating Her Birthday on September 4?
Alyssa Milano's daughter, Elizabella Dylan Bugliari, celebrates her birthday on September 4 each year. However, her birth date was originally planned for a Cesarean section to avoid labor pain.
Unexpectedly, Elizabella arrived earlier than anticipated, prompting the doctors to perform the C-section earlier than scheduled. At the time of the delivery, the doctors gave Alyssa a choice of picking September 3 or 4 as the official birth date, with the timing being 11:30 at night.
Alyssa's best friend, Alaa, looked up famous birthdays for both dates and suggested choosing September 4 as it coincides with the birthday of American singer and songwriter Beyoncé. Hence, Elizabella's birthday is celebrated on September 4.
Parents' Wedding Ceremony and Dresses
Actress Alyssa Milano tied the knot with Hollywood agent David Bugliari in a romantic garden wedding at his family's estate in New Jersey.
The bride wore a custom Vera Wang gown and Maria Elena headpiece, holding a bouquet of lily of the valley flowers. The ceremony took place under a wrought-iron gazebo adorned with willow, calla lilies, and roses, while actor Bradley Cooper was among the guests.
The couple exchanged traditional vows to John Lennon's "Imagine" tune. The reception had a family-oriented atmosphere, with dinner served family-style on rustic farmhouse tables. Milano and Bugliari wanted a wedding reflective of their personalities and values as a couple.
Elizabella Dylan Has a Supportive Older Brother
Indeed, Elizabella Dylan Bugliari is not the only child of Alyssa Milano and her husband David Bugliari. She has an older brother named Milo Thomas Bugliari, who was born on August 31, 2011, making him 13 years old in 2023.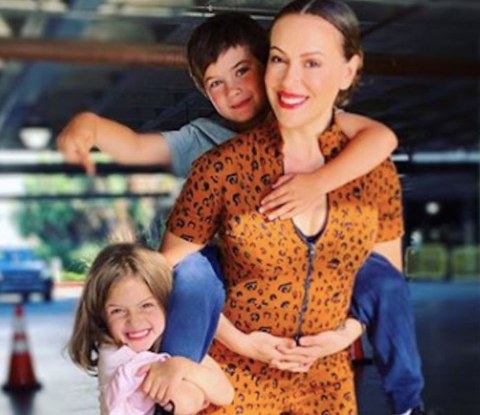 Elizabella shares a close bond with her brother, Milo. Their adorable photos together can be seen on their mother's Instagram, showcasing the strong affection they have for each other.
The brother-sister duo clearly adores one another, and their loving relationship adds to the joy and happiness in their family. With their close connection, Milo and Elizabella undoubtedly create beautiful memories and experiences as they grow up together.
Does Elizabeth Dylan Bugliari Involve in Movies and TV Shows?
Elizabella Dylan Bugliari, Alyssa Milano's 9-year-old daughter, has not yet entered the world of acting. However, her mother, Alyssa Milano, is a successful actress with a career that started at the age of 7.
By 12, Alyssa had already appeared in the movie "Old Enough" and the TV series "Who's the Boss?" Throughout her impressive, the actress has made several blockbuster appearances including The Canterville Ghost, Little Italy, and Brazen.
While there is no information about Elizabella's acting aspirations, given her mother's illustrious career, it remains a possibility that she might follow in her footsteps in the future.
Does Elizabell Dylan Bugliari Have Instagram? Know About Her Interest
At her young age, Elizabella already has a private Instagram account with 172 followers, including friends and family. The account features 49 posts and reveals her interests, such as playing softball, soccer, and gymnastics, as well as her passion for mathematics and love for dogs.
Managed by her parents, the page provides a glimpse into her hobbies and activities. Although her online platform is private, these details from her Instagram bio offer a glimpse into the life and interests of Alyssa Milano's daughter.
Net Worth of Elizabell Dylan Bugliari
As of 2023, Elizabella's net worth has not been estimated as she is still a school kid and her career is yet to start. However, being the child of celebrity parents, she undoubtedly enjoys a luxurious lifestyle thanks to her parent's wealth.
Her mother, Alyssa Milano, has a net worth of $10 million, while her father, David Bugliari, has a net worth of $5 million. Alyssa Milano has had a successful acting career, and David Bugliari is a well-known Hollywood agent representing several prominent actors and media personalities.
While Elizabella's net worth is not publicly known, she is fortunate to have a financially comfortable upbringing, supported by her parents' success in their respective careers.
For Much More Entertainment Stay Tuned To Glamour Fame
-->