Amanda Seyfried Hints She Turned Down The Role Of Gamora In Guardians Of The Galaxy
Published Sun Aug 11 2019 By Eden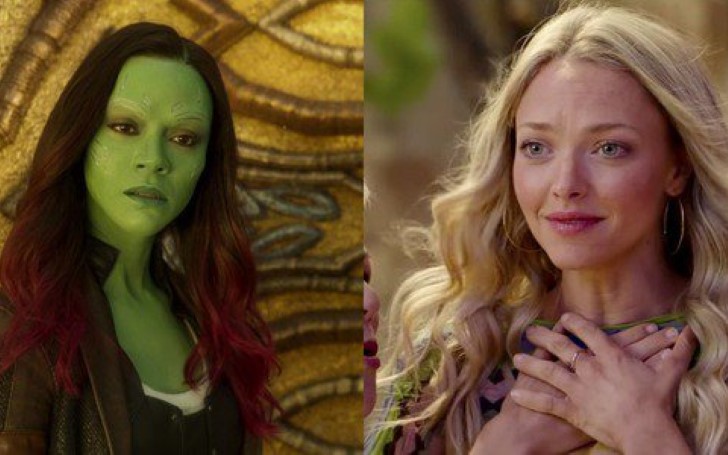 Amanda Seyfried was offered the role of Gamora in Guardians of the Galaxy but she turned it down.
Apparently, not every actor is particularly fond of dressing as a green alien all the time.
Although the opportunity to play heroes from places far beyond earth sounds appealing, the fact that you gotta be willing to sit on make up chairs for hours upon hours is certainly not cut out for everyone.
Amanda Seyfried appears to be a case in point who recently revealed she rejected the chance to be a part of the Marvel Cinematic Universe - a role believed to be Gamora in Guardians of the Galaxy.
Watch: How Zoe Saldana Transforms Into Gamora
Seyfried said:
I turned down one [superhero role] once and they haven't called back since. And it was a big'un. I don't regret it because I didn't want to be green for six months out of every year.
The 'Mean Girls' star added, "They tell beautiful stories through superheroes, and my daughter's now really obsessed with superheroes now, and part of me wishes I'd done it, but the other part of me is like 'I had a life to live' and I don't think I would've been happy."
Gamora is a crucial character in the MCU, first appearing in the standalone Guardians films before crossing over to the Avengers Infinity Saga.
The daughter of Thanos strove to be a better person than her adopted father, thus escaped his clutches to live her own life, prior to falling in love with 'Star-Lord'. She was reluctantly sacrificed in Infinity War by the Mad Titan in exchange for the Soul Stone.
Check Out: The Death of Gamora in Avengers: Infinity War
Meanwhile, following the events in Endgame, the character's fate remains a mystery. What next for Gamora hangs in the balance after an alternate timeline version of the green alien goddess was brought back to the future.
A deleted scene in Avengers: Endgame showed Gamora walking off into the distance while the rest of the heroes got down on their knees to honor the death of Tony Stark. Where did she go? It's anybody's guess at this point.
Watch: Avengers: Endgame | Deleted scene
The Russo Brothers joked they are yet to decide what happens to Gamora, but they're not bothered either way because that's not their story to tell.
Joe Russo told Business Insider: "That's probably a question that Guardians will answer. We've done our job."
Meanwhile, Zoe Saldana previously suggested it could be time for the MCU to explore the dark side of Gamora.
-->